Adventures have no rules — but finding the best camping kettle does. Before you pack your bags, check out our buying guide.
We will introduce you to the latest designs and materials plus 8 top picks with features guaranteed to make outdoor cooking a pleasure.
Our recommendations for Best Camping Kettle:
Best Camping Kettles Reviewed
After thorough research, we chose the best camping kettles for this guide. We only included kettles made with high-quality materials and convenient design.
Whether you are looking for the most portable kettle, the best option for making coffee, or one that includes a tea infuser, you can find something you love.
Here are a few more product guides that you might also find interesting:
Best Stainless Steel Camping Kettle: AITREASURE Tea Kettle
AITREASURE's stainless steel camping kettle is the perfect outdoor travel companion. Boil water for coffee, tea, or freeze-dried meals — its 1.2-liter (40oz) capacity is ideal for single campers to small groups and home emergency kits.
Specifications:
Volume: 4 cups
Materials: Stainless steel
Dimensions: 4.7″ x 4.7″ x 5.3″ (L x W x H)
Weight: 0.88 lb
Compatible with all heat sources from gas to open flame, the food-grade stainless steel heats quickly and retains heat longer for that all-important second cup. You'll appreciate sophisticated features from a snug-fitting lid for faster boil times to the comfortable handle and low center of gravity that keep the pot secure on a tripod. The non-drip spout has a gentle slope for safe and easy pouring.
This model delivers full-size performance despite its compact size — there's no learning curve. At just 14 ounces, it's heavier than some models for long-distance backpacking, yet it saves space.
The kettle comes with a handy carry bag and a stainless steel filter that can be used for making coffee or loose leaf tea.
A breeze to clean inside and out, the AITREASURE kettle is attractive and has the quintessential blend of durability, features, and price we look for in our top picks. It surpassed our expectations and is sure to meet yours.
Pros
Compatible with all heat sources
Great value for money
Built to last
Easy to clean
Good heat retention
Comes with a coffee/tea filter
Cons
The handle can get hot so you might need a pot holder
Best Titanium Camping Kettle: Keith Ti3901 Kettle
This titanium kettle is made without lining and coating and is specifically designed for backpacking, camping, and traveling. It's compact, almost indestructible, and weighs less than 5 ounces.
Specifications:
Volume: 4 cups
Materials: Titanium
Dimensions: 5.51″ x 5.51″ x 3.35″ (L x W x H)
Weight: 0.29 lb
The Ti3901 kettle is made of pure premium quality titanium that is tasteless, odorless, non-toxic, and dishwasher safe. There are also silicon insulating tubes for the handle making sure it stays cool.
The kettle is great for making tea and coffee, but is well suited for heating up soups or making stews as well. The large lid makes it easy to clean and allows you to put food items in for cooking.
Keith trusts its own products so much they give the kettle a lifetime warranty against manufacturing defects in materials and workmanship.
Buy this kettle and you don't have to worry about getting another one, it will last from father to son!
Pros
Extremely lightweight
Made with durable high-quality titanium
Easy to clean
Great for cooking food
Hypoallergenic
Lifetime warranty
Best for Gas Stoves: Alocs Lightweight Camping Kettle With Heat Exchanger
Aloc's featherweight camp kettle makes about 5 cups of your favorite hot beverage. At 0.49 pounds, it's half the weight of Fire Maple's stainless steel kettle (reviewed below) yet offers a third more capacity.
Specifications:
Volume: 5 cups
Materials: Anodized aluminum
Dimensions: 6.5″ x 6.5″ x 4.7″ (L x W x H)
Weight: 0.49 lb
Its unique heat exchanger and windshield improve efficiency — you can boil water at sea level in under six minutes. Nothing makes your morning tea faster.
Made of rugged anodized aluminum, it's dent-, scratch- and corrosion-resistant for years of reliable service — cleaning is a cinch. The silicone-covered handle and lid fin are visible in the dark and secure to grip, eliminating twilight burns, and non-drip spouts pour safely.
Designed specifically for gas stoves, the heat exchanger's recessed design is a poor fit for some isobutane heaters because the fins are too small. Measure before you buy, but if you're a serious hiker looking to minimize pack weight, the exchanger boosts performance and lets you carry less fuel. It's a win-win.
Pros
Super lightweight
Boils water very fast
Great value for money
Excellent for gas stoves
Cons
The heat exchanger doesn't work well with all heat sources
Most Portable Option: LevelOne Collapsible Silicone Outdoor Camping Kettle
LevelOne's collapsible outdoor camping kettle is must-have gear for the space-challenged traveler. Ultra-compact, it heats a liter of water and stores neatly in a backpack or pint-sized RV kitchen.
Specifications:
Volume: 4 cups
Materials: Aluminum Base, Silicone Body, Plastic Handle
Dimensions: 8″ x 8″ x 3.15″ (L x W x H)
Weight: 1 lb
The unique hybrid design features a lightweight aluminum base for optimal heat conduction and a stay-cool silicone top that collapses to mere inches in height. Silicone is simple to clean and won't affect the taste of food or beverages.
Despite the plastic handle, this kettle is compatible with most heat sources from camp stoves and griddles to non-induction hot plates and can be used cautiously over an open flame.
The LevelOne has a strong track record for durability with proper care, but like other collapsible silicone cookware, it's prone to cracking over the years. Still, its portability and tiny footprint are distinct advantages that outweigh the limited longevity given its affordable cost. It's proof that good things do come in small packages.
Pros
Super compact
Easy to clean
Lightweight
Affordable
Heats water fast
Cons
Not the most durable kettle
Most Versatile: Kelly Kettle Anodized Aluminum Camp Kettle and Stove
Built for extremes, the two-piece Kelly Kettle is a complete heating solution. Say goodbye to carrying separate stoves and bulky fuel canisters — Kelly Kettle's Base Camp heats 41 ounces of water using only biofuel from twigs to dry grass.
Specifications:
Volume: 5 cups
Materials: Anodized Aluminum
Dimensions: 7.3″ x 7.3″ x 10.4″ (L x W x H)
Weight: 1.5 lbs
Environmentally friendly, it boils water faster than the competition despite its generous size. How? Built like a double-walled chimney, fire in the center glows hotter, heating water between the walls in record time. Kelly Kettles also feature an innovative windscreen for firing up biofuel in wet or windy conditions. They're certified airline-safe and great for travelers.
Backpackers might find it a bit tall and heavy at 10.4-inches and 1.5 pounds, yet it takes the place of both a stove and kettle, so that's not unreasonable. Designed to boil water, Kelly Kettle's aren't ideal for warming soups or other liquids because they're comparatively harder to clean. Yet, if you have any additional cookware, you can use the included stove for cooking and rehydrating food.
When you're in the backcountry and need to sanitize water quickly or make coffee unsheltered in inclement weather — the Kelly Kettle won't let you down.
Pros
Uses almost anything for fuel
Boils water very fast
The stove can be used also for cooking
Cons
Relatively tall and heavy
A bit pricey
Best for Making Coffee: Farberware Classic Stainless Steel Yosemite Coffee Percolator
Camping is no reason to give up the finer things. If you love coffee, nothing beats a percolator, and Farberware makes the best.
Specifications:
Volume: 12 cups
Materials: Stainless Steel
Dimensions: 8.86″ x 7.28″ x 10.83″ (L x W x H)
Weight: 2.74 lbs
If you're not familiar with percolators, they're stovetop coffee makers with permanent filter baskets. Load them like you would a paper filter, and as the water boils, you'll see "percolated" coffee rise through a glass knob in the lid. Remove the basket to heat water for tea.
The flavor is deeper than instant coffee and as rich as pour-overs without carrying a French press. It's too heavy for backpacking at almost three pounds, but if you have a sturdy camp stove, like a Coleman, look no further for a perfect brew.
Constructed of top-quality stainless steel, the kettle is durable, but the glass knob can break — handle with care. Resin handles are sturdy and stay cool. With a 12-cup capacity, the Farberware Yosemite makes plenty for a group at any weekend outing. One great thing is that it's dishwasher-safe, so when you get back home it's easy to get it shining clean again.
The Faberware Yosemite is an unbeatable home to campground convenience.
Pros
Great for making coffee
Made with durable stainless steel
Dishwasher safe
Best Cast Iron Tea Kettle: TOWA Workshop Japanese Tetsubin Cast Iron Kettle with Infuser
Start a busy morning off right with a proper cup of tea made in TOWA's traditional Japanese kettle. Petite enough for travel, it makes 2–3 cups and comes with a removable stainless steel basket infuser.
Specifications:
Volume: 3-4 cups (other sizes also available)
Materials: Cast iron
Dimensions: 8.66″ x 8.62″ x 6.38″ (L x W x H)
Weight: 5 lbs
Load it with loose leaf and water and boil it on any camp stove — the 5-inch base sits securely on most burners. Made of cast iron, it retains heat and preserves the delicate flavor of your brew.
At over 3.2 pounds, backpackers may find the Tetsubin hefty, but it's ideal for use in RVs and at campgrounds. Aesthetically charming, the enamel coating makes it virtually maintenance-free. Rinse and dry it between uses, and it can last a lifetime.
The fold-down handle makes storage easy, but beware — it's jute-wrapped for heat protection, so don't use it over an open fire. Otherwise, the Tetsubin is a versatile kettle that boils water for any beverage but makes a heck of a cup of tea.
Pros
Made of durable cast iron
Excellent heat retention
Comes with a tea infuser
Stylish design
Best Large Camping Kettle: GSI Outdoors Halulite Ultralight Aluminum Tea Kettle
GSI's large-capacity kettle is lightweight but big enough for a crew — it weighs just 0.5 pounds and holds 1.8 liters of water.
Made from Halulite, a proprietary lightweight alloy that conducts heat better than steel or titanium, it boils water in minutes and can be used to heat soups and stews.
Specifications:
Volume: 7 cups
Materials: Hard Anodized Aluminum
Dimensions: 7″ x 6.3″ x 5. 5″ (L x W x H)
Weight: 0.54 lbs
The hard anodized shell resists dents, scratches, and discoloration and can handle any heat source from propane to open fire. Kettles are marked in ounces and liters so you can measure how much water you add.
Features include an easy-pour spout and silicone-wrapped locking handle that stays upright during use. Both the handle and lid pull are orange, so they're easy to distinguish from hot metal in the dark.
This kettle is lightweight but large for an average backpack, yet it fits standards 110 g camp stove fuel canisters inside, so no space is wasted. GSI backs this superb kettle with a limited lifetime warranty and 30 years of outdoor experience.
Pros
Large capacity
Lightweight
Good for any heat source
Boils water fast
Cons
Too large for most backpacks
Camping Kettle Buying Guide: Choosing the Right Product
Whether you're tenting in the backcountry or cruising in an RV, these guidelines will help you select the perfect camping kettle.
Material
Choosing the right kind of material for your needs is extremely important as it affects the weight, durability, and heat conduction properties of the kettle.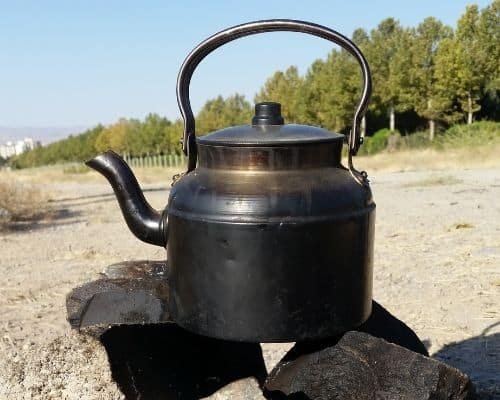 Stainless Steel heats quickly, cleans effortlessly, and resists dents, rust, and discoloration. It's attractive and non-reactive, so it can be used to heat any type of food or beverage.
Aluminum is lighter than steel and conducts heat quickly, boiling water faster than other materials. But it's soft and dents under pressure. Natural finishes are prone to rust and pitting if used to heat acidic liquids. You can avoid that by choosing an anodized kettle that's electrochemically treated to be hard and damage-resistant.
Titanium is extremely lightweight and durable which makes it one of the best materials for a camping kettle. Titanium kettles are also hypoallergenic and exceptionally corrosion-resistant. The only reason why they are not very popular is the high price.
Collapsible silicone kettles are the latest trend in small-space living. Made with a soft top over a metal base, they heat water capably while saving precious storage space. They're not as long-wearing as metal kettles and tend to crack in the folds where they're collapsed over time, but they're inexpensive and a good value.
Cast iron kettles are easy to care for and as durable as stainless steel but weigh 2–3 times as much. It's impractical for most backpackers but an enduring choice for RV or base camp use.
Size and Weight
Portability is everything with camp gear — every square-inch of space in your car, tent or motorhome matters. Just a few ounces of extra weight in your backpack can feel like a ton by the end of a long hike, so choose lightweight kettles if you're on foot.
Design
Camp kettles aren't rocket science, but they should feel like second nature to use. Small, some can feel unwieldy. Look for models that are well-balanced and have features similar to kettles you'd use at home.
We recommend that you choose a product with:
Durable finishes that stand up to scouring
Lid openings large enough to accommodate your hand and a sponge
Tight-fitting lids that stay secure when you pour
Heat Source Compatibility
Camp kettles should be compatible with your preferred heat source.
Some have temperature-sensitive handles that are fine for the controlled heat of a camp stove but will melt over an unpredictable open fire. Others have bottoms designed specifically for gas burners.
The best camping kettle works with more than one heat source, so if you run out of fuel, you're not out of luck.
You might also want to check out our guide with small electric kettles that are great for camping and traveling.
Features
The best camping kettles have features that make them safer and more functional, including:
Locking handles that won't fall onto the kettle where they absorb heat and are difficult to grasp.
Brightly colored, heat-resistant silicone handles and lid pulls for secure handling.
No-drip spouts.
Interior or exterior graduated fill lines.
Camping Tea Kettle FAQ
How to choose the best camping tea kettle?
You should first consider how big a kettle you need and make sure that it fits in your backpack if you are going to carry it around. You should also choose a lightweight material like titanium, aluminum, or stainless steel. If you want to use it on an open fire, it should have a handle that allows you to hang it over the fire.

The best camping kettles for brewing loose leaf tea also come with an infuser or other type of filter that makes preparing the tea more convenient.
How should I clean my camping kettle?
Rinse the camping kettle with hot water after using it and wipe it dry with a clean cloth. If you have some oily food stuck on the inside, you can also use a bit of dishwashing solution to make the cleaning easier.

Remember to always let your kettle dry properly before storing it.
What is the most lightweight camping kettle available?
Titanium kettles are extremely lightweight and very durable, which makes them a great option for camping. Aluminum kettles are also very light and more affordable compared to titanium.
Save on Pinterest: