Milk tea is taking over the world!
And it's impossible to walk out of a Chatime shop without being a fan of bubble tea for life. While their stores aren't in every city just yet, there's a good chance one is coming to a location near you.
Here's what you need to know about picking the best drinks on the Chatime menu.
All About Chatime
Chatime has become synonymous with milk tea time for millions of customers around the world. Boasting 2,500 locations in 38 countries, this Taiwanese teahouse franchise based in Zhubei has expanded fast.
After opening its first location in Taiwan in 2006, Chatime embarked on a big expansion that brought the beloved chain to many cities in Asia, Europe, and North America.
Chatime is famous for its delicious bubble tea. The biggest seller on the menu is something called pearl milk tea.
But it's not only boba tea that they serve — the menu also features other types of milk teas, fresh tea, fruit tea, pop tea, "QQ" jelly, mousse, juice, and smoothies.
One thing that makes their drinks so good, is that Chatime uses high-quality tea leaves coming from their own farms in Taiwan.
Can't find a Chatime shop in your area?
Don't worry!
Certified as the world's largest Taiwanese bubble tea brand, Chatime is currently embarking on an expansion that's going to bring more stores to locations throughout North America, Asia, the Middle East, and beyond.
That's why getting a grasp on the Chatime menu ahead of time is a great idea.
And while you are waiting, check out if you have a Kung Fu Tea or Gong Cha store nearby — they also serve excellent bubble tea!
Top 10 Best Chatime Drinks on the Menu
Chatime offers a robust menu full of authentic Taiwanese tea drinks. The company's signature milk teas are obviously the standouts on the menu.
However, the same authenticity and quality that have made Chatime's milk tea an international phenomenon are present throughout the chain's full menu.
How to Order at Chatime
Before we into my recommended drinks, let's take a quick look at how to order.
1. Pick your drink and size
First, you need to pick the type of drink you want from the menu, if you want it hot or cold, and then it's time to customize.
Choose your drink size:
Iced: Regular (16 oz) or Large (22 oz)
Hot: Only regular size (16 oz) is available
2. Choose your toppings
Chatime is all about the toppings.
Here's a crash course on what the names found on the toppings menu mean:
Brown Sugar Pearls: Tapioca pearls soaked in roasted brown sugar.
Crystal Boba / White Pearls: Gelatin-like, chewy translucent pearls.
Grass Jelly: Dessert-like herbal jelly that is traditionally used on bubble tea.
Pearls: Tapioca balls.
Pudding: Sweet egg pudding with a soft custard texture.
Red Bean: Sweet, creamy, and earthy topping made from dried red beans and sugar
Coconut Jelly: Shaped gelatin-like balls made from coconut water.
Rainbow Jelly: Shaped gelatin-like balls flavored with mango, strawberry, and coconut.
Coffee Jelly: Shaped gelatin-like balls flavored with coffee.
Oreo Crumbs: Sweet cookie crumbs with a hint of cocoa and salty flavors.
Sago: Starch extracted from the spongy core tissue of various tropical palm stems.
Sea Salt Crema: Whipped heavy cream with sea salt.
There's no obligation to ask for a topping when ordering from the Chatime menu. However, some Chatime drinks have toppings included.
The toppings selection might vary in different store locations.
3. Ice, sugar, and milk
The last thing is to choose the ice (regular, less, no ice) and sugar level (extra, regular, less, half, slight or not sugar) for your drink.
Most milk drink options on the menu can be made with your choice of milk including milk tea creamer, fresh milk, or oat milk.
Now, here are my top 10 favorite Chatime drinks on the menu:
1. Pearl Milk Tea (Best Seller)
Chatime adds world-class tapioca pearls to its best-selling, fan-approved milk tea to produce the Pearl Milk Tea.
There's no need to worry about getting the full "milk tea" experience if you don't drink traditional milk. The Pearl Milk Tea can be made using signature milk tea, fresh milk, or oat milk.
This drink pairs beautifully with grass jelly and pudding toppings.
2. Jasmine Jade Green Milk Tea
Chatime's Jasmine Jade Green Milk Tea offers a fragrant, understated brew combined with all of the creaminess you love in milk tea.
It can be made using signature milk tea, fresh milk, or oat milk.
Add extra flavor and decadence by topping this subtle tea with brown sugar pearls, one of the puddings, or sea salt crema.
3. Lychee Black Tea
Chatime's Lychee Black Tea is a great change of pace when you're craving something sweet and tropical over something creamy.
This tea offers a full-bodied black tea kissed with a taste of tropical fruit.
I recommend you top this drink with aloe vera, coconut jelly, crystal boba, or rainbow jelly.
4. Matcha Latte
Enjoy the earthiness of rich, robust matcha combined with the richness of milk when you order this tried-and-true favorite. This chilled drink tastes rich enough on its own.
However, you can take it from an everyday drink to a dessert-like masterpiece by topping it with coconut jelly, crystal boba, grass jelly, rainbow jelly, or sea salt crema.
5. Grass Jelly Roasted Milk Tea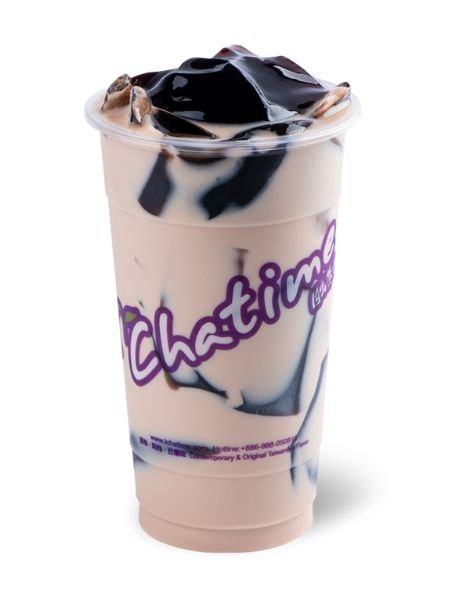 Famous for being one of the drinks that hooks in "forever fans" of Chatime, Grass Jelly Roasted Milk Tea uses roasted tea (hōjicha) for added texture.
In addition to being richer and thicker, roasted tea is also full of added health benefits!
This drink can be made using signature milk tea, fresh milk, or oat milk. Pearls and puddings are the recommended toppings.
6. Mango Smoothie
The Chatime Mango Smoothie is a frothy, milky smoothie with a spirited tropical flavor. This smoothie is decadently thick and refreshing.
While this treat is certainly sweet enough to stand on its own, it can be dressed up with help from aloe vera, coconut jelly, crystal boba, or rainbow jelly.
7. Peach QQ
QQ is a topping that includes a 50-50 mix between pearls and coconut jelly. Chatime's Peach QQ offers the sweet, refreshing taste of peach tea with QQ on top.
This is a great pick if you're looking for a toppings-rich treat that doesn't require a custom order!
8. Brown Sugar Pearls With Milk Tea
Dessert-like and decadent, Brown Sugar Pearls With Milk Tea is one of Chatime's signature drinks. It features silky milk tea with the added richness of caramelized brown sugar pearls.
The drink is topped off with sea salt crema to create the ultimate sweet-and-salty experience.
It's said that this drink is inspired by the tiger milk bubble tea you find at Tiger Sugar shops, but Chatime's version is as good as the original one.
9. Candied Winter Melon Latte
Chatime's Candied Winter Melon Latte is a unique drink that shows off why this teahouse chain stands apart from any other franchises in the world.
One sip is all it takes to make this your favorite wintertime drink!
Offering a perfect mix of caramel notes and creaminess, this chilled drink can be customized with your choice of milk. It can be made even more glorious by adding crystal boba, grass jelly, pearls, pudding, sago, or sea salt crema.
10. Thai Milk Tea
This spicy, flavorful drink features strongly brewed black tea that's finished off with a blend of condensed milk and evaporated milk.
The spices used in this drink offset the strength of the black tea beautifully!
This spicy, savory drink can be sweetened up with aloe vera, crystal boba, grass jelly, pearls, or sago.
In addition to these 10 impressive treats, check out the CoCo milk tea best sellers for more delicious options to try.
Final Thoughts on Why Everyone Should Try Chatime
Milk tea is a delicious treat originating from Taiwan and quickly gaining popularity in Western countries as well. In fact, it's becoming so popular that you might soon even find boba tea at Starbucks.
And Chatime doesn't just offer an easy way to get bubble tea in nearly any major city. This popular bubble tea chain offers authentic, amazing teas and drinks that recreate the experience of stepping into a Taiwanese tea house.
Be sure to step inside one to try out one of the menu items in the top 10 if you get the chance!