Copper kettles have a warm glow that creates a homey feeling — just like a hot cup of tea. As durable as cast iron, as safe as glass, and as sophisticated as steel, their panache is surpassed only by their practicality.
If you're ready for an upgrade, copper has the iconic look and the unparalleled performance you're looking for.
From vintage to modern and even electric, the copper tea kettles introduced in this guide will exceed your expectations.
Our recommendations for the Best Copper Tea Kettle:
Why Choose a Copper Tea Kettle?
While copper kettles are often more expensive than the more common stainless steel ones, they offer some unique advantages.
Here are a few good reasons to invest in a copper tea kettle:
Conductivity
Copper cookware is known for its superior thermal conductivity.
Ideal tea kettles for gas stoves and electric cooktops, they heat quickly and evenly. Kettles with steel bases are also induction compatible.
Durability
Copper comes in two forms.
The soft type is used to make electrical wire. Malleable, it's "annealed" through a heating process that alters its molecular structure.
But in its natural state, copper hardens when it's formed or molded. The type kettles are made of, it's as rust-resistant as stainless steel and exceptionally durable.
Practicality
Don't believe the rumors. Copper is as easy to care for as aluminum or stainless steel.
Without polishing, copper darkens over time to form a rich, fingerprint-resistant patina. But if you prefer a shine to the vintage look, all it takes is lemon juice or a dab of commercial copper cleanser on a soft cloth to restore its natural brilliance.
New kettles are acid-dipped to give them their trademark gleam.
Style
Copper has timeless appeal. But that doesn't mean you're stuck with a hopelessly outdated design. Styles range from vintage to industrial and ultra-modern.
Hammering is one of the many techniques used to strengthen copper. Used for generations, it hardens the metal and gives it a time-worn, pebbled texture.
But you can also opt for a finish so sleek you can see yourself in it.
Ultimately, the choice is yours.
Safety
Copper ions from copper cookware can leach into food and drink. Is it safe?
The consensus is yes. Copper is an essential nutrient.
Used in water pipes, leaching is rarely a problem unless the copper is exposed to acidic liquids, like tomato juice.
Stick to only heating water in your kettle, and you'll be fine. But if you'd rather be safe than sorry, forgo the solid copper models in favor of kettles lined with tin, nickel, or stainless steel.
8 Best Copper Tea Kettles Reviewed
Below are our carefully selected recommendations for copper tea kettles.
We have included all types of kettles from vintage to modern styles and from pure copper to ones with tin or nickel lining.
Best Solid Copper Tea Kettle: Wollet Hammered Stovetop Copper Tea Kettle
Wollet kettles are made of solid copper in five distinctive shapes, all with vintage hammered finishes. Impeccably detailed, you're going to want one in your kitchen.
Note: You can choose from 5 different designs on Amazon. The volume and dimensions of designs might differ.
Specifications:
Volume: 1.5 Quarts / 6 cups
Materials: Copper
Dimensions: 9.8″ x 11.4″ x 6.2″ (L x W x H)
At 1.5 Quarts — about 6 cups — this tea kettle is just the right size for most kitchens. Compatible with all cooktops except induction ranges, it's all-copper through and through.
The handle is as large as the pot. Ergonomically designed with a wrap to protect your hand from heat, it has a perfect pour. The precision-fit lid stays put.
If you're concerned about the health impact of copper, this isn't the kettle for you. But it's a customer favorite and one of ours. It has the old-world appeal of a cast-iron teapot but with the many benefits of copper.
Pros
Made of pure high-quality copper
Beautiful hand-carved design
Ergonomically designed and heat-insulated handle
Available in 5 different designs
Cons
Not compatible with induction cooktops
Best Whistling Copper Tea Kettle: Chantal Classic Harmonica Whistling Tea Kettle
The Chantal kettle blends the aesthetics of copper with the performance of steel.
If you have an induction stove, this is your kettle. But of course, it works great on gas and electric stoves too.
Specifications:
Volume: 1.8 Quarts / 7 cups
Materials: Stainless Steel and Copper
Dimensions: 7″ x 8.5″ x 7.5″ (L x W x H)
Well-appointed, the Chantal is crafted from 18/10 stainless steel clad with genuine copper. The 1.8-quart capacity is plenty for four plus guests.
Wide at the base, the kettle heats quickly and evenly. Control the spout with a generous thumb lever for a smooth and easy pour.
And this tea kettle doesn't just whistle, it sings. With a genuine Hohner harmonica reed, you get tea and a show!
The only feature we'd change is the wire loop handle. All metal, it's a bit awkward to hold. And it gets hot, but Chantal includes a complimentary quilted mitt that slips over the top. It's a small flaw in an otherwise delightful kettle.
Pros
Stylish design
Heats water efficiently
Nice harmonica whistle
Compatible with induction stoves
Cons
The wire loop handle is a bit awkward
Elegant Handmade Copper Tea Kettle: DEMMEX 1.6-Quart Engraved Solid Copper Tea Kettle
Handmade in Turkey, this charming DEMMEX kettle is fit for a king.
Made of solid copper with gleaming brass accents, it's fully lined with lead-free tin.
Specifications:
Volume: 1.6 Quarts / 6 cups
Materials: Copper and Tin (lead-free)
Dimensions: 6.3″ x 9.1″ x 5.9″ (L x W x H)
Decorative engravings on the body and spout give this tea kettle an exotic flair. A resin wrap keeps the handle, cool.
This is a well-balanced kettle and it feels secure in your hand while pouring.
The quality is remarkable given the modest price. Don't let the shiny finish fool you. The copper is a full millimeter thick and dent-resistant.
The only weak point is the screw that holds the lid knob in place — it tends to rust. But overall, the craftsmanship is superb.
Pros
Stunning engraved design
Handmade in Turkey
Lead-free tin lining for safety & ease of cleaning
Heat-insulated and sturdy handle
Cons
Not suitable for induction cooktops
The screw on the lid knob can rust over time
Best Modern-Style Copper Tea Kettle: Old Dutch DuraCopper Ganymeade Tea Kettle
The Old Dutch Ganymeade is one of a series of five stellar kettles named after Jupiter's moons.
Arguably the most modern, its asymmetrical lines are ultra-sleek with a fitting space-age vibe.
Specifications:
Volume: 2.75 Quarts / 11 cups
Materials: Copper and Stainless Steel
Dimensions: 8.25″ x 11.75″ x 10.75″ (L x W x H)
Made of 18/8 stainless steel with a tarnish-free, DuraCopper finish, it never needs polishing. As practical as it is artful, it's the allure of copper without the work.
Celebration-sized at 2.75 quarts, the Ganymeade is entertainment-ready.
The lock-open spout makes pouring a breeze. But the handle and spout cap can get hot, so handle them with care.
A focal point in any kitchen, the Ganymeade will be the hit of the party. We can't stop staring at it — it'll knock your socks off!
Pros
Impressive modern design
Large capacity
Lock-open spout and whistling function
Encapsulated base for induction stoves
Cons
The handle and spout cap can get hot to touch
Traditional & Stylish: Old Dutch 2.5-Quart Copper Tea Kettle
Take a trip back in time with this vintage-style Old Dutch Teakettle.
Resembling the kind you may have seen on your grandmother's stove, it's a classic.
Specifications:
Volume: 2.5 Quarts / 10 cups
Materials: Copper and Nickel
Dimensions: 5.5″ x 9.75″ x 9.5″ (L x W x H)
Copper-clad with a nickel lining, it's unquestionably safe to drink from. The brass handle and spout are an interesting contrast to the kettle's mirror finish.
Suitable for gas and electric stoves, the 2.5-quart capacity is the perfect size for most families. The extra-large handle folds away for storage, but beware,
it gets hot.
Bargain-priced, the kettle is both practical and nostalgic. Looking at it, you can't help but feel warm inside.
This Old Dutch kettle might not be as refined as similar models, but that plays to its strengths aesthetically. A blast from the past, it brings a touch of the traditional to modern kitchens.
Pros
Beautiful classic design
Nickel lining for safety
2.5-quart capacity
Cons
The handle gets hot to touch
Not compatible with induction stoves
Handmade in England: Simplex Kettles Buckingham Solid Copper No. 1 Copper Tea Kettle
Make every tea high tea with the Buckingham No.1 teakettle.
Handcrafted in England, it's everything you'd expect from a castle-worthy kettle and more.
Specifications:
Volume: 1.9 Quarts / 7.5 cups
Materials: Copper and Tin (lead-free)
Dimensions: 8″ x 10″ x 10″ (L x W x H)
Made exclusively for gas stoves, features include solid copper construction with a poured tin lining for a durable bond. The bird's-eye spout is graciously angled for an optimal pour.
The ebonized beechwood handle protects your hand from hot metal without ruining the regal aesthetics. And the gentle whistle is enough to alert you that water is boiling without being harsh or grating.
Budget shoppers beware — the Buckingham is a splurge. But if you get what you pay for, you're getting more than your money's worth. The superior craftsmanship reflects the price.
Pros
Majestic traditional design
Superior craftsmanship
Has a nice whistling sound
The beechwood handle stays cool
Cons
Pricey
Only for gas stoves
Best Gooseneck Copper Kettle: Fellow Stagg Copper Pour-Over Coffee and Tea Kettle
This first-class kettle from Fellow Stagg is the barista's choice.
A competition winner, the thermometer on the lid makes all the difference.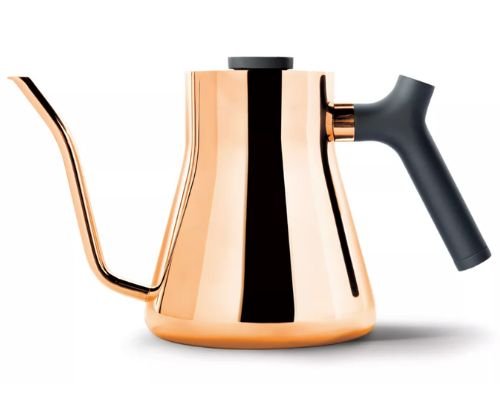 Specifications:
Volume: 1 Quart / 4 cups
Materials: 18/8 Stainless Steel and Copper
Dimensions: 11.81″ x 8.58″ x 6.81″ (L x W x H)
So why is the thermometer on this kettle such an important thing?
Optimal heat is critical for maximum flavor extraction. You'll make the most of delicate loose leaf tea and premium coffee grounds by brewing them at just the right temperature.
But it doesn't stop there. Engineered for performance, the quality shines in every detail from the graceful gooseneck to the mirror-perfect, copper-clad finish.
If you want the temperature control of an electric kettle but the charm of a conventional design, you won't be disappointed.
Pros
Stylish design
Super smooth pour
Has a built-in thermometer
Made with premium stainless steel
Cons
Doesn't work very well on all induction cooktops
Best Electric Copper Kettle: Chantal Mia Electric 32-Ounce Copper Kettle
The Mia electric kettle boasts the beauty of copper and the modern features you rely on. Chic yet unpretentious, it's a must for busy mornings.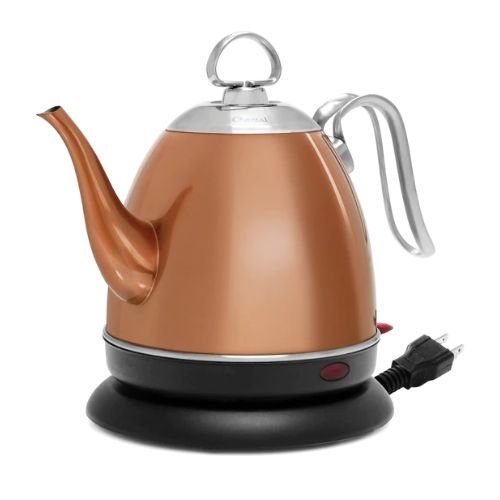 Specifications:
Volume: 1 Quart / 4 cups
Power: 1000 watts
Materials: Stainless Steel and Plastic
Dimensions: 5.88″ x 11.13″ x 7.88″ (L x W x H)
Boil a quart of water faster than you can on a conventional stovetop. Ideal for tea, the spout is specially designed to cool water to 205 °F as it's poured with no thermometer required.
Safe to use and safer to drink from, the kettle shuts off automatically, so it will never boil dry.
This plastic-free electric kettle has an 18/10 stainless steel body that is safe and durable. Solid steel accents give the clean lines just enough visual interest. Available in 10 eye-popping colors, including copper, the finish is baked on for scratch resistance.
It's not genuine copper, but you could've fooled us at first glance. Effortless to keep clean, it gets our seal of approval.
Pros
Very convenient to use
Fast and energy saving
No plastic parts are touching the water
Auto shut-off & boil-dry protection
Cons
The power cord could be a bit longer
What To Consider When Buying a Copper Tea Kettle
1. Stovetop Compatibility
The first thing to make sure of is that the kettle you are eying on is compatible with your stovetop.
Most copper kettles are only suitable to be used on a gas or electric stove. So if you have an induction cooktop, make sure that the kettle has a ferromagnetic base and is induction compatible.
2. Design
Choose a design that fits your personal preference and your kitchen decor. With copper kettles, you have plenty of styles to choose from.
And don't forget about the practicality!
Features like a sturdy handle that stays cool to the touch and a whistling function can be very convenient.
3. Pure Copper or With Lining
Tea kettles are most often used for boiling water — tea is brewed in a separate teapot or a cup and soups are heated in pots and pans.
Boiling water in a copper kettle is generally considered safe but it's not recommended for heating anything acidic.
But if are worried about the safety of copper or planning on making tea directly in the kettle, get one that is lined with tin or stainless steel.
4. Price and Quality
One of the main reasons for getting a copper kettle is their stunning looks and durability.
So don't settle for a cheap one that will break easily. Invest in an expertly crafted kettle that is made with high-quality materials and it will last for decades!
Note that all kettles reviewed in this guide are well-designed and durable, so the choice depends mostly on which design really catches your eye.