The Pacific Northwest is no stranger to coffee. Home to Starbucks, it's the center of American beverage culture.
Yet Dutch Bros, a drive-thru franchise with a social conscience and an unpretentious menu, including organic tea drinks and more, may be the area's best-kept secret.
So if you haven't had the pleasure of trying the Dutch Bros tea drinks, one of these five bestsellers is the perfect introduction to their innovative blends!
Dutch Bros – Excellent Coffee, Tea and More!
Dutch Bros is an Oregon-based beverage chain founded in 1992 by brothers Dane and Travis Boersma. A fresh concept in an often-stale industry, the something-for-everyone menu features coffee and tea drinks plus reimagined favorites from smoothies and soda to shakes and freezes.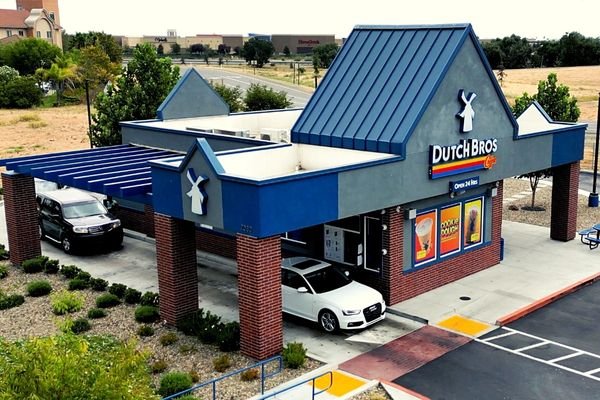 A startup with something to prove, Dutch Bros has quietly expanded from a single pushcart to a multi-million-dollar company with stores in 12 states and counting. Headquartered in Grants Pass, it's a fixture on the West Coast with shops as far east as Tennessee.
Conventional franchising began in 1999 but transitioned to an internal-only franchise model in keeping with Dutch Bros' community-focused, customer-centric philosophy. Most of their 600 stores are company-owned with 130 more on tap for 2023.
So what makes the Dutch Bros so popular that they are constantly expanding?
They are famous for their diverse menu, quality ingredients, and fun atmosphere — so what more can you ask for when looking for a refreshment?
The company has also avoided many of the pitfalls that scuttled revenue among competitors during the pandemic.
In addition, they give back to the community through programs that support children and fight food insecurity. Committed to sustainability, Dutch Bros works to limit its environmental impact in tangible ways from seed-to-cup coffee sourcing to using all-organic teas.
Top 5 Best Dutch Bros Tea Drinks
1. Double Rainbro Tea
The colorful Double Rainbro is a Dutch Bros top seller.
With a blend of strawberry, peach, and coconut syrup in your choice of freshly brewed green or Paris black tea, the fruit flavors shine. Available hot or iced, it's like drinking a liquid rainbow!
2. Vanilla Chai
Dutch Bros Vanilla Chai latte is a comforting blend of spicy chai, vanilla syrup, and your choice of dairy, oat, almond, or coconut milk.
I like it hot with a soft top — Dutch Bros' proprietary blend of heavy cream, buttermilk, vanilla, and sugar — or iced with whipped cream and caramel drizzle.
If you are a chai lover, I recommend that you also check out my review of the Dunkin' Donuts chai latte.
3. Green Tea Lemonade
Green tea and lemonade collide in this ultra-refreshing, lower-caffeine option.
Among Dutch Bros' lighter drinks, you get the nutritional benefits of green tea without the dairy calories. Available iced and blended, it takes the sizzle out of a hot summer day.
4. Tropical Tea
The islands are a sip away with Dutch Bros' Tropical Tea!
Your choice of green or black tea with passion fruit, coconut, and blue raspberry syrups, it's an energizing, vacation-worthy treat.
5. Passion Fruit Tea
Purists will revel in this simple passion fruit tea. Select green tea for a smooth sip or Paris black for an added pucker of citrus.
The flavor is equally vibrant hot or iced. A splash of coconut milk gives it an intriguing twist.
How to Order a Dutch Bros Tea Drink?
Ordering tea at Dutch Bros is quite simple and straightforward, but there are still some tips and tricks you should know.
1. Choose Size and Hot or Iced
First, you need to choose your drink size and if you want it hot or iced. Below are the options.
Hot drinks:
Small: 12 oz
Medium: 16 oz
Large: 20 oz
Iced drinks:
Small: 16 oz
Medium: 24 oz
Large: 32 oz
2. Pick a Flavor
I recommend starting with one of the recommended tea drinks introduced in this guide. They also have over 30 other tea flavor combos that you can try.
But if you want something more plain and simple, you could just order tea made with one of the following Harney & Sons tea bags:
Earl grey
Cinnamon spice
Citrus ginko green tea
Decaf Ceylon tea
Paris black tea
How about creating your own flavor combo?
Yes, you can also do that!
Dutch Bros has a huge selection of Torani syrups used to flavor their drinks.
For example, the best-selling Double Rainbro uses a combination of strawberry, peach, and coconut syrup. But there is no reason couldn't just make up your own combo!
Here is the list of syrups to choose from:
Almond
Almond Roca
Banana
Blackberry
Blue raspberry
Chocolate macadamia nut (also available sugar-free)
Cinnamon
Coconut (also available sugar-free)
Creme de Menthe
Hazelnut (also available sugar-free)
Irish cream (also available sugar-free)
Kiwi
Lime
Orange
Passion fruit
Peach
Peppermint (seasonal – also available sugar-free)
Pineapple
Pomegranate
Pumpkin Pie (seasonal)
Raspberry (also available sugar-free)
Ruby red grapefruit
Salted caramel
Strawberry (also available sugar-free)
Vanilla (also available sugar-free)
Watermelon
3. Extras
Want something more to enhance your drink? How about a splash of milk or a topping?
If you like it milky, choose from the following options:
Dairy
Oat milk
Coconut milk
Almond milk
You can also have your drink topped off with whipped cream, a soft top, or some drizzle (caramel, dark chocolate, or white chocolate). These are most suitable for the Dutch Bros chai teas.
More Delicious Options
Dutch Bros started as an espresso bar but evolved from its humble roots into a mainstream competitor on the national stage. Focused on quality and customers, it's where refreshment and community meet.
And teas are just a fraction of what Dutch Bros offers.
So let's take a moment and dive into some other customer favorites!
Coffee
Since the whole story began with an espresso cart, coffee is the company's claim to fame.
Its three-bean blend is the base for more than a dozen offerings from a mellow cold brew to a rich Americano or frozen Dutch Freeze. Thoughtfully sourced from family farms in Brazil, Columbia, and Ecuador, it's complex but not acidic.
But what if you want both tea and coffee? Do you have to order two separate drinks?
Not necessarily!
There are actually drinks mixing tea and coffee together. One great option is the Dutch Bros Dirty Chai which combines espresso shots with the Chai Latte.
Dutch Frost
Billed as a "Dutch take on a classic milkshake," the Dutch Frost is a velvety combo of ice cream, milk syrup, and whipped cream.
Available in more than 60 flavors, the White Chocolate and Banana Split will knock your socks off!
Smoothies
For a pick-me-up without caffeine, Dutch Bros' smoothies are silky and satisfying.
But dieters beware — made with real fruit puree, ice, and whipped cream, they can top 600 calories.
Lemonade
If you're tired of the same-old, Dutch Bros makes 30 flavored lemonades from simple to daring.
Try the Electric Berry for a jolt of lime and blue raspberry flavor. And don't miss the Galaxy Fish — a sweet-tart fusion of strawberry, lime, and passion fruit.
Dutch Sodas
Dutch sodas are a bubbly blend of Dutch Bros' own sparkling soda water plus your choice of fruit flavors.
Forget the colas — watermelon is where it's at!
Dutch Cocoa
Dutch Cocoa is the cure for a rainy Oregon day. Made with steamed chocolate milk, it's creamier than the average hot chocolate.
Choose from classic combinations like French Vanilla Bean with hints of both vanilla and caramel, or go wild with our holiday favorite, Snickerdoodle — a union of Chocolate Macadamia Nut, Cinnamon, and White Chocolate dusted in cinnamon sprinkles.
The "Not-So-Hot" option is available for children on the kid's menu.
Rebel Energy Drinks
Coffee is old-school. When you need a boost, look no further than Dutch Bros' Rebel Energy Drink.
Available sugar-free, it comes in nearly 30 fruit combinations, including the Double Rainbro.
Bakery Goodies
What's a drink without a nosh?
Turn your drink into a meal to-go with a granola bar or muffin top.
Seasonal Menu
Like any good coffee shop, Dutch Bros has a creative seasonal menu.
This year's star is the Candy Cane Cold Brew — a peppermint mocha slathered with a luscious soft top and crunchy candy cane sprinkles.
Whether you are ordering a tea drink or some other type of beverage, I hope you will enjoy your experience at the Dutch Bros!