Another year is here and with it comes a golden opportunity to focus on your health.
If losing weight is your goal, experts recommend replacing bad habits with better ones.
A simple approach to a healthier body is to make small, manageable changes like swapping calorie-packed beverages for lean green teas that rev up your metabolism.
The brands introduced in this guide offer the advantage you need to shed pounds and burn stubborn belly fat.
Our recommendations for the Best Green Teas for Weight Loss:
How to Choose the Best Green Tea for Weight Loss
Green tea has scientifically proven wellness benefits, but not all brands and types of green tea are created equal.
Consider these factors when choosing a brand as a weight loss tea:
Caffeine Content
Caffeine is a mild stimulant. More than 50% of Americans rely on it to get through the day, but most consume it in sugary drinks that add empty calories to an otherwise healthy diet. This makes every sip a weight loss sabotage!
A better way to get your fix is with green tea.
An 8-ounce serving of high-quality green tea contains about 40 mg of caffeine — about half as much as an espresso. But a teaspoon of matcha powder has much more.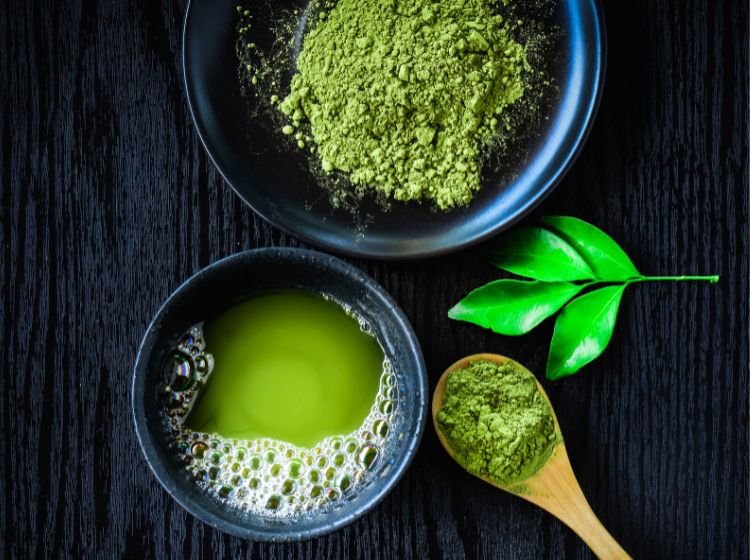 The amount of caffeine typically found in green tea gives your metabolism a gentle nudge without giving you the jitters. You'll burn more calories without a single squat.
Our recommended brands offer anywhere between 15-70 mg of caffeine per serving. Choose one with high caffeine to kickstart your day or if you want to drink green tea before a workout. Another option is to pick a low-caffeine green tea for a relaxing evening cup.
Catechin/EGCG Content
Catechins are naturally occurring antioxidants found in tea leaves and other foods.
One in particular, epigallocatechin (EGCG), improves the body's ability to burn fat by increasing the production of digestive enzymes in the intestinal tract.
Studies show that regular green tea drinkers have a lower BMI and a healthier waist-to-hip ratio. On average, green tea contains 30% more EGCG than black tea.
Research also shows that catechins and caffeine work together to enhance your metabolic rate. And compared with a placebo, a catechin-caffeine blend will increase fat oxidation better than caffeine alone.
This dynamic duo might just be the key you need to achieve a lower BMI!
Taste
Changing your habits is easier said than done. Success hinges less on willpower than on the benefits changes provide.
Weight loss is a long-term goal — it takes time to get results. But giving up sugar-fueled coffee in favor of green tea is an immediate sacrifice some people can't live with.
If a green tea habit is going to stick, it needs to be satisfying. So, we chose only flavorful brands that taste good without added calories from cream and sugar.
It only takes two weeks to persuade your taste buds to enjoy green tea as much as other favorites. Help yourself to skim milk and calorie-free sweeteners if that's what it takes to cross the finish line.
Top 5 Best Green Tea Brands for Weight Loss
There are thousands of brands of green tea available ranging from cheap tea bags at supermarkets to pricier organic, high-quality products that you can buy online or from specialty stores.
But if your purpose is to lose weight, does it really make any difference which green tea you choose?
Yes, there are huge differences between different brands and types of green tea!
As explained above, the caffeine and EGCG content of your green tea defines how effective it will be in helping you shed those extra pounds.
ConsumerLabs tested dozens of brands of green tea and the results are shocking:
Some low-quality green teas had less than 7 mg of EGCG per cup
High-quality green teas could have as much as 90 mg of EGCG per cup
Matcha green teas had about 100 to 150 mg of EGCG per teaspoon (2 grams)
In addition, one teaspoon of matcha powder has about 70 mg of caffeine while a typical cup of green tea only has about 25 mg. However, some green teas can contain over 40 mg of caffeine per cup.
So why is there such a huge difference in the EGCG and caffeine content in different green teas?
Regular green teas are grown in full sunlight while real Japanese matcha and gyokuro green teas are made with tea plants that are kept in shade for at least 2 to 3 weeks before harvest. This results in a much higher amount of EGCG and caffeine. After harvest, they are flash-steamed to stop oxidation and maintain high antioxidant content.
There are also other factors that play an important part. For example, high-quality green teas are often made with young leaves from the upper parts of the plant that contain more antioxidants and caffeine.
Based on all of these factors, here are our top picks for the best green teas for weight loss:
Best Matcha: Art of Tea Ceremonial Grade Matcha
Art of Tea Ceremonial Grade Matcha is the ultimate weight-loss fuel!
Made with organic, high-quality Japanese green tea, it's packed with caffeine and antioxidants and has a fresh and balanced flavor.
And one of the best things about matcha is that you don't really need to worry about how to brew it — you will actually consume the powder and all of the nutrients in it.
Amount: 1.4 oz (40 g) or 2.8 oz (80 g)
Type: Organic Matcha Green Tea Powder
Product Highlights:
Superb quality Japanese matcha green tea
Smooth and light flavor with less bitterness
High caffeine and EGCG content
USDA-certified organic
This concentrated green tea powder contains up to 10 times more antioxidants than regular green tea and significantly more EGCG. Adjust the amount of powder per serving to tweak the strength.
A refreshing tea that's remarkably light among matchas, this ceremonial blend of three varietals has an ultra-smooth flavor for first-timers. Never too bitter, it's delicious hot, or iced.
Grown, ground, and packaged at the source to preserve nutrients, Art of Tea's matcha is impeccably packed in your choice of 1.4- and 2.8-ounce tins. Make it your new wake-up habit.
This matcha is also available in convenient pre-measured packages of 2 grams. I usually carry a few with me so that I can just mix the powder with cold water for a refreshing pick-me-up during a hot afternoon.
Best Tea Bags: Buddha Teas Organic Gyokuro Green Tea
Gyokuro green tea is one of Japan's best-kept secrets.
Shading is the key to its complex flavor and nutrient content. Higher in caffeine, amino acids, and EGCG than the typical green tea, it's a savory way to stay slim.
Amount: 18 tea bags
Type: Organic Green Tea Bags
Product Highlights:
Shade-grown for high caffeine and EGCG
Light and smooth flavor
Plastic-free tea bags
Non-GMO and USDA-certified organic
Certified kosher, organic, and non-GMO, Buddha Gyokuro contains no artificial flavors, sweeteners, or preservatives. Also known as "jade dew," the color is shockingly green, yet the flavor is remarkably light. Slightly sweet, it's a good choice if you're trying to reduce your sugar consumption.
Gyokuro is a premium tea with a matching price tag. But Buddha Teas offers it in an 18-bag box for an affordable per-pound price. These plastic-free tea bags are unbleached and the packaging is recyclable.
Best Loose Leaf: Vahdam Himalayan Pearls Green Tea
Vahdam's Himalayan Pearls is very different than matcha or Gyokuro. It's a light-bodied but earthy tea with complex citrusy notes and delicate floral essence.
Best served neat and hot, it's sweet enough to stand alone or with a touch of honey or stevia.
Amount: 3.53 oz (100 g)
Type: Loose Leaf Green Tea
Product Highlights:
High caffeine content
Unique sweet and citrus-like flavor
Great value for money
Brimming with caffeine, this green tea is an ideal replacement for a tall black coffee. The generous 3.53-ounce bag contains 50 servings for a competitive price.
Vacuum-sealed at the source and shipped in puncture-proof bags, the intense flavor never disappoints. And you'll receive a resealable airtight pouch in which to keep it fresh.
Best Blend: Art of Tea Happy Tea
Happy Tea is no ordinary tea. A budget-friendly blend of organic jasmine green tea and fruit with hibiscus and rose hips, it contains guayusa, a South American herb native to the Amazon rainforest.
This refreshing and energizing tea is loaded with healthy antioxidants and combines the caffeine from green tea and guayusa for a nice uplifting effect.
Amount: 4 oz (113 g) / 1 lb (454 g) / 2 oz (57 g) Tin
Type: Organic Loose Leaf Tea Blend
Product Highlights:
Nice energizing effect
Light and pleasant taste with flavors of fruit and berry
Fair Trade and USDA-certified organic
Having both green tea and guayusa, this blend is a one-two weight loss punch. Guayusa is packed with antioxidants and has a very high caffeine content.
Studies show that guayusa may help stabilize blood sugar and boost metabolism. And unlike coffee, the high caffeine content doesn't appear to cause nervousness — we don't yet know why.
The raspberry and apple flavors mask the grassy notes some people find unpleasant. And the combination of Jasmine green tea and green rooibos is especially mild. Even if you don't generally like green tea, the Happy Tea will delight you!
Best for Evening: Tea Vivre Premium Dragon Well Long Jing Green Tea
If you're sensitive to caffeine, you're in luck with Tea Vivre's Premium Dragon Well Tea. It's virtually caffeine-free but still contains fat-busting catechins.
This tea is also high in L-theanine which promotes relaxation and promotes better sleep.
Amount: 4 oz (113 g) / 8 oz (227 g) / 16 oz (454 g)
Type: Loose Leaf Green Tea
Product Highlights:
Delightfully sweet taste with no bitterness
Relaxing and calming with low caffeine content
2019 Golden Leaf Awards gold medal winner
Cultivated in China's Qiantang River region where unique soil and low humidity create the ideal growing conditions for a nutritious tea, Dragon Well contains Vitamin C, polyphenols, and essential amino acids that support a vibrant metabolism.
Among the region's finest teas, it lacks the bitterness of low-quality green loose leaf.
Tea Vivre is definitely one of the best loose leaf green tea brands and this award-winning Longjing is one of their finest.
A mild tea with a creamy chestnut-like taste, it's a deliciously relaxing treat that won't disrupt your sleep. Shipped in an airtight bag, Tea Vivre recommends refrigerating Dragon Well after opening.
Tips for Brewing Your Green Tea
Brewing a cup of green tea is not difficult — just follow the instructions on the package for the best results.
Here are a few tips to make the most out of your green tea:
Don't use boiling hot water, it will result in a bitter brew
Longer brewing times and higher water temperatures will extract more caffeine and antioxidants from the tea leaves
Use matcha powder if you don't want to worry about brewing — you can just mix it with hot or cold water and enjoy 100% of the nutrients and benefits
I hope that you found this guide useful in choosing the best green tea for losing weight and burning fat.
Enjoy your green tea and stay healthy!
-Joonas