Many people are becoming obsessed with Kung Fu Tea. And for a good reason — they have a large selection of delicious drinks from sweet milk teas and refreshing lemonades to more exotic choices!
The chain has hundreds of locations throughout the United States, Canada, Cambodia, Taiwan, and Japan. Of course, Kung Fu Tea is synonymous with bubble tea for most people but you shouldn't ignore their other options either.
Take a look at my favorite drinks and why Kung Fu Tea kicks the competition when it comes to being the best bubble tea chain in the world!
So what should you have on your next trip to Kung Fu Tea?
Take a look at my top 10 recommendations below!
Top 10 Best Kung Fu Tea Drinks Reviewed
1. Kung Fu Milk Tea (Milk Tea)
Kung Fu Tea actually offers 10 different flavors of milk tea, including the popular Winter Melon Milk Tea.
But the Kung Fu Milk Tea is their best-selling signature drink that people tend to fall in love with first. It consists of fragrant Earl Grey tea, milk powder, and cane sugar — plus the toppings that you choose.
I recently tried Kung Fu Milk Tea, and I must say, it did not disappoint!
The tea itself was rich and aromatic, while the milk added a creamy texture that perfectly balanced the flavors. I ordered it with Oreo and boba pearls. The Oreo topping added nice crunchiness while the tapioca pearls were soft, chewy, and complemented the drink wonderfully.
It's no wonder this is one of their most popular milk teas. Kung Fu Milk Tea has definitely earned a regular spot in my beverage rotation. Highly recommended!
2. Rosehip Lemonade (Punch)
Oh, the Rosehip Lemonade at Kung Fu Tea is a game-changer!
This sweet and refreshing drink combines freshly brewed tea and fresh-squeezed lemonade with real fruit flavor.
The first sip brought a refreshing burst of citrus, swiftly followed by the subtle, fragrant notes of rosehip. The blend of tart lemon and gentle floral undertones was invigorating and provided a unique twist to the conventional lemonade.
The rich red color of this drink is a good reminder of all of the healthy antioxidants packed into rosehip. And the vibrant hue of the drink was also visually appealing and Instagrammable!
A must-try for anyone looking to quench their thirst with something a bit extraordinary.
If you love the flavor and benefits of rosehip but want something more fulfilling, you can also try their popular rosehip milk tea.
3. Matcha Milk Cap (Milk Cap)
You'll never have foam FOMO with this one!
That's because Kung Fu Tea's milk cap takes pure milk foam to the next level by adding milk, sugar, and salt together for a thick texture with amazing flavor. The matcha variety infuses a rich flavor with caffeine for a drink that's out of this world.
The Matcha Milk Cap at Kung Fu Tea instantly captivated my senses from the moment it was handed over to me. The vibrant green hue of the matcha peered through the cup, creating a visually stunning contrast against the creamy milk cap.
The first sip was a delightful surprise; the earthy, slightly bitter notes of matcha harmoniously melded with the rich and velvety milk cap, offering a palate of well-balanced flavors. I also appreciated the gentle sweetness, which did not overshadow the authentic taste of matcha.
If you're a fan of matcha bubble tea, make sure to also try the Strawberry Matcha Latte from Boba Guys.
4. Kung Fu Green Tea (Classic)
Purists love the Kung Fu Classic Green Tea because it lets the flavor of the leaves shine through.
I loved the way this tea was steeped to perfection, striking a delightful balance between the slightly grassy notes and a subtle, alluring bitterness characteristic of green tea.
While it's fun to try the exotic menu items, this stripped-down favorite offers a healthy way to get a caffeine fix. Feel free to have this tea hot or cold, and sweetened just how you like it.
If you want a fruity twist, order a Mango Green Tea or Orange Green Tea instead!
5. Strawberry Slush (Slush)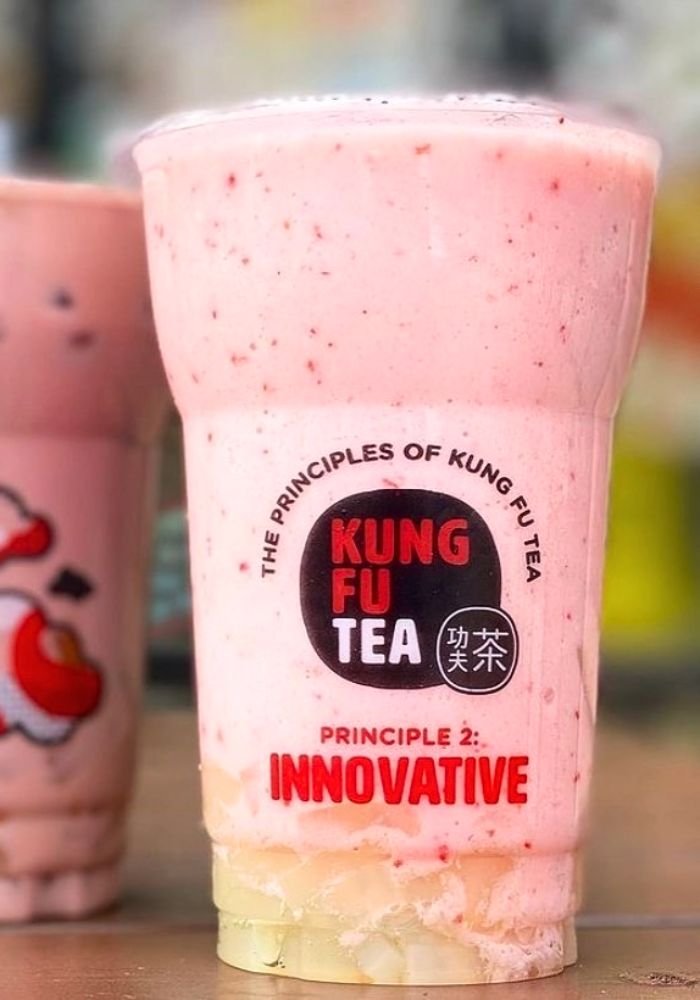 A tea date doesn't need to be all grown up. Kung Fu Tea's slush menu is proof of that.
The strawberry slush combines classic flavors blended with ice for incredible refreshment that's sure to please any sweet tooth!
The Strawberry Slush at Kung Fu Tea was a refreshing treat, bursting with authentic, sweet, and slightly tart strawberry flavors. The icy smoothness was incredibly satisfying on a warm day, and the vibrant red color added to the overall delightful experience.
6. Mango Creamsicle (What's New)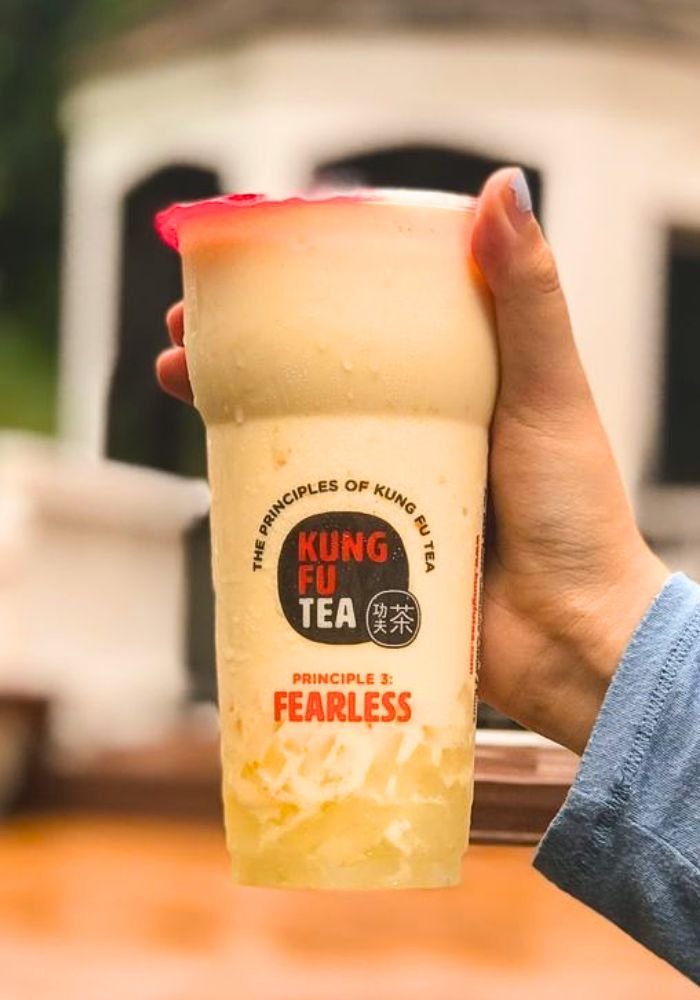 Jump on the chance to get this limited-edition flavor if you can find it!
The Mango Creamsicle is a real treat that combines fresh mango with tapioca to create a summery flavor. The good news is that mango bubbles can be added to any tea if this drink is out of season when you show up.
7. Oreo Wow (Milk Strike)
Pick an Oreo Wow Milk if you're in the mood for dessert.
This drink is made with premium tea, freshly cooked Kung Fu "wow" bubbles, and lactose-free milk to create a sweet sensation.
It's like getting a perfect blend of cookies and milk in every creamy sip!
8. Brown Sugar Ginger (Seasonal)
If you're looking for something hot on the Kung Fu Tea menu, this is a wholesome pick. The Brown Sugar Ginger tea is also the best option for treating colds and soothing a sore throat.
All the flavors of the holidays come alive on a cold day once you get that first hint of ginger. This drink can be flavored any way you please!
9. Caramel Macchiato (Espresso)
Yes, Kung Fu Tea serves coffee too!
Many people consider the caramel macchiato to be the best coffee item at Kung Fu Tea. You can order yours hot or iced!
10. Yogurt Orange (Yogurt)
This cool treat combines yogurt and fresh-squeezed juice. In addition to being tasty, this healthy drink is full of calcium, protein, vitamin C, and probiotics.
It's a great pick when you want to visit the tea shop without getting a caffeine fix.
Check out my list of best Gong Cha drinks for more delicious options to try.
The Scoop on Kung Fu Tea Toppings
After choosing your drink there are still 3 more steps when ordering at Kung Fu Tea:
Choose your toppings.
Choose your sugar level.
Choose how much ice you want.
Here is a short video that tells you exactly how to do it:
Choosing the amount of sugar and ice is quite straightforward.
But how about choosing the toppings?
Kung Fu tea offers toppings galore!
The tapioca "boba" bubbles top the list. Made fresh every two hours using tapioca starch and brown sugar, these little jewels make any drink sweeter.
The other toppings waiting to dress up your drink include Oreo, pudding, nata jelly, red bean, coffee bubbles, herbal jelly, aloe jelly, mango bubbles, and grape popping bubbles.
If you don't know where to start, go with the tapioca and then later experiment with other flavors to find your favorites!
All About Kung Fu Tea – History & Company Backgorund
Kung Fu Tea was founded in Queens, New York in 2010. As America's largest bubble tea brand, it's responsible for ushering in the bubble tea craze that was already rocking Japan.
However, Kung Fu Tea is far from a fad brand. The company prioritizes quality by ensuring that every cup of tea is freshly brewed using premium leaves at the perfect temperature.
Kung Fu bubble teas are known for being as beautiful and bright as they are delicious.
In fact, the brand owes some of its growth to the fact that people can't stop posting photos of their gorgeous bubble teas on Instagram!
Traditional bubble tea on Kung Fu Tea's menu consists of premium tea, milk, and jelly-like bubbles of joy made from tapioca.
However, the brand has many different varieties on their menu. Kung Fu Tea artists will even create custom flavors for customers looking to mix and match different options.
If you like premium milk tea, I recommend that you also take a look at my guide with the best drinks at Chatime.
Yes, Everyone Should Try Kung Fu Tea!
A visit to Kung Fu Tea should be on every tea lover's bucket list.
Whether you are looking for the best boba in Phoenix, Los Angeles, or New York, their menu will not disappoint you!
The beauty of this tea chain is that there's no gimmick here. The company makes novelty teas that are backed by premium leaves to give even the biggest tea snobs something to smile about.
Read also: Best Starbucks Hot and Iced Teas