Bubble tea is an Asian creation and a new American obsession. Still, too many US tea shops miss the mark trying to duplicate its trademark taste.
The heart and soul of bubble tea are the ingredients and brewing methods developed in Taiwan.
Sharetea hits the flavor bullseye with a fresh take on original recipes by importing traditional ingredients straight from the source. Here are the top 10 best drinks to try!
All About Sharetea
Sharetea was founded 30 years ago in the heart of Taiwan. Today, they have 400-plus stores in 13 countries and counting, including dozens in the US from coast to coast.
Drinks are made from the finest teas and natural flavorings with no artificial ingredients. The teas are also continuously quality-tested for consistency.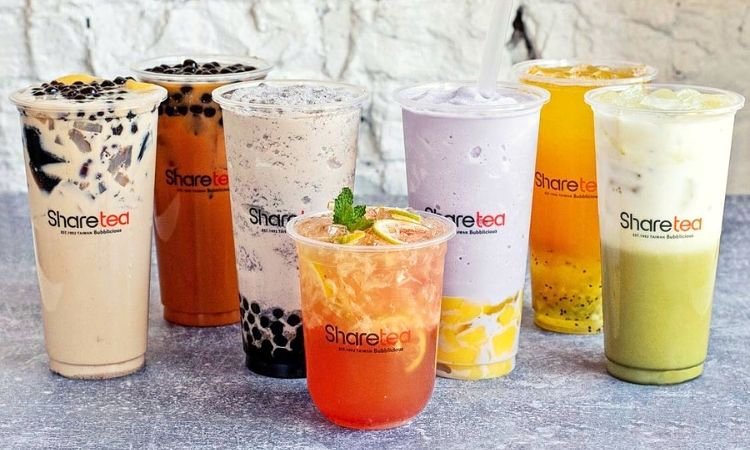 The menu features an extensive range of customizable classic teas and creative combinations in seven categories:
Milk Tea: Your choice of tea, milk, and sugar blended to caramelly perfection.
Fruit Tea: Freshly brewed tea infused with all-natural fruit jam.
Brew Tea: Hot and iced premium quality brewed teas.
Fresh Milk: Your choice of tea topped with fresh milk.
Ice Blended: Ice-whipped concoctions with or without ice cream.
Creama: Teas topped with Sharetea's famous salty cheese foam.
Tea Mojito: Non-alcoholic, summer-fresh versions of the minty Mojito.
And, of course, Sharetea has seasonal and secret menus with off-beat favorites and specials.
If you're not lucky enough to live in one of the over 20 US states with Sharetea locations, we have good news. Amid an aggressive expansion, new stores are opening all the time in states including Arizona, Virginia, and North Carolina.
The company believes that the next few years will be pivotal for capturing market share as the boba market grows, so look for one near you.
Top 10 Best Sharetea Drinks to Try
First impressions matter, so you'll want to make yours count by choosing from the best Sharetea has to offer on your inaugural visit.
The menu includes a top ten list to help new customers identify bestsellers, but we've compiled our own list of what are sure to be your new favorites.
1. Classic Pearl Milk Tea
The Classic Pearl Milk Tea is the quintessential blend of black tea, milk, and pearls.
Smooth, creamy, and sweet, it's simple but satisfying without a hint of bitterness. The chewy pearls give it substance without overwhelming the taste of the tea. It's perfectly balanced.
Choose from Black Tea, Green Tea, or Oolong Tea — whichever best suits your taste buds!
2. Matcha Red Bean Milk Tea
Matcha isn't for everyone. But if you've never tried this pungent green tea, this version is the one to warm up on.
Blended with milk and sweet red beans, you get the flavor and caffeine without quite as much punch as a cup of pure matcha.
3. Wintermelon Lemonade
Wintermelon and citrus collide in Sharetea's Wintermelon Lemonade. Cool, clear, and caffeine-free, it's our go-to for anytime summer refreshment.
The flavor of the fresh lemon shines. But beware — it packs a pucker below 50% sweetness level.
4. Oreo Ice Blended With Pearl
East meets West in this intriguing blended treat — combining Oreos and boba pearls is genius.
The toffee and chocolate flavors are a match made in heaven. Blended with ice into a slushy consistency that's just thin enough to drink, it'll rock your world.
5. Taro Pearl Milk Green Tea
This purple boba drink reminds us of our favorite sweet potato casserole. The dairy and caramel flavors in the milk tea bring out the natural sweetness in the taro.
There's not much green tea flavor, but pearls give it a welcome chew. When you're in the mood for something hearty, the taro bubble tea will fit the bill.
If you want to know more about this fulfilling sip, read our guide about taro milk tea taste and health benefits.
6. Lime Mojito
Brewed green tea, lime juice and a sprig of mint give the Lime Mojito a cocktail-like quality without the alcohol. If you like sour, this is your drink.
Tangy and thirst-quenching, you'll taste the freshness in every sip. Pair it with a colorful summer fruit salad.
7. Okinawa Pearl Milk Tea
Okinawa Pearl Milk Tea is a step up in sweetness from the Classic Milk Tea. Roasted brown sugar gives it an extra layer of flavor.
Made with presweetened powdered tea, you can only reduce the sugar content by reducing the amount of powder and, therefore, the flavor. Okinawa milk tea is sweet, but we recommend it as-is — have it for dessert.
8. Mango Ice Blended with Ice Cream
A scoop of ice cream transforms the Mango Ice into a creamy delight. It's like a mango shake but better because it has more than one texture.
The mouthfeel is surprisingly gratifying. It doesn't come with boba, but we didn't miss it. If you add it, let us know what you think.
9. Peach Kiwi Tea with Aiyu Jelly
If you're cutting calories, this is one of our low-sugar favorites. The fresh peach flavor pops without a drop of added sweetener.
While it's not entirely sugar-free — the kiwi jam and Aiyu jelly are presweetened — there's not enough to sabotage a good diet day. Enjoy the flavor you crave without the guilt.
10. Wintermelon Fresh Milk
Wintermelon teas are typically light, but a splash of milk and sugar gives this drink a kid-like quality. One sip will transport you to a carefree time when you didn't care how much sugar you slurped.
But since nearly every drink at Sharetea is customizable, you can reduce the sugar content to zero. Let your mood decide.
How to Order at Sharete
Sharetea's drinks are handcrafted and made to order using these simple steps:
1. Choose Your Drink Type
The Sharetea menu is divided to simplify ordering. The milk teas, fruit teas, Mojitos, and blended beverages, for example, are grouped by category.
2. Pick a Tea
Most drinks can be made with Black, Green, or Oolong tea. Decaffeinated options are clearly noted on the menu.
3. Order it Hot or Iced
Ninety percent of Sharetea's milk teas and brewed teas can be ordered hot or iced. There are a few exceptions due to ingredients that don't hold up in the heat.
4. Specify a Sweetness Level
Except for teas made with presweetened powders or syrups, you can choose 0%, 30%, 50%, 80%, or 100% sweetness for your drinks. When in doubt, start with 50%.
5. Select the Amount of Ice
Sippers can avoid a watery drink by toning down the amount of ice in their order. Ask for regular ice, less ice, or no ice.
6. Choose the Milk Type
In addition to dairy options, most Sharetea stores offer oat milk, almond milk, or soymilk.
7. Add Toppings
Topping availability varies somewhat by location, but staples include:
Black pearl
Crystal boba
Aloe Vera
Lychee Jelly
Red Bean
Creama
Herb Jelly
Ice Cream
Pudding and Aiyu jelly
If you're in a sweet and salty sort of mood, we recommend the Creama on a milk tea — you won't be disappointed.
And the citrusy edge of crystal boba is a game-changer in any of the fruit teas. Try it in a Wintermelon Lemonade
The bottom line is that Sharetea doesn't have a gimmick or a quirky theme to bring in fair-weather customers. Instead, they focus on building lifelong relationships with people based on quality products served with a smile.
Any boba is good, but Sharetea is better!
PS. If there is no Sharetea in your area, or you just want some more delicious options to try, check out our guide with the best Boba Guys drinks.