Don't disappoint the tea lover in your life with another tie. Whether they're budding enthusiasts or connoisseurs, what they crave is another cup.
So, celebrate a birthday, share a get-well wish, or give someone a well-deserved thank-you with the gift of tea!
From familiar favorites to exciting unique varieties, one of our recommended tea gift sets is sure to please.
Gourmet Tea Gift Box: Art of Tea – Tea Time Gift Box
Art of Tea's limited edition gift sets are ideal for the premium tea lover. Select from four options containing their bestselling loose-leaf blends with nuanced flavors everyone will enjoy.
Choose from options including brisk English Breakfast Tea, warm Coconut Creme, soothing Lemon Ginger, and refreshing Pacific Coast Mint. They will satisfy even the most discriminating palates!
Your gift will arrive in a sophisticated, all-occasion black box with Art of Tea's logo embossed on the cover. Teas are presented in reusable decorative tins or freshness-sealed pouches with a complimentary scoop and filter bags. Polished yet understated, it makes a lasting impression.
Complete Set with Blooming Teas: Teabloom Celebration Blooming Tea Set
Teabloom is renowned for its inspiring tea and stunning glass teaware, so why not give both with their Celebration Blooming Tea Set.
Note: Use coupon code "TEA10" to get a 10% discount on all orders from the Teabloom online store.
This set comes complete with a 40-ounce borosilicate glass teapot and warmer plus four petite, double-walled insulated cups. Extras include a glass infuser and a dozen blooming teas in colorful green tea flowers. This is no ordinary tea set!
Elegant yet surprisingly lifestyle-friendly, the teapot is stovetop-, microwave- and dishwasher-safe. Crystal clear, it fits any décor.
Perfectly packaged inside and out for long-distance gift-giving, put this set at the top of your list for weddings, showers, or housewarmings.
Set with Six Gourmet Teas: TeaBox Fleur Gourmet Tea Gift Box
TeaBox's Fleur gift set is curated for the adventurer. You can't go wrong with this exciting selection of six ultra-fragrant teas that will pique the imagination!
This gift box includes exotic flavors from Assam Masala Chai to Kashmir Kahwa Kesar — a smoked green tea brimming with saffron and spices. The quality and freshness are second to none.
The teas are packed in sturdy tin caddies and delivered in an eco-friendly paperboard box with an elegant floral illustration. Recipients will appreciate the bonus ball infuser.
Occasion-worthy, the TeaBox Fleur collection is tailor-made for birthdays and anniversaries. It's the ultimate gift for the tea lover who's tried everything.
Spiritual Herbal Tea Gift Set: Buddha Teas Organic Chakra Teas Bundle
This selection from Buddha Teas offers a collection of Chakra Teas for a truly spiritual tea experience.
This bundle contains 7 amazing herbal tea blends, one for each of the main chakras in our body. All of these delicious blends are made from organic herbal ingredients and are designed to resonate with the different chakras, or energy centers, that are channeling our spiritual energy.
Buddha Teas is definitely one of the best online tea stores. This company is dedicated to offering delicious teas produced in harmony with nature. All of their teas are grown without chemical fertilizers or pesticides and come without any flavorings or additives.
Everything from the packaging to the tea bags and the tea itself is produced with methods that are as sustainable and eco-friendly as possible.
If you want to give your friend or loved one a set of teas with sublime flavors and spirit-nurturing energy, look no further!
For Chai Lovers: TeaBox Chai Montage
Nothing warms the soul like an aromatic cup of chai. Bursting with Indian spices, its growing popularity is exceeded only by its variety.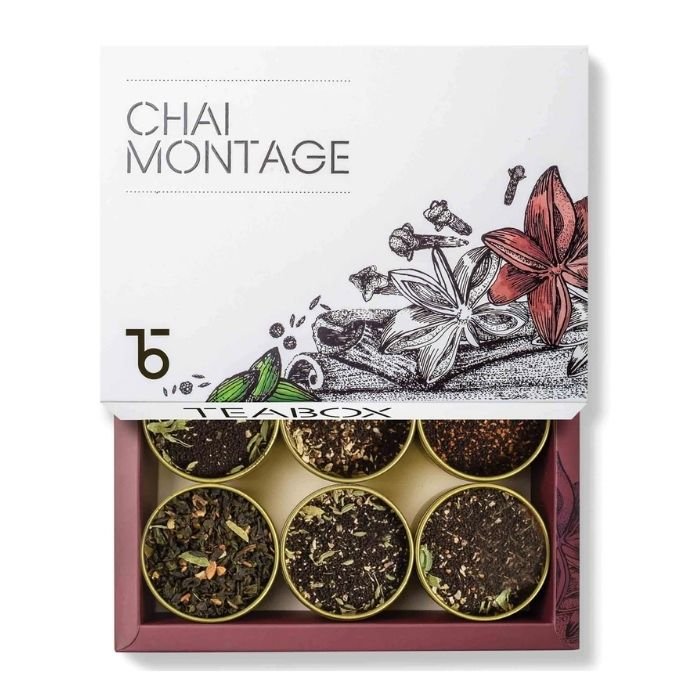 This set represents the diversity of India's top provinces with daring flavors from Punjabi Masala Chai, a complex blend of black tea with eight fragrant herbs and spices, to Assam Masala Chai with its striking combination of malt, cinnamon, clove, ginger, and pepper.
You'll receive six tin caddies of hand-crafted tea, thoughtfully packed in a beautifully illustrated box. For the chai lover, it's a rare opportunity to sample the authentic flavors of India.
For Matcha Lovers: Matcha Source Focus Tea Gift Set
Matcha doesn't get the attention it deserves, but you will for splurging on this delightful gift. A well-appointed set for the first-timer matcha drinker, it includes everything they need to prepare this traditional Japanese treat.
The set comes with a 30-gram tin of premium powdered matcha, a porcelain tea bowl, tea sifter, scoop whisk, and whisk holder.
Select from two options of matcha tea – the invigorating Morning Matcha or the ceremonial-grade Kama Matcha. Both come expertly packaged for all-occasion gifting.
Since matcha is a new experience for so many tea lovers, Matcha Source includes an illustrated how-to brewing guide. It's more than just tea — it's an experience!
Great Christmas Gift Set: Vahdam Holiday Advent Calendar Christmas Gift Tea Set
Share the holiday cheer this season with 24 of Vahdam's most popular loose-leaf blends. From everyday favorites, including chamomile, oolong, and green tea to one-of-a-kind Chais and herbal tisanes flavored with turmeric and chocolate, there are flavors everyone will enjoy.
Vahdam teas are sourced in India and known globally for their excellence and sustainability. Each variety is individually packed in a tin for freshness and delivered in a decorative box.
The colorful Christmas packaging adds another dimension to what's destined to be their most appreciated holiday gift this year. A delicious gift for the new or dedicated tea drinker, this gift set is the ideal blend of familiar and unique.
Beauty & Wellness Gift Set: Pique Matcha Tea Beauty Bundle
Give the gift of better health with Pique's spa-inspired Matcha Beauty bundle. It includes supplies for making the perfect cup of matcha plus 56 servings of one of the world's most nutritious teas.
All-natural and USDA organic, Sun Goddess Matcha is exclusively sourced from the southern Japanese archipelago where the cool climate improves its skin-enhancing phytonutrient content. Crafted by one of just 15 Japanese tea masters worldwide, its deep umami flavor and creamy richness are as delicious as they are good for the body.
This luxurious gift set also includes a 7-day detox manual for kicking the coffee habit. It's welcomed stress relief for brides-to-be and anyone with wellness goals.
For Travelers: Michael Grace Gifts – Tea Gift Set for Tea Lovers
Make your favorite traveler's day with this tea lover's gift set from Michael Grace. Practical, it's packed with everything they need for long days at the office, on campus, or on the road.
Perfect for students and commuters, this set includes a 304 stainless steel, double-walled, vacuum-insulated travel mug with a powder-coated finish for secure handling — plus 12 Tazo or Twinings tea bags in universally beloved flavors and honey straws for a portable touch of sweetness.
Wrapped in a charming gift bag and sealed with a ribbon and a custom gift tag, there's no better way to tell someone you're thinking of them while they're away.
Gift Set with Tea & Honey: K&T's Kitchen Gifts Variety Tea Gift Set
Wrap up your birthday or holiday shopping with K&T's Kitchen Gifts' well-rounded Tea Lover's Gift Basket — this is one present they won't send back.
The set includes a 12-ounce insulated mug in your choice of Black, White, and Rose Gold plus 18 individually wrapped tea bags from Twinings, Bigelow, and Yogi — top brands with universal appeal.
But the icing on the cake is a petite jar of delicious honey and two caramel or chocolate caramel stroopwafels, sweet treats from the Netherlands.
An excellent choice for everyday gift-giving, items are neatly arranged in a sturdy, all-occasion gift box for safe shipping and an impactful presentation.
Authentic Chinese Gaiwan Set: Teavivre Handmade Jianyang Jianzhan Gaiwan Tea Set
Few gifts will thrill a tea connoisseur like TeaVivre's authentic Gaiwan Tea Set. The stunning aesthetics belie in its simplicity and tradition.
The set consists of a Jianzhan Gaiwan, pitcher, and filter. Handmade from dense clay sourced in Jianyang, China, it boasts an unmistakable iron-rich glaze — no two are alike.
Not for the casual tea drinker, it offers unique thermal and aroma-enhancing properties valued by devotees — the craftsmanship is tangible.
Packaged for secure shipping and gift-worthy for all occasions, the box doesn't reflect the quality of the contents, but that will be long forgotten once it's opened. If gift-giving is an art, this set is a masterpiece!
Oolong Tea Gift Set: Teavivre Featured Oolong Tea Sampler Gift Set
Give the best of China's oolongs with this loose-leaf sampler from Teavivre. Modestly priced, it contains four, 7–8-gram packages of their top sellers — Tie Guan Yin, Taiwan Jin Xuan Milk, Taiwan Dong Ding, and Da Hong Pao Wuyi Rock — enough for 5-6 steeps of each.
The oolong teas are sealed in foil packets, so they stay fresh and aromatic until served — each has a different fragrance and flavor profile reflecting the region in which they were grown.
Presented in a stylish silver gift box, it's a fun way to learn about the origins of China's best teas and perhaps find a new favorite.
Coffee & Tea Gift Basket: Starbucks and Teavana Gift Basket by Wine Country Gift Baskets
Make someone's day with this thoughtful gift basket by Wine Country Gifts. Chock-full of Starbucks and Teavana favorites, it offers the variety and quality your special someone deserves.
Share a cup of Starbuck's best-selling Pike's Place or a sweet Vanilla Latte. Or opt for Teavana's robust English Breakfast Tea. There's something to put a smile on anyone's face.
The basket also contains two collectible Starbucks mugs plus decadent French butter and crispy chocolate chip pecan cookies — all carefully wrapped to prevent shifting in transit.
Presented in an attractive, reusable woven basket and topped with a seasonal bow, it makes a shareable gift for co-workers, staff, and students.
Best Tea Gift Sets and Baskets – Final Thoughts
Tea gift sets and baskets are never a disappointment because they reflect the thoughtfulness of the giver.
Whether you need a last-minute holiday or a pick-me-up gift, you can't beat the comfort of tea!