There's no shortage of choice when it comes to tea kettles. But if you have a gas stovetop, you may be wondering which are safe to use and function best.
Not all tea kettle materials are compatible with all cooktops, but the good news is that most are ideal for gas stoves.
Some, however, perform better than others. So let's take a close look at the best products on the market and which features make good kettles for gas stoves great.
A few minutes of research may save you years of buyer's remorse!
Our recommendations for Best Tea Kettle for Gas Stove:
6 Best Tea Kettles for Gas Stoves Reviewed
Whether you are looking for a durable and functional stainless steel tea kettle, a glass teapot that also works as a kettle, or a gooseneck designed for pour-over coffee, we have picked the best options to be reviewed below.
Best Overall: Willow & Everett 2.75-Quart Stainless Steel Whistling Tea Kettle
Willow & Everett's sleek stainless steel tea kettle is a bright spot in any kitchen. Feature-packed, its classic curves and mirror-bright finish complement any décor.
Made of surgical-grade stainless steel — the best money can buy — it boasts a generous 3-liter capacity and a wide, 5-layer encapsulated bottom for quick heating. Compatible with all cooktops from gas to induction stoves, it's engineered to last.
Specifications:
Volume: 2.75 Quarts / 12 cups
Materials: Surgical Grade Stainless Steel
Dimensions: 9″ x 9″ x 9″ (L x W x H)
Infuser Included: Yes
The sturdy construction and attention to detail in this kettle are obvious. Thoughtfully designed with user-friendly features, including an ergonomic handle and finger-operated spout lever. A gentle whistle alerts you when water is ready to pour.
Enhanced with plastics where it matters, the handle, lid knob and spout lever stay cool without fumbling for a potholder. The lid fits securely, and the opening is wide enough for easy cleaning. Weighty, it sits firmly on surfaces without wobbling.
Our top pick for its looks, function, and durability, the Willow & Everett kettle comes with a complimentary stainless steel infuser to round out an already exceptional value.
Pros
Nice and sleek design
Made with premium surgical grade stainless steel
Great for all types of cooktops
Ergonomic non-slip handle
Comes with a removable infuser
The Runner Up: Gipfel International 2.3-Quart Stainless Steel Whistling Tea Kettle
Gipfel makes top-quality steel cookware, including this premium whistling tea kettle. Well-appointed inside and out, it's similar to the Willow & Everett but with key differences that may appeal more to some buyers.
Specifications:
Volume: 2.3 Quarts / 9 cups
Materials: 18/10 Stainless Steel
Dimensions: 8.7″ x 8.3″ x 6.3″ (L x W x H)
Infuser Included: No
Heavy-duty, the entire kettle is made of 18/8 stainless steel — the same durable material fine flatware is made of. German-engineered, it's a little smaller but comparable in construction and completely plastic-free.
Classic yet modern with a fingerprint-resistant brushed stainless finish, you'll appreciate features like an ergonomic folding handle and a thumb-operated spout lever. Drip-free, it's a pleasant, one-handed pour. Compatible with all stoves, the tri-ply encapsulated bottom conducts heat efficiently for a speedy boil.
Our only complaint is that the handle can get a bit hot — a hazard with most all-metal kettles. Give it a minute and it cools down or use a mitt. If reducing the use of petroleum-based plastic products is a priority in your home, this fine kettle is well worth your patience.
Pros
Made with high-quality stainless steel
Entirely plastic-free
Ergonomic design with great pour
Easy to clean
Cons
The handle might get a bit hot
Best Glass Tea Kettle for Gas Stove: Teabloom 40-Ounce Stovetop & Microwave Safe Glass Teapot
Kettles are for boiling water — teapots are for brewing tea. But you can have your cake and eat it too with Teabloom's Celebration glass teapot.
Made of durable borosilicate, this two-in-one kettle and teapot is no exception. Stove-, microwave-, refrigerator- and dishwasher-safe, it's both practical and beautiful. Mid-sized at 40 ounces, it holds 4-5 cups of your favorite brew.
Note: Use coupon code "TEA10" to get a 10% discount on all orders from the Teabloom online store.
Specifications:
Volume: 1.27 Quarts / 5 cups
Materials: Borosilicate Glass
Dimensions: 9″ x 5″ x 6″ (L x W x H)
Infuser Included: Yes
If you're not familiar with Teabloom, they're renowned for their inspiring glass teaware and flowering teas.
This top-selling teapot comes with a generous, laser-cut glass infuser and two blooming teas — jasmine-infused flowers that unfold as they warm. Use it safely on any gas or electric stovetop. The handle stays remarkably cool when heated, and the non-drip spout is perfectly angled for smooth pouring.
Expertly packaged inside and out for safe shipping, put this teapot at the top of your gift list. Elegant yet unpretentious, it elevates tea to an art form.
Pros
Made entirely of glass – no plastic parts
Stylish and functional design
Very affordable
Comes with a high-quality glass infuser
Easy to clean in a dishwasher
Cons
Not as durable as stainless steel kettles
Best Gooseneck Kettle for Gas Stove: Fellow Stagg Stovetop 1-Liter Pour-Over Coffee and Tea Kettle
Form meets function in this sophisticated kettle from Fellow. Small but innovative and aesthetically stunning, it's the professionals' go-to favorite for making pour-over coffee and works great for tea also.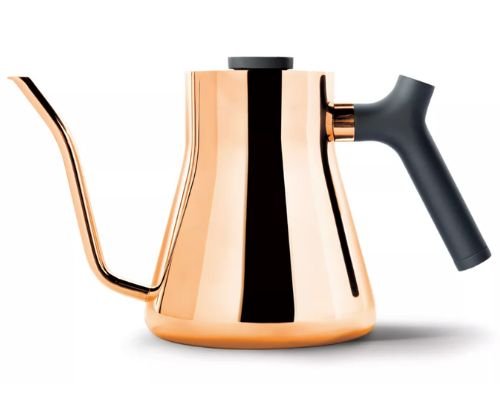 Specifications:
Volume: 1 Quart / 4 cups
Materials: 18/8 Stainless Steel
Dimensions: 11.81″ x 8.58″ x 6.81″ (L x W x H)
Infuser Included: No
So why do the champion baristas like this kettle so much?
Made from the finest 18/8 stainless steel, it's compatible with both gas and electric ranges. The beaker-shaped body heats fast. Well-balanced, the gooseneck spout and chunky, stay-cool handle are ideal for precision pours.
The kettle also features a built-in thermometer on the lid — a novel feature once found only in electric models. When brewing temperature matters, baristas reach for the Stagg.
Available in designer four finishes — black, white, polished steel, and our favorite, copper — our only warning about this kettle is that it's not very induction-friendly. Despite the all-metal construction, it doesn't perform as well as it should because there is not enough ferrous metal in the base.
But for your gas hob, it's a perfect fit. You won't be disappointed in this finely crafted kettle.
Pros
Very elegant
Super smooth pour
Has a built-in thermometer
Made with premium stainless steel
Cons
Doesn't work very well on all induction cooktops
Stylish & Functional: Technical Coffee 3-Quart Stainless Steel Whistling Teapot
Enjoy the beauty of copper and stone in this modern, practical kettle. Made of culinary-grade stainless steel, it's everything you need and more.
Specifications:
Volume: 3 Quarts / 12 cups
Materials: Stainless Steel
Dimensions: 8.6″ x 8.6″ x 9.7″ (L x W x H)
Infuser Included: No
The 3-quart capacity is large enough for family and friends. And with a 5-ply encapsulated base, it heats in record time. Equipped with a finger-trigger lever spout, the ergonomic handle stays completely cool. It's a pleasure to pour.
Baked on for durability, the black and white flecked finish looks like stone. A cinch to clean, it resists scratches and unsightly fingerprints. The copper trim doesn't touch your water, so it's both handsome and healthy. This posh kettle offers more than your money's worth.
Pros
Stylish marble & copper finish
Ergonomic stay-cool handle
Has a loud whistle
Generous capacity
Cons
It's a bit hard to pour all water out of the kettle
Colorful Retro Kettle: Pykal Retro 2.8-Quart Stovetop Whistling Tea Kettle
Rock your kitchen with PyKal's swanky retro tea kettle. Not your average kettle, it's all-steel but with spicy red accents that light up the room.
Specifications:
Volume: 2.8 Quarts / 12 cups
Materials: Surgical Grade Stainless Steel
Dimensions: 9.53″ x 9.13″ x 9.09″ (L x W x H)
Infuser Included: Yes
Compatible with all cooktops from gas to halogen, it has top-of-the-line safety features, including iCool thermal protection for the handle and lever trigger.
The broad base and 5-lay encapsulated base are ideal for lightning-fast heating over a large burner. Two free infusers are included with each kettle.
Loud, the whistle can be heard from the next room but the sound isn't grating. German-engineered, it's durable, easy to fill, and even simpler to clean. The one-of-a-kind finish is a conversation starter, but it's this kettle's performance that you'll be talking about for years to come.
Pros
Colorful & exhilarating retro design
Great for all cooktops
Includes 2 tea infusers
Pleasant but loud whistle sound
Cons
The lever that opens the spout tends to get a bit hot
What To Consider When Buying a Tea Kettle for Gas Stove
Design
Tea kettles boil water. Simple technology, they should be intuitive. Like over-engineered small appliances, kettles that are unwieldy to handle or a hassle to use will inevitably gather dust on your counter.
As you shop, visualize yourself using a kettle step-by-step from filling it to cleaning it, evaluating each feature from the handle to the lid and how it will work for your needs.
Can you fit a sponge through the lid opening? Does the handle stay cool? Does the kettle whistle, or do you have to guess when your water is ready?
Envision it in your kitchen, noticing if it complements the decor. An everyday tool, a kettle is something you should be proud to display.
Features
Features can make or break a kettle. Among the most essential is a sturdy, ergonomic handle that stays cool or is large enough to accommodate a potholder.
Look for balanced shapes and lids that stay put. On a gas stove, wide bases keep flames from licking up the side of the kettle and melting plastic handles.
Spouts that extend to lid level offer the smoothest, safest pour. If your mornings are hectic, opt for a whistling kettle.
Capacity
We recommend kettles that serve your family plus at least one guest. To estimate the capacity you need, multiply the size of your cups by the number of people you typically serve plus one.
Size up if you entertain often, but don't overdo it. Kettles heat more efficiently when they're at least half full.
Material
All kettle materials have their pros and cons.
Stainless steel and glass tea are the most popular because they're attractive, affordable, and practical.
Better-quality stainless steel is rust-resistant and edges out glass for durability but glass is more scratch-resistant.
Metals like aluminum and copper have their fans, but the jury is still out on the potential health risks associated with those materials.
What a kettle is made of matters most when it comes to stove compatibility and heating speed.
Only metal kettles, for example, work on induction ranges. Aluminum and copper kettles may not be safe if they touch your water, but in a multi-layered encapsulated base, they help conducts heat faster and more efficiently.
Known to leach chemicals into hot liquids, plastic parts are not ideal in tea kettles. Still, you can safeguard your health and enjoy the practical benefits of plastic by choosing designs in which it doesn't touch the water.
Durability
Tea kettles are generally durable, but weak points in a design can send an otherwise capable kettle to the landfill prematurely.
Glass kettles, for example, are tougher than they appear. Made of rugged borosilicate — silica-infused glass — they are shatter- and thermal shock-resistant. But where the glass is thin is where it's most likely to break.
Dainty handles and gooseneck spouts are elegant but fragile, making hybrid glass kettles with resin or metal handles popular. Among steel kettles, the lever trigger is the most prone to damage.
Infuser
Built-in loose leaf infusers are a plus on kettles used primarily for tea. Made of glass or food-grade stainless steel, wide infusers are the easiest to load and clean.
Choose one that reaches the bottom of the pot for brewing a single cup or two.
All kettles reviewed here are well-designed and durable, so the choice ultimately depends on your personal preference!