Detoxing your body with different types of foods and beverages has become quite popular recently. Celebrities do it, and magazines publish articles with all kinds of detox recipes, each claiming to be the ultimate cure.
The whole idea behind this practice is to rid your body of harmful toxins. The claimed benefits include anything from weight loss and healthier liver to better overall health.
But what exactly are detox teas? Do they really work?
And when is the best time to drink your detox tea for maximum benefits?
Let's take a deep dive into a cup full of these supposedly cleansing teas and see how you can use them to improve your health.
What Are Detox Teas and Do They Really Work?
Many brands offer products called "detox teas" and claim that they have numerous benefits. But there are no standard formulae — these teas can contain almost anything from green tea to various herbal ingredients.
Next, let's address some of the most common benefits that detox teas claim to have.
Can Detox Teas Help with Losing Weight?
There is some truth behind the claim that detox teas can help in weight management and burning fat.
For example, according to research, green tea can help boost your metabolic rate and increase fat burning. There are also many herbal teas (e.g. hibiscus, ginger) that support healthy digestion and aid in slimming down your body.
Some teas are also quite effective appetite suppressants and may provide help in following a certain meal schedule.
Combine the right type of tea with a healthy diet and regular exercise, and you will probably see some great results in a matter of weeks!
Can Detox Teas Clean Toxins from Your Body?
There are chemicals that contaminate the environment, end up in our bodies, and might have toxic effects. These harmful compounds form free radicals, and in the absence of any suppressing reactions, they can attack our cells and cause damage.
Luckily, both herbal teas and "real teas" made from the tea plant (Camellia sinensis) usually contain plenty of antioxidants. These compounds can reduce the formation of free radicals in our bodies and protect our cells from damage.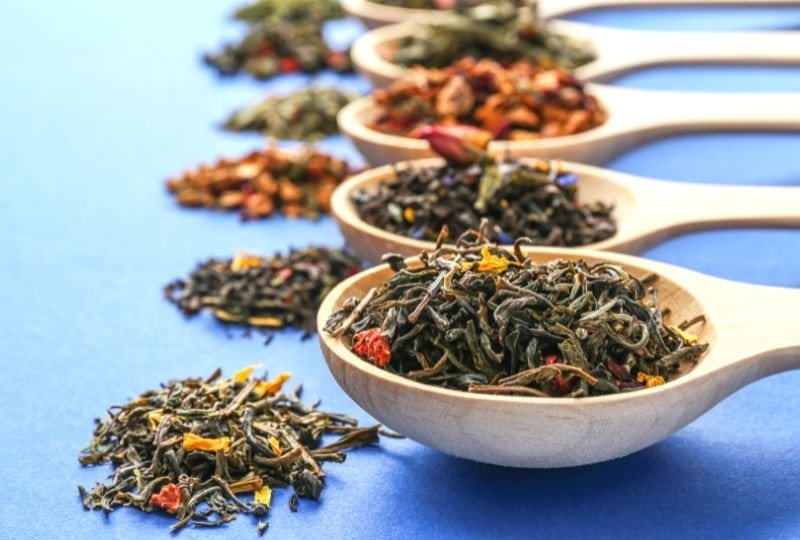 There are also many herbal teas that are good for liver health. They aid in protecting this vital organ and are beneficial in treating the symptoms of liver cancer and fatty liver disease.
So yes, detox teas can indeed help us with neutralizing and getting rid of harmful toxins.
Best Time to Drink Detox Tea
Now we have some facts to support the healthy effects of detox teas. The next thing is to think about how to get the most benefits out of them.
Does it really matter what time of the day you drink the detox tea?
I personally like to drink a caffeinated detox tea first thing in the morning. It's usually either matcha green tea or a mix of herbal ingredients with some yerba mate or black, green, or white tea.
This kind of tea gives a nice energy boost, and I usually exercise after drinking it. Then I eat breakfast after the morning exercise.
But you don't necessarily have to drink your detox tea on an empty stomach in the morning. You can also have it with breakfast or lunch, or before bedtime.
If you drink the tea late in the evening, it's best to avoid ingesting too much caffeine. So you might want to leave out ingredients like black tea or yerba mate that contain plenty of caffeine.
Instead, you can include relaxing and calming ingredients such as chamomile and lavender.
Common Detox Tea Ingredients and Their Benefits
Here's a quick look at some of the most common detox tea ingredients and their proven benefits:
Green Tea: Contains caffeine and is rich in catechins — great for suppressing appetite, reducing bloating, and burning fat.
Ginger Root: Full of beneficial antioxidants that aid digestion and neutralize toxins.
Turmeric Root: Has powerful anti-inflammatory effects and is good for the liver and gallbladder.
Burdock Root: Great for removing toxins from the blood and good for skin health.
Milk Thistle: One of the best natural remedies to support a healthy liver.
Rooibos: Helps with reducing stress and controlling hunger.
Peppermint: Gives a fresh aroma and aids with digestive problems like gas and bloating.
Yerba Mate: Loaded with caffeine and healthy antioxidants — my favorite option for an energy boost and burning fat more efficiently.
Detox Tea FAQ
When is the Best Time for Detox Tea, Morning or Night?
The best time to drink detox tea is in the morning, but you can drink it whenever you feel like it.
I like to have my detox tea on an empty stomach first thing in the morning. However, you can also drink caffeine-free detox teas in the evening before bedtime.
How Often Should I Drink Detox Tea?
I recommend drinking detox tea every day for most benefits. You can even drink it up to three times a day.
Combine the detox tea with a healthy diet and regular exercise to improve its effectiveness on your wellbeing.
How Much Detox Tea Should I Drink a Day?
For most types of detox teas, it's safe to consume at least three cups per day. But this really depends on the specific ingredients and how strong you make it.
If you have bought a ready-made detox tea, see the instructions in the package and follow them for the best results.
Just be careful not to consume too much ingredients that might have adverse effects.
It's Time to Start the Detox!
Ok, now you have plenty of information, so you're probably excited to start a habit of drinking some healthy detox tea. Maybe you already have a certain brand that you bought or are planning to order online.
But what if you don't know what kind of detox tea to start drinking?
No worries, I'll give you a few great options right here.
First, here is my favorite morning detox tea recipe that I can warmly recommend:
Ingredients:
Dried or fresh ginger
Dried or fresh peppermint
Dried chamomile flowers
Yerba mate or green tea (I prefer yerba mate because it has more caffeine)
Simply heat some water to about 200 degrees Fahrenheit (or 90-95 Celcius) and steep the ingredients for 5 to 10 minutes. You can adjust the amount of ingredients and steeping time depending on how strong you like your tea.
Make sure the herbs are chopped or ground into small pieces so they will be infused faster. You can also add some licorice root as a natural calorie-free sweetener.
If you want to buy some ready-made detox tea, here are a few good options:
Buddha Teas Detox Dharma Blend: An organic caffeine-free blend with several detoxifying herbs that stimulate the digestive system.
Yogi Tea DeTox: A combination of Ayurvedic herbs that support digestion and are full of antioxidants.
Republic Of Tea Detox Green: The ultimate cleansing and energizing green tea with Japanese matcha, green tea, and chlorella.
I hope this guide provided you with everything you wanted to know about detox teas and when is the best time to drink them.
Enjoy your tea and stay healthy!
-Joonas