This morning I woke up to cold and rainy weather. Instead of preparing my regular morning tea, I felt like having something different.
What if I would just try steeping tea in full cream milk? How would that work out?
We all know that adding milk to tea is quite common. In fact, it's a centuries-old tradition in Britain and China.
But there is no reason you can not steep your tea directly in milk to create a brew that is super smooth and fulfilling!
In this guide, I will explain how to brew tea with milk in many different ways. I will also show you exactly how I made a cup of Earl Grey tea in milk and what was the result.
Why You Should Try Steeping Tea in Milk
When you steep tea directly in milk, the result is quite different from a regular cup of tea.
It's definitely something that you should try at least once to see how you like it!
Here are a few good reasons to brew your tea with milk:
Taste: Tea brewed in milk will have a very smooth, and full-bodied taste. Milk is also effective in masking any bitterness or astringency of the tea.
Texture: Full cream milk has a nice and creamy texture that is very enjoyable. You can also use low-fat milk for a thinner and lighter brew.
Nutrition: One cup of full cream milk contains 8 grams of protein and plenty of calcium for healthy teeth and bones. It also has many other beneficial nutrients and enough calories to keep you from getting hungry for a while.
Also, drinking green tea with milk can have some surprising benefits as the calcium might enhance the antioxidant qualities of the tea.
How to Brew Tea Directly in Milk – Step-By-Step Instructions
Brewing tea in milk is quite easy and straightforward, and you don't need any special equipment.
I used one of my favorite blends from Art of Tea, the Earl Grey Creme, but you can use any type of tea from green or black tea to herbal blends.
Here are the instructions for brewing a perfect cup of tea in milk:
1. Heat the Milk
First, heat the milk in a saucepan. Avoid heating the milk too fast as it might curdle and burn to the bottom of the pan.
I used full cream milk but you can also use other options like low-fat milk or even plant-based milk (more about this later).
2. Add Tea
When the milk starts to simmer, turn the heat to low and add some loose-leaf tea.
I recommend using a bit more tea than normally — I added about two teaspoons of Earl Grey for one cup of milk.
3. Simmer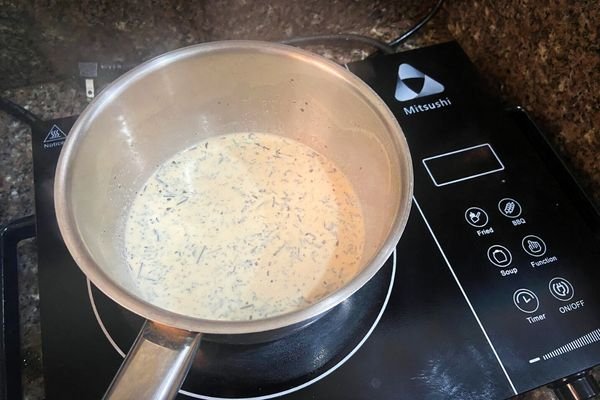 Simmer on low heat for about 5 to 10 minutes depending on what type of tea you are using and how strong you like it. I steeped my Earl Grey black tea for about 7 minutes.
I recommend shorter brewing time for green teas and longer brewing time if you use herbal ingredients like ginger or cinnamon.
You can turn off the heat during the last minutes to avoid burning the milk.
4. Strain and Enjoy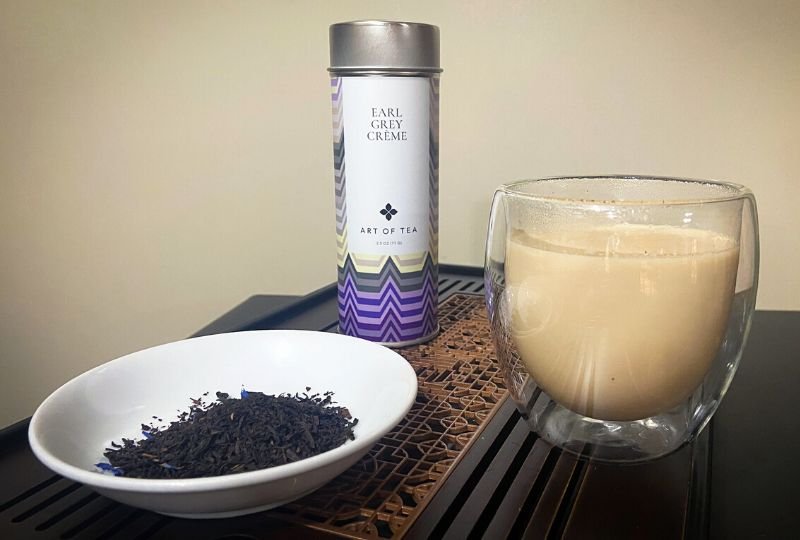 Strain the tea into a mug or glass and enjoy!
So maybe you are wondering how did my Earl Grey milk tea taste?
It tasted really really good!
The combination of bold and flavorful Earl Grey with rich full cream milk was just perfect on this rainy morning. I let my 5-year-old son taste some and he also loved it.
A Few Things to Consider
When you heat milk, some of the water in the liquid evaporates and the protein and fat might form a film on the surface. If you want, you can simply scoop this film off with a spoon and throw it away.
As mentioned earlier, the milk will curdle and burn if you heat it too fast or to a full boil. So be careful and don't heat the milk too much — the tea will brew just fine at a bit lower temperature.
More Options for Steeping Tea in Milk
Use Tea Bags
You can also use your favorite teabags for brewing your milk tea.
One convenient option is to first heat the milk in a microwave in a mug and then just add the teabag.
Just remember that milk can easily clog the teabag so the result might not be as good as with loose-leaf tea.
Use a 1:1 Milk to Water Ratio
You can also mix one part milk with one part water for milky tea that is a bit lighter. This way the milk will not burn that easily.
You could also first steep the tea in water and add the milk at the end.
Want to make a tea latte?
Brew some strong tea in water and then add plenty of hot milk froth on top. This will create something you might have seen at Starbucks if you have tried their chai latte or matcha latte.
Add Herbs and Spices
Adding some herbs and spices like ginger, cinnamon, and star anis will result in a more complex taste and provide some additional health benefits.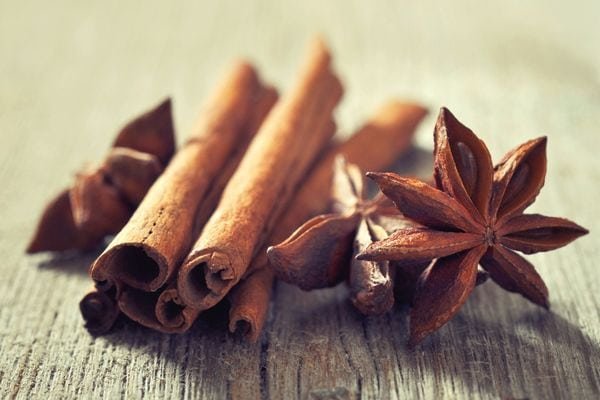 In fact, the traditional Indian Masala Chai is a mixture of black tea and spices brewed in a mixture of milk and water.
If you use herbs and spices, I recommend steeping the tea for at least 10 minutes so that the flavors will be properly extracted.
Use Plant-Based Milk
If you are vegan, lactose intolerant, or simply want to avoid dairy products, you can also steep tea in almost any kind of plant-based milk.
Some of my favorites are almond milk, oat milk, soy milk, and coconut milk.
Can You Cold Brew Tea in Milk?
During a hot summer day, you might want to have some iced milk tea.
In this case, there is no need to heat anything — you can just cold brew the tea!
Add the milk and tea to a pitcher or other container and let it steep in the refrigerator overnight (for about 8 to 14 hours).
When ready, just strain the cold milk tea into glasses with ice and enjoy!
Final Thoughts on Making Tea with Milk
So now you know many different ways to prepare a milky cup of tea.
I recommend starting with a simple option like green or black tea brewed in milk. Then you can start experimenting with more complex options like adding herbs and spices or making some tea lattes.
Check out my recipe for jasmine milk tea for one more delicious option.
Tea and milk are a great match — and there are so many ways to combine them. Post a comment below and tell me what's your favorite method!