You've chosen the date and mailed the invitations — now, it's time to plan your tea party menu. Guests will be expecting sweet treats on your finest china to celebrate the moment.
From traditional tea cakes to colorful versions of modern favorites, petite desserts with a warm cuppa are genteel and guilt-free. A reflection of the occasion and the season, they're the centerpiece of a welcoming table.
Here are the basics on what desserts to serve at a tea party and 17 delightful recipe ideas to choose from.
What Kind of Desserts to Serve at a Tea Party?
Come tea time, a nosh is on everyone's mind. Platters of dainty pastries stir both appetites and imaginations.
Just like your tea party attire, what you serve should express your style. But don't forget to consider the preferences of your guests also.
Full-sized cakes and pies have a certain grandeur, but bite-sized goodies have a practical advantage. Simple to share, serve and eat, they encourage sampling.
And instead of fumbling with bulky serving utensils and messy plates, guests and hosts can enjoy their indulgences while mingling freely.
Dainty desserts also add a sensory and decorative dimension to your table. Jams, icings, and fruits offer pops of color and aroma.
Menus should be a symphony of treats. And in addition to desserts you can add something salty as well, like finger sandwiches.
Types of Mini Desserts for Tea Party
Our favorite types of mini desserts for tea parties include cakes, cupcakes, tartlets, mousses, and scones.
Tea cakes and cupcakes — single-serving gateaus in a myriad of flavors. Less formal but just as delightful as their intricately decorated cousins, petits fours, they suit most palates and complement any type of tea.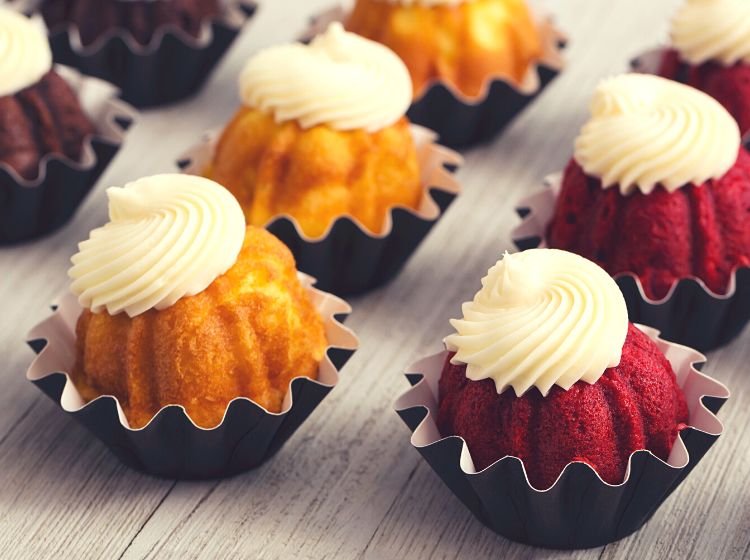 Mini-tartlets, the tidbit-sized version of pies, are equally delicious. And you won't go wrong with scones — a classic tea party pastry served with clotted cream and jam.
Plain or decorated, simple shortbread and sugar cookies are also iconic choices.
Spoon-worthy options include mousses and trifles — a layered dessert made with cake, custard, and fruit. Sweet and creamy, serve them in elfin glasses. We recommend using seasonal fruit for optimal flavor.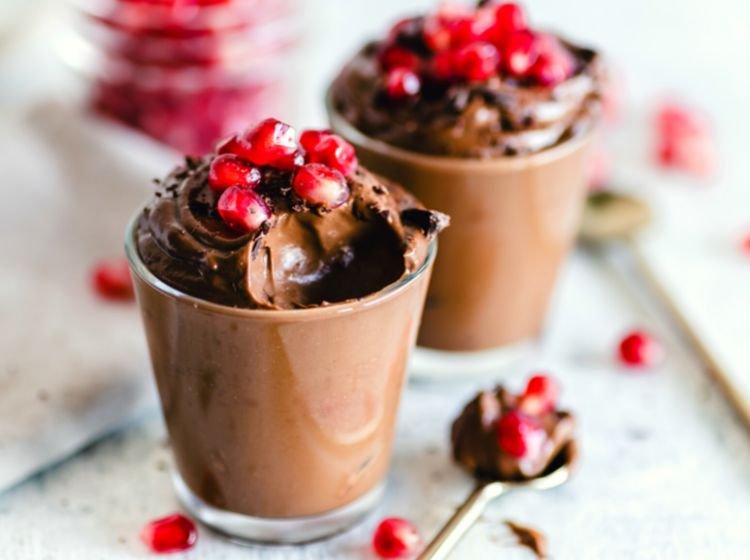 Preparation Tips
Preparing multiple desserts doesn't have to be stressful or expensive if more than one recipe on your menu utilizes the same ingredients.
The lemon curd offered with scones, for example, can be the base of a lemon tartlet or layered between sponge cakes. Make the most of what you have.
Boxed cake mixes are handy when you're short on time. If the icing is grand, no one will be the wiser.
Frosted cupcakes stay fresh for days, so you can make them in advance and store them in an airtight container.
If you don't have cake decorating tools, place icing in a plastic sandwich bag, snip off a corner and you can pipe it on in a swirl or floret pattern.
Adding simple embellishments from flaked coconut to grated chocolate transforms the simplest desserts into something that conveys your fondness and appreciation for your guests.
17 Tea Party Dessert Ideas
Mix and match these 17 desserts for a perfect tea party table.
Cakes
These beautiful mini-cakes are suitable for any special occasion including high tea and afternoon tea.
Mini Naked Cakes with Sweet Orange Marmalade
What's more traditional at a tea party than sweet orange marmalade?
A spread for scones, it also gives these layered pound cakes a spring vibe. A breeze to make using simple pantry ingredients, the recipe is ideal for bakers of all skill levels.
Topped with a light glaze and edible flowers, these one-bite treats are a satisfying way to welcome gardening weather.
---
Mini French Apple Cakes
Spread the autumn cheer with these rustic French apple cakes. High-quality ingredients and a splash of dark rum are the secrets.
Sturdier than they appear, they'll keep in the refrigerator for up to three days before your event. Don't worry about storing leftovers — there won't be any!
---
Mini Pumpkin Cheesecake
Fall flavors rule in these cheesy pumpkin bites. The spicy aroma and creamy texture add instant comfort to any tea party menu.
Top these with whipped cream and a sprinkle of cinnamon. The recipe is user-friendly and familiar.
---
Mini Red Velvet Cakes
Red velvet cake with cream cheese frosting is a quintessential combination. This recipe takes it a step further with the addition of Italian Mascarpone.
More time-consuming to make than the average tea party confection, these diminutive cakes are well worth the effort for special occasions. Customize them with toppings of your choice from fruit to chocolate curls.
---
Black Forest Mini Cakes
You'll make an impression with these mini black forest cakes. Double chocolatey with the unmistakable tang of cherries, they turn heads.
The recipe is not for the faint of heart, however — plan on spending an afternoon in the kitchen. But if baking is a labor of love, these are more!
---
Mini Victorian Sponge Cakes
A Victorian favorite, these delicate sponge cakes are dripping with buttercream icing and jam. A hit on any table, the sweet but neutral flavor pairs well with robust teas.
Swap the filling for strawberries and the glaze for fresh cream to make summery strawberry shortcakes that are perfect for a picnic tea party.
---
Pies and Tartlets
These bite-sized desserts are great because pie crusts go especially well with green tea and black tea.
Perfect Little Lemon Blueberry Tartlets
Heaven is seven ingredients away with these fast and easy tartlets. Using frozen phyllo shells and jarred lemon curd, they take just minutes to assemble.
The lemon filling is compatible with any berry, so use what's in season to amp up the flavor. Sprinkle powdered sugar over the top just before serving.
---
Mini Fruit Tarts
These classic mini fruit tarts are brimming with custardy pastry cream. A twist on the trifle, the crust has a cookie-like texture.
The recipe is a handful, so get your apron on. But the cream and toppings can be whipped up days in advance to streamline the process on party day.
Fresh berries are a perfect foil for the buttery crust. A half-slice of kiwi adds a tropical touch.
---
Easy Lime Curd Tartlets
Ready in minutes and bursting with citrus flavor, these mini-tarts are a not-too-sweet alternative to the usual tea cakes and cookies. Filled with tart lime curd and topped with sweet whipped cream, they're refreshing in hot weather.
Make them from scratch or use store-bought ingredients for quicker preparation. Grated lime zest on the cream packs an extra pucker.
---
Mini Chocolate Pies
Chocolate cream pie is a kid-friendly favorite. There's something satisfying about creamy pudding and whipped cream nestled in a tender crust.
This recipe is mostly homemade except for the store-bought topping. But we used a pre-made pie crust to save time, and we couldn't tell the difference.
Make this your last-minute, go-to dessert!
---
Easy Mini Blueberry Pies
Part pie, part fruit crisp, one bite sold us on these mini blueberry treats.
Not the average tea party dessert, the stick-to-your-ribs combination of fruit and pastry covered with a crunchy oat topping is particularly hearty.
Packed with cinnamon and brown sugar, they come together in less than 30 minutes. Serve them with vanilla ice cream.
---
Two-Bite Lemon Meringue Pies
Elegant yet unpretentious, these mini pies are fit for royalty. The shortbread crust and crisp meringue temper the tangy lemon filling.
Made with staple ingredients, the recipe is straightforward, but making meringue can be tricky. Try it once at home before adding it to your tea party menu.
---
Mousses
Decadent mousses are a great addition to any tea party!
Just place them on the cake stand with the other delicious desserts.
Lemon Cheesecake Mousse
Light and delicious, this bright lemon mousse is like sunshine in a cup. If you love pie but hate the mess of making pastry, you'll appreciate the simplicity of the graham cracker crust.
The key to the best flavor is using real lemon juice — don't skimp. It's irresistible!
---
Easy Fresh Strawberry Mousse
Freshness doesn't have to be complicated. Ten 10 minutes and three ingredients are all you need. Beating makes this no-bake dessert ultra-fluffy without egg whites or gelatin.
A flexible recipe, it needs only an hour to chill before serving and holds up in the refrigerator for days. You can use whole frozen strawberries in a pinch.
---
Easy Chocolate and Coffee Mousse
Quality ingredients make the difference in this sophisticated recipe. It's simple, so each flavor should shine.
Choose a fine chocolate and a robust coffee. If you leave out the sugar, it's keto-friendly.
Garnish cups with cherries, nuts, or white chocolate shavings and a dusting of cocoa powder or cinnamon.
---
Other Tea Party Desserts
Cream Tea Scones with BlackBerry Whipped Cream
No tea party is complete without scones. But don't panic, these are easier to make than the full-sized version.
They take an hour to complete from start to finish, but the technique has been refined to eliminate most of the rolling and shaping. The cream-based filling is sweet but not cloying, and the color is simply stunning.
These scones are amazing with a cup of Earl Grey!
---
Lemon Curd Pavlova
The only full-sized dessert on our list, this Lemon Curd Pavlova has five-star potential if you're willing to earn it.
We won't lie — it's complex to make. But the blend of textures and colors adds unparalleled elegance to your table.
Just take a deep breath and follow the recipe step by step. Top it with fresh lemon slices, whole berries, or whipped cream before serving.