We live in a busy and demanding world where an increasing number of people use sleeping pills and tranquilizers to cope with stress, anxiety, and sleeping problems. The problem with many prescription drugs is that they have side effects and high addiction potential.
But what if there would be a natural and healthy alternative?
I can tell you from my personal experience that quitting sleeping pills and trying to manage with herbal teas and other natural methods is much better in the long run — but making the transition is not easy!
Yogi Bedtime Tea is a delicious herbal blend that promises to help you relax and unwind in the evening. It contains ingredients such as passionflower, valerian root, and chamomile, which have been used for treating anxiety and insomnia for centuries.
Read this review to find out if Yogi's Bedtime Time Tea really helps with falling asleep and improving sleep quality.
I will also discuss the possible side effects it might have and share a few tips on how to make the most out of this herbal tea.
The story of Yogi Tea started with a Kundalini Yoga master Yogi Bhajan who came to Europe in the 1960s. He used to give his students some Ayurvedic herbal tea made with cinnamon, cardamom, ginger, cloves, and black pepper.
In the late 1980s, the Yogi Tea brand was founded and started to sell this herbal blend.
Today, they offer a large variety of healthy teas and Yogi Bedtime Tea is one the most popular ones.
Product Highlights:
Contains ingredients that can help you relax and sleep better
Tastes delicious
Certified USDA Organic and Non-GMO
You might also be interested in reading my review of Yogi Kava Stress Relief Tea. It contains kava root extract that has been found to be effective for relaxing and treating anxiety.
Yogi Bedtime Tea Ingredients & Claimed Benefits
Yogi Bedtime Tea is loaded with different herbal ingredients that have two main functions — to help you relax and fall asleep and give the tea a nice flavor and aroma.
The ingredients are carefully chosen to make an ultimate blend for improving your sleep.
I have been researching and experimenting with different herbal teas for over 20 years and I think that the blend certainly looks very promising — this tea contains all of the ingredients I usually include in my own bedtime tea that I make with dried herbs.
So what exactly is in yogi bedtime tea?
Below you can see a photo of the tea package that lists all of its ingredients.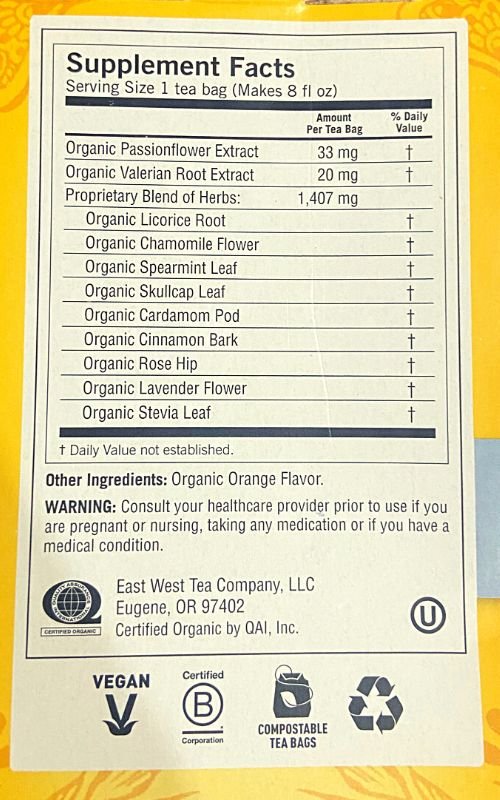 Next, let's take a closer look at how these herbs can benefit your sleep. Note that they also have many additional health benefits which I will not discuss here.
Ingredients:
Passionflower Extract: Used as a sedative by Native Americans, this ancient herbal remedy may help with falling asleep and improving sleep quality.
Valerian Root Extract: According to research valerian root is one of the best natural remedies for insomnia and nervousness.
Licorice Root: May help with relaxing and adds some flavor and natural sweetness to the tea.
Chamomile Flower: Contains apigenin and other compounds that help with relaxing and having a better sleep.
Spearmint Leaf: Has a mild relaxing and sedative effect on the body and adds some fresh flavor.
Skullcap Leaf: A popular herb for treating anxiety and insomnia.
Cardamom Pod: Has a soothing aroma and mild sedative effect.
Cinnamon Bark: Adds a nice flavor and may help with relaxing and releasing tension from your body.
Rose Hip: Contains GABA and theanine which have sleep-inducing properties.
Lavender Flower: Has a soothing aroma that may help with calming down and falling asleep.
Stevia Leaf: Adds natural sweetness without any calories.
All ingredients listed above are certified USDA organic.
In addition to these ingredients, Yogi Bedtime tea also contains some organic orange flavor.
Brewing Instructions
Making a cup of Yogi Bedtime Tea is very easy. Just boil some water, pour it into a mug, and steep one tea bag for about 10 minutes.
Additional Tip: Cover the mug to prevent the tea from cooling down too fast and steep it for 15 minutes. This helps you extract the maximum amount of beneficial compounds and flavor from the tea bag.
Still not strong enough?
Try using two tea bags for making one cup of tea.
Yogi Bedtime Tea

Review – Does It Work?
This herbal blend has all the components for a perfect nighttime tea.
Most of the active ingredients have been used for treating anxiety, relaxing, and improving sleep in traditional medicine in different parts of the globe. There is also scientific research that supports the effectiveness of these herbs.
But does Yogi Bedtime Tea actually work?
I think that this is a great tea for relaxing after a busy day — it tastes pleasant and I feel like it helps me unwind, sleep better, and feel more refreshed in the morning.
And many other people seem to love it too. There are over 2,000 reviews on Amazon with an average rating of 4.7 out of 5.
However, this type of herbal tea has a relatively mild effect and is not comparable to prescription medicines. For some people, it might simply not be strong enough to have any considerable effect.
The best way to find out is to order Yogi Bedtime Tea from Amazon and give it a try.
As mentioned earlier, I recommend using two tea bags for making a stronger cup of tea if you feel like the effect is too mild.
At the end of this article, I will also share some additional tips for getting better sleep.
Yogi Bedtime Tea Side Effects – Is it Safe?
One great thing about Yogi Bedtime Tea is that all of the ingredients are generally considered safe and it shouldn't cause any unpleasant side effects.
This tea is also naturally caffeine-free, which totally makes sense since caffeine is a stimulant that may induce sleeping problems.
It's true that many of the herbs included in this blend may cause some adverse effects, like upset stomach, if consumed in excessive amounts. But having one or two cups of this tea should be fine.
However, if you're pregnant, breastfeeding, or on permanent medication, I recommend consulting your doctor before drinking Yogi Bedtime Tea.
Final Thoughts on Yogi Bedtime Tea
I have found that drinking Yogi Bedtime Tea in the evening definitely helps me sleep better.
It's not just the active herbal ingredients but also taking a moment to calm down, inhaling the aromas from the cup, and just enjoying and slowly sipping the tea.
You might also be interested in trying Yogi Soothing Caramel Bedtime Tea, another delicious blend that is crafted for the purpose of improving sleep.
However, simply drinking a cup of this tea might not be enough to solve your sleeping problems. Combine it with some other advice and you are likely to have much better results.
Below are my best tips for improving sleep:
5 Tips for Better Sleep
Maintain a constant sleeping schedule as much as possible and avoid taking daytime naps that last more than half an hour.
Do something relaxing before going to bed — meditate, listen to calming music, or go for a short walk to get some fresh air. Avoid using electronic devices.
Make sure that your bedroom is cool, dark, and quiet.
Avoid eating too much, and consuming caffeine or alcohol before bedtime.
Drink a cup of Yogi Bedtime Tea or another soothing herbal blend before going to sleep.
I hope you found this article useful and that it provided you with all the information you were looking for.
Want to try another interesting product?
Check out my review of Yogi Detox Tea, a herbal blend that supports the body's natural detoxification process.
Have a nice day and sleep well!
-Joonas