Teas from India are renowned for their brisk, spicy flavors — but Darjeeling is the exception. Known as the "champagne of teas", it's famous for its light body, floral aroma, and fruity taste.
But what makes Darjeeling truly unique is how the differences in harvesting and processing methods make it many things to many people. It may just be the world's most versatile tea.
For the next ten minutes, let's immerse ourselves in the world of Darjeeling tea and find out which brands are worth trying out.
Our recommendations for the Best Darjeeling Teas:
Darjeeling Tea Facts
Made from the Chinese variety of the Camellia sinensis plant, Darjeeling tea is grown exclusively in the Darjeeling District in the foothills of the Himalayas (or Kalimpong District) of Bengal, India.
So what makes it different than other black teas?
Here are the main factors:
High-Altitude: In contrast to low-altitude Assam tea, Darjeeling is grown at elevations of 4000-6500 feet or more. Cultivated on 80-plus plantations in the shadow of Mount Everest, plants grow slowly. The high altitude and chilly temperatures are responsible for Darjeeling's complex flavors. It's grown nowhere else in the world.
Handpicked: Darjeeling is precision-plucked by hand early in the morning when the leaves are still moist with dew. The result is a higher-grade tea with fewer broken leaves and tea dust compared to what picking machines create.
The unique flavor of Darjeeling is a combination of Chinese tea genetics mixed with Indian environment. The taste depends on when it's harvested but processing also plays a role.
While classified as a black tea Darjeeling is usually less oxidized than a typical black tea.
Darjeeling is versatile and in addition to black tea, the leaves can also be made into green, white, or oolong tea by controlling the level of fermentation.
Types of Darjeeling Tea
Darjeeling is harvested in four flushes between periods of dormancy and growth — each produces a different flavor and aroma profile. Flush dates vary based on the weather. Harvesters take their cues from nature, not the calendar.
First flush tea is picked between Mid-March and May. Generally, the most expensive Darjeeling, it's prized for its delicate flavor and soft fruity notes.
Second Flush tea is somewhat heartier than the first flush. Picked from June through August, deeper notes of stone fruit, such as peach, apricot, and cherry, and muscatel grape prevail.
Third Flush, or autumnal harvest leaves, are gathered in October and November. Often fully oxidized, they're bolder and make a welcomed addition to hearty chai blends.
Monsoon Flush: With monsoon season comes another minor flush. Picked in September or when the rains first arrive, it's rich in flavor but less complex than first and third flushes. Often considered of lower quality it's sold at lower prices and rarely exported.
Taste and Aroma
Darjeeling is called the champagne or fine wine of teas for its regional flavor specificity. Like a Bordeaux wine or a true Champagne, Darjeeling has a consistent taste that can only be produced in one geographical area.
Teas that are labeled Darjeeling but not grown in this region are counterfeit.
The taste of Darjeeling varies based on when it's harvested and how it's processed, yet it has baseline characteristics. Whether fully or partially fermented, Darjeeling is a light tea.
Late flushes are bolder but rarely approach the full spice of an Assam. Fruity flavors, including muscatel grape, and floral aromas are prevalent.
If you enjoy a good muscatel wine, Darjeeling will be a hit.
Caffeine Content
The average amount of caffeine per an 8 oz cup of Darjeeling tea is about 50 milligrams. This is roughly half the amount of caffeine in a cup of coffee.
The caffeine content of black tea mainly depends on two factors — the variety and how you brew it.
The Assam variety usually has more caffeine than Darjeeling tea. You should also note that the first flush Darjeeling has lower caffeine content than the later flushes.
When it comes to brewing, using more tea leaves per cup and steeping longer results in a stronger taste and higher caffeine content.
Best Darjeeling Tea Brands Reviewed
Best Loose-Leaf Darjeeling Tea: VAHDAM First Flush Darjeeling Tea
VAHDAM's first flush Darjeeling is one of the best black teas on the market and carries the essence of a spring meadow. Blended from several estates, this black loose leaf is complex yet mild with a bright floral aroma.
The delicate taste of spring greens yields a grape and sweet fig finish. Full-flavored and energizing despite low caffeine, it's packed at the source for optimal freshness.
Amount: 3.53 oz (100 g)
Type: Loose Leaf Darjeeling Tea
Product Highlights:
Light, flowery, and refreshing
High-quality first flush Darjeeling tea
Produced ethically by supporting the local community
VAHDAM is a carbon and plastic neutral brand
The tea comes smartly packaged in a vacuum-sealed, puncture-resistant Mylar bag. You'll also receive a complementary double-sealed, aluminum-lined zipper bag to keep your purchase fresh. Leaves are of the highest quality and especially fragrant. You won't be disappointed.
The price is steep yet it's a superb value — you'll pay a similar price for lesser teas. And each purchase comes with social and ecological benefits. A globally responsible company, VADHAM is now climate- and plastic-neutral, and they pay their success forward by donating a percentage of their revenue to educating their employees' children.
If a bolder tea is more your style, VADHAM also offers a second flush Darjeeling tea. Amber in color, it's mellow but with a brisk woody fragrance and a hint of dried fruit. The price per ounce is also much lower compared to the first flush.
Best Premium Darjeeling Tea: Art of Tea Darjeeling
If you want the best-tasting Darjeeling available and are ready to pay a bit more, look no further!
Art of Tea Darjeeling makes a bright and full-flavored brew with no sharp or bitter aftertaste. Steep it a bit longer to introduce more complexity and pleasant notes of muscatel nut.
Amount: 4 oz (113 g) or 1 lb (454 g)
Type: Organic Loose Leaf Darjeeling Tea
Product Highlights:
Top-notch quality and unique flavor
Light and fresh taste with floral notes
Single-origin biodynamic farmed Darjeeling tea
USDA certified organic
Art of Tea is known to produce some of the finest award-winning teas in the world sought by true tea connoisseurs. All of their products are fair-trade, sustainably sourced, and certified organic.
The company also has a rigorous quality control process that ensures you will always get the best quality.
The Art of Tea Darjeeling is a great morning tea with enough caffeine to wake you up but I also enjoy sipping it during sunny afternoons.
This biodynamically farmed single-estate Darjeeling is a real gem in the world of tea!
Best Darjeeling Tea Bags: Taylors of Harrogate Afternoon Darjeeling
Few tea purveyors are as particular about their sources as Taylors of Harrogate. The leaves used for their Afternoon Darjeeling tea bags are thoughtfully sourced from India's finest estates to create a unique, second flush blend.
Amount: 20 Tea Bags
Type: Darjeeling Tea Bags
Product Highlights:
Complex and smooth flavor
Pairs well with desserts
Sustainably produced
One-hundred percent pure Darjeeling, this tea has a deeper, spicier palate than most, yet it retains a subtle wine-like nuance that makes a fine afternoon treat. It pairs well with pastries and stands up to milk and sweetener.
Moderately caffeinated, it will perk up your evening without disturbing your sleep.
You'll receive 20 individually wrapped tea bags in a giftable, climate-friendly box. Taylors of Harrogate is a member of the Ethical Tea Partnership, an organization dedicated to industry sustainability, and accredited by the Rainforest Alliance.
Best Organic Darjeeling Tea Bags: Buddha Teas Organic Darjeeling Tea
Whether you prefer loose leaf or bags, Buddha Teas has an organic Darjeeling for you. Packed with flavor and caffeine, their brisk black blends have the morning kick you need to power through a busy day.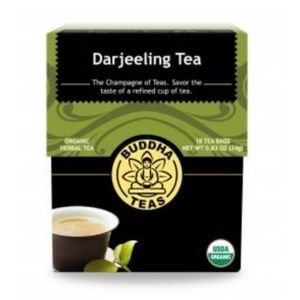 Amount: 18 tea bags
Type: Organic Darjeeling Tea Bags
Product Highlights:
Smooth and balanced taste
USDA certified organic
Bleach-free tea bags
Packaging is made with recycled materials
All US orders of at least $50 receive free shipping!
All-natural and certified organic, the Buddha Teas products are also non-GMO, and preservative-free. The flush of their Darjeeling isn't specified, but the flavor and color are most consistent with the summer harvest. It's a rich amber brew with a light, refreshing feel, a spicy edge, and a lazy July fragrance.
Tea bags come 18 per box. The loose-leaf Darjeeling is safely packaged in resealable, eco-friendly pouches.
Committed to sustainable harvesting, Buddha Teas are completely chemical-free. Bags contain no bleach and packaging is made from 100-percent post-consumer products. It's fully recyclable right down to the soy-based inks.
Modestly priced, Buddha Teas sponsors the "Tea for Trees' Campaign a small business initiative to minimize packaging and support healthy forests. They've partnered with the National Forest Foundation to plant 50 million new trees to offset the environmental impact of production.
Budget Pick: Bigelow Darjeeling Tea Bags
Supermarket teas rarely top our lists of favorites, but this affordable Bigelow Darjeeling is an exception. A bold black tea, it's a sophisticated blend reminiscent of Assam.
Amount: 120 Tea Bags (6×20)
Type: Darjeeling Tea Bags
Product Highlights:
Bold and rich taste
Great value for money
120 individually wrapped tea bags
Bigelow doesn't specify the flush, but the tea is all-Darjeeling. By the flavor, we surmise it's a blend of second and monsoon flushes. It has the characteristic fruity taste and floral aroma, but it's slightly more robust and lacks the grassy notes you'll typically find in first flush teas. Among the best Darjeeling tea brands for breakfast, it contains moderate caffeine.
Boxes contain 20 tea bags, each individually wrapped in flavor-preserving foil pouches. Blended and packed in the US, boxes are sturdy but nondescript. A certified B Corporation, Bigelow is dedicated to ethical business practices and sustainable packaging.
This is the best Darjeeling tea we've tried in this price range, so if you're on a budget, don't shy away from it because the price seems too good to be true. A bargain, it will exceed your expectations.
Best Sampler Pack: VAHDAM Darjeeling Tea Sampler
If you're new to Darjeeling, why not treat yourself to this versatile loose-leaf sampler pack?
It's a fun and budget-friendly way to try a full range of tastes without breaking the bank. The samples are of the same premium quality as VADHAM's full-sized offerings.
Amount: 3.53 oz (100 g)
Type: Loose Leaf Darjeeling Tea Sampler Set
Product Highlights:
Includes 10 high-quality Darjeeling teas
Try different varieties from black and oolong to white tea and chai blend
Great gift for any tea lover
Each sampler set contains ten first and second flush varieties grown on India's top estates. From Daily Darjeeling and rare White Pearl to High Mountain Oolong and Darjeeling Spice Chai, you'll enjoy VADHAM's finest exotic flavors.
Each sample is packed in a Mylar bag for freshness and contains enough tea to make at least two servings. Luxuriously packaged, samplers include a booklet with brewing instructions for all types of tea.
Buy one for yourself and gift another to the curious tea drinker in your life. Try them all, and then reorder your favorites!
How to Prepare and Serve Darjeeling Tea
Since Darjeeling tea leaves are processed without fully being oxidized the best brewing temperature is below the boiling point.
Here is how to make a perfect cup of Darjeeling black tea:
Heat water to anywhere from 180°F to 205°F (or 82°C – 96°C). The hotter the water, the stronger your tea will be.
Use about 1 teaspoon of loose leaf Darjeeling (or one tea bag) per one cup of water.
Let the tea steep for 2 to 5 minutes. Steep longer for a stronger brew.
Pour into cups and enjoy!
While purists insist that Darjeeling is best consumed clear, a splash of milk won't do it harm. But we suggest trying it clear first to familiarize yourself with the nuances.
Slightly sweet in its own right, it doesn't need much sweetener but is particularly compatible with honey and a twist of citrus.
You can also try making iced Darjeeling tea. It's very refreshing on hot summer afternoons!
If you have any questions or comments, please post them below.
Enjoy your Darjeeling tea!