English breakfast tea is a must-have in your pot for starting the day right. Bold but reserved like the Brits themselves, it's growing in favor worldwide for its down-to-earth charm and anytime versatility.
But which brands are worth sipping?
Let's take a closer look at this non-pretentious brew and find the best English breakfast tea for your table.
Our recommendations for the Best English Breakfast Teas:
What Exactly is English Breakfast Tea
English breakfast tea is a robust blend of black teas. Accounts of its origins vary, but its invention is widely credited to Scottish tea master, Robert Drysdale, who in the late 1800s sought to blend a sturdier, more stimulating brew.
However, its popularity is attributed to Queen Victoria, who upon sampling a cup at Balmoral Castle, brought it to London and single-handedly made it the UK's favorite breakfast treat.
Taste
Similar to Earl Grey but without Bergamot oil, English Breakfast tea is a hearty, full-bodied black tea blend with a hint of sweetness and a comforting aroma.
Notes vary based on the blend, but they usually include tobacco, toffee, herb, and malt. The fragrance can often be described as slightly fruity with an air of warm toast and honey.
Strong but rarely bitter, English breakfast tea stands up well to a splash of milk or a twist of lemon and virtually any sweetener. With enough caffeine to kickstart a busy morning, it complements the traditional English breakfast as well as light sandwiches and pastries.
While English breakfast blends aren't the only breakfast teas, they are the most popular. To the west of the UK, Ireland has a morning brew that relies heavily on malty Assam. To the north, the Scots make a similar but stronger version with a woody, bitter flavor.
The popularity of English Breakfast Tea has been attributed to its rich but somewhat neutral flavor that's always gratifying but never overwhelming.
Blends
English breakfast blends are generally consistent. Most contain at least two or more black teas, typically including Assam, Ceylon, and Chinese Keemun or Kenyan teas.
Still, the recipes vary as each purveyor strives to give their blend a distinctive and memorable flavor.
Some tea masters have successfully blended single varieties harvested from various farms during different seasons while others are experimenting with Darjeeling.
Assam, a lowland tea grown exclusively in India contributes malty, spicy, or even floral notes depending on when it's harvested.
Darjeeling tea is often blended with Assam to create a balanced blend as it is lighter with a pleasant floral aroma and contains less caffeine.
Ceylon, the pride of Sri Lanka, gives English Breakfast Tea its hearty flavor and imparts a sweet or tangy finish based on altitude and climate conditions in which it's raised.
Kenyan tea, grown in mineral-rich soil, has a bright amber color and a smooth taste.
In contrast, Keemun tea from China is renowned for its fruity undertones, especially grape and apricot. Expect to pay more for Keemun blends.
When combined, the proportion of each tea gives different English breakfast brands a subtle but unique twist. It's exciting to try different blends — there are flavors for everyone to enjoy!
Read also: English vs Irish vs Scottish Breakfast Tea
Best English Breakfast Tea Brands Reviewed
Best Loose-Leaf English Breakfast Tea: VAHDAM Classic English Breakfast Black Tea
VAHDAM's English breakfast tea is unlike most brands. One hundred percent pure with no added flavors, it's a curated blend of diverse, full-bodied Assam teas from the finest estates in India.
Amount: 16 oz (454 g)
Type: Loose Leaf Black Tea Blend
Product Highlights:
Bold and rich taste
Gives a nice energy boost
Produced ethically by supporting the local community
VAHDAM is a carbon and plastic neutral brand
Dark black leaves with golden tips give this brew a bright red color and woody aroma. A malty tea with hints of dark chocolate and toffee, it's less sweet than most other English breakfast blends. Serve it steaming with milk and sugar or try it on ice for an afternoon pick-me-up — it has a potent dose of caffeine.
Packed at the source for freshness, VAHDAM teas ship in premium, gift-worthy packaging. The price is right, and with every purchase, a portion of the proceeds goes to environmental and social sustainability projects.
Truly a classic, VAHDAM's English Breakfast Tea may be the closest in flavor to what Queen Victoria sipped at Balmoral.
Best English Breakfast Tea Bags: TeaBox English Breakfast Teabags
TeaBox's English Breakfast Tea is an intriguing blend of Assam and Darjeeling from India and Nepal.
Dense and malty, it has an herby flavor with an edge of honey and a smoky finish. Daring, the outdoorsy aroma is particularly refreshing. Serve it hot or iced.
Amount: 25 Tea Bags (also available in bigger sizes)
Type: Black Tea Blend in Tea Bags
Product Highlights:
Premium quality pyramid tea bags
A tasty blend of Assam and Darjeeling teas
Guaranteed fresh from India
Teabox is a brand that has to reduce our plastic consumption by 80% by 2024
But it's attention to detail that makes TeaBox teabags noticeably different than supermarket brands, beginning with freshness. Unlike some brands, TeaBox products are sealed at the source within 48 hours of harvest. The result is a stronger tea with more character than average English breakfast blends.
TeaBox's proprietary Teapacs are the world's first nitrogen-flush teabags. The pyramid-shaped sachets are made of fine food-grade mesh to encourage flavor development and keep small particles of tea out of your cup.
Our only complaint is the packaging. It's low waste but generic and not suited for gift giving. Still, this tea is a one-of-kind blend for a reasonable price that every English Breakfast Tea lover owes it to themselves to try.
Organic English Breakfast Tea: Teabloom English Breakfast Heritage Loose Leaf
Teabloom's award-winning breakfast tea is blended from India's best Assams. Custom-crafted in small batches, it's all-natural, USDA organic-certified, and climate-friendly.
Amount: 3.53 oz (100 g)
Type: Organic Loose Leaf Black Tea Blend
Note: Use coupon code "TEA10" to get a 10% discount on all orders from the Teabloom online store.
Product Highlights:
Complex malty flavor
USDA and EU certified organic
Pairs well with milk and sugar
Comes in an elegant reusable tin
A strong, malty brew with a figgy aroma and plenty of caffeine, it begs for milk and sugar. Smooth, it lacks the herb or grassy tones of some blends and has no discernible aftertaste.
Teabloom provides teas for the world's best five-star hotels, so our expectations were high — and we were not disappointed. Wrapped for freshness and beautifully presented in a sophisticated, reusable tin, their English Breakfast Heritage Loose Leaf makes a thoughtful gift for the discerning tea lover.
Most Convenient Option: Pique Breakfast Black Tea Crystals
Now, here is an interesting product from Pique. Normally I'm not a big fan of instant teas but these crystals produce excellent English Breakfast tea in a matter of seconds.
What I really like about this products is that you can make a great cup of tea very easily. And whereas most instant teas taste like crap, this one tastes just like an authentic brewed cup of English breakfast tea!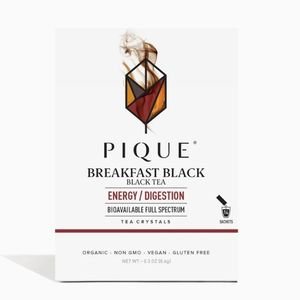 Amount: 14 Sachets
Type: Black Tea Crystals
Product Highlights:
Delicious blend of single-estate Assam and Ceylon teas
Make a cup of tea in a few seconds
No sugar or other additives
Produced with patented cold extraction method for best taste and maximum health benefits
Triple toxin screened for purity and bioactivity
Pique produces the tea crystals by cold extracting from carefully chosen single estate Assam and Ceylon black teas. The result is both tasty and convenient!
You can easily carry the sachets with you in the office or when traveling. And all you need for preparing a cup of tea is a mug and some hot water.
The quality and purity of the crystals is ensured by triple toxin screens. This products is also USDA certified organic.
Budget Pick: Twinings of London English Breakfast Black Tea Bags & K-Cups
You'll be impressed with this fine English Breakfast Tea from Twinings. Expertly blended with premium teas from Kenya, Indonesia, Assam, Malawi, and China, it's surprisingly full-bodied yet mellow and with a slightly bitter finish.
Amount: 100 Tea Bags
Type: Black Tea Blend in Tea Bags
Product Highlights:
Most popular tea from Twinings
Great value for money
The box contains 100 tea bags
This tea has a slightly sweet taste with hints of herb, caramel, and fruit — it smells almost like summer strawberries. Twinings' most popular tea, it's delicious hot or iced.
Bags are individually wrapped for freshness. A bargain, you get 100 in a box for a fraction of the price of premium brands.
Also available in single-use K-cups for your Keurig — use the 6- or 8-ounce settings for optimal flavor — it's now as convenient as it is satisfying.
How to Brew English Breakfast Tea
Brewing a nice cup of English breakfast tea is easy:
Add some of your favorite English breakfast tea in a teapot. Use about 2 teaspoons of loose leaf tea (or one tea bag) per one cup of water.
Boil some water and pour it into the teapot.
Steep for 2 to 3 minutes.
Strain into cups and enjoy!
Most blends taste good plain but also pair well with milk and sugar (or lemon and honey).
Check this guide to find the best honey for your tea!
Additional tips:
Some blends are best prepared with water that is not boiling hot. Check the package for exact instructions about water temperature and brewing time.
Most high quality English breakfast teas can be brewed for a second time. Steep a bit longer for the second brew (about 4 minutes).
The benefits of drinking tea in the morning have been backed up by scientific research.
So now it's just a matter of picking the perfect breakfast tea that suits your taste.
Enjoy!