Brighter mornings are a just cup away with India's famed Assam tea. It's something special that gives your favorite breakfast blends a brisk, nutritious kick!
Bold and aromatic with a hint of malt and exotic spice, Assam tea's versatile flavor is endearing hot or iced.
If your palate is ready for a challenge, one of our recommended Assam brands is sure to offer the energy boost and complex taste you've been waiting for.
Our recommendations for Best Assam Teas:
All About Assam Tea
Grown exclusively in the Assam region of India, Assam tea thrives in the lowland climate of the Southwest Himalayas.
New among black teas, it has a short but unique history.
The Assam region produces more than 50-percent of India's tea.
Discovered by Scottish explorer and merchant, Robert Bruce, the first boxes of Assam tea arrived in London in 1835, marking the beginning of India's commercial tea industry. By the 1860s, it was on the way to becoming a European favorite.
What Exactly Is Assam Tea?
Assam tea is a distinct variety of Camellia Sinensis, the tea plant. Different than China's Camellia Sinensis Sinensis plant, Camellia Sinensis Assamica is native to Assam.
There are two types of Assam tea — orthodox and CTC:
Orthodox Assam is produced using traditional methods. Hand-rolled into strips, the result is a high-quality loose leaf.
CTC Assam tea (cut-tear-curl) is machine-processed. Crushed by rollers into uniform pellets, it has a stronger, more consistent flavor that's well-suited for teabags.
Assam tea is harvested in three flushes — each has a slightly different taste.
The first flush, picked in late winter or early spring, is valued for its fresh, delicate flavor.
The second, or summer flush, is collected in the late spring or early summer and is arguably the strongest.
The third flush is gathered in the autumn. Lighter and less nuanced, it's often blended in breakfast teas where subtle notes won't be missed. Chances are it was in your last cup of Earl Grey.
Taste and Aroma
Brightly colored, Assam tea has a multi-dimensional flavor profile comparable to fine wine. Full oxidation is the key to its richness.
Most agree that malt and spice are the predominant tones but look for notes of musk, chocolate, caramel, and smoke as well.
CTC Assam may be somewhat astringent. Both have a light floral fragrance with a hint of wood.
If you prefer a clear, mellow brew with a fruity edge, try first-flush tea. On its own, it's slightly sweet. Hearty, second-flush tea stands up well to milk and sugar.
Assam Tea Caffeine Content
Assam is a high caffeine tea and stronger than Chinese black teas.
The caffeine content of one cup of Assam tea can range anywhere between 30 to 90 milligrams. On average, it has about half as much caffeine compared to a cup of black coffee.
Here are the two main factors that affect the amount of caffeine in your cup:
Brewing Time: The longer you let your tea steep the stronger the taste and the more caffeine it will have.
Amount of Tea: The more loose leaf Assam tea you use per cup the more caffeine it will have.
If you want black tea with less caffeine and a milder taste, check out our guide with the best Darjeeling teas.
Assam Black Tea Benefits
Like most teas, Assam is a superfood packed with antioxidants.
Drink it for these benefits and more:
Energy and Focus: Compared to coffee, black tea may offer more stable and sustained energy. The combination of caffeine and the amino acid, L-theanine, increases alpha activity in the brain, enhancing alertness with less caffeine and fewer jitters.
Weight Loss: The polyphenols in black tea can help you pare off pounds. Research shows it may help dieters reduce calorie intake and turn fat into energy.
Immune Support: Early studies show that the polyphenols in black tea may offer prebiotic-like benefits for your immune system, supporting healthy gut bacteria. Black tea also has antimicrobial properties that kill harmful microorganisms and help repair the lining of an ailing digestive tract.
Anticancer Properties: Animal studies suggest that many chemical compounds found in black tea can reduce inflammation and inhibit the growth of cancer cells. Complex flavonoids including theaflavins and thearubigins — the polyphenol that gives Assam tea its red color — have been shown to have significant anti-cancer properties. Regular black tea drinkers may have a lower risk of lung and skin cancer.
Blood Sugar Control: Drinking black tea is associated with lower blood glucose levels in people with diabetes. Green tea is also beneficial, but research shows oxidized black tea has a higher percentage of polyphenols and complex flavonoids.
In addition to drinking it, you can also use tea for treating sunburns.
Best Assam Tea Brands Reviewed
Best Assam Loose Leaf Tea: VAHDAM Pure Assam Black Tea Leaves
VAHDAM does Assam justice with their premium second-flush tea. Graded FTGFOP1, it's among the finest loose-leaf black teas money can buy.
This single-origin tea is grown on one of Assam's finest estates. It has a balanced, earthy profile with just enough bitterness for interest.
Amount: 16 oz (454 g)
Type: Loose Leaf Assam Tea
Product Highlights:
Brisk and earthy taste
High-quality second flush Assam tea
Produced ethically by supporting the local community
VAHDAM is a carbon and plastic neutral brand
Perfect hot, iced or as kombucha, the VAHDAM Assam tea has a woody aroma with a light floral edge. Vahdam recommends drinking it without milk to appreciate its subtleties.
Vahdam tea is shipped directly from India in a puncture-resistant, vacuum-sealed pouch. A 16-ounce bag makes 200 or more cups. Each batch comes with a complementary aluminum-lined zipper bag for freshness. Your last cup will be as fresh and flavorful as your first.
VAHDAM teas have an above-average price point, yet they're a bargain for the quality. And a portion of each sale is directed to education for the tea workers' children. Certified climate- and plastic-neutral, VAHDAM teas are a socially and environmentally sound, not to mention delicious, purchase.
Best Assam Tea Bags: Taylors of Harrogate Pure Assam Teabags
Taylors of Harrogate's Assam tea can be described as strong and malty. Picked at the peak of the second flush, it's not for the faint of heart.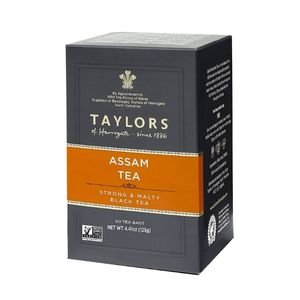 Amount: 50 Tea Bags
Type: Assam Tea Bags
Product Highlights:
Rich and malty taste
Affordable price point
Produced in a sustainable way
English breakfast tea lovers will appreciate the spicy, full-bodied flavor and jolt of caffeine that this tea offers. The smoky aroma alone is enough to perk up any morning. Try it hot with honey or molasses for sweetness. A bit of milk tones down the brash flavor.
Each box contains 50 English-style, tagless tea bags for a reasonable price. The packaging is sturdy and distinctive enough for gifting, but bags are not individually wrapped to cut down on waste. Store them in an airtight container.
Taylors of Harrogate is a member of the Rainforest Alliance and the Ethical Tea Partnership. Committed to sustainable supply chains, they're ecologically aware and working hard to make their products carbon neutral.
Premium Assam: The Republic of Tea Organic Assam Breakfast Tea
Made with the finest leaves from the Hunwal Estate, The Republic of Tea's certified-organic Assam tea is the pride of Northern India. Non-GMO and 100-percent pure, it's a savory way to kickstart your day.
Amount: 16 oz (454 g)
Type: Organic Loose Leaf Assam Tea
Product Highlights:
Premium single-estate tea
Smooth flavor with complex aromas
Certified USDA Organic
Robust, this tea is full-flavored yet mellow with fruity notes and a surprisingly delicate aroma. It's particularly smooth iced or hot with a splash of milk. If you're new to Assam tea, this is the brand to warm up on.
Each resealable pouch contains one pound of top-quality loose leaf that steeps 200 cups. The packaging is generic but eco-friendly.
The price point is high — more than double the cost of a 16-ounce bag of Vahdam tea — but it reflects the premium quality of the brand. If source matters, you're getting what you're paying for.
Great Organic Assam Black Tea: Frontier Co-Op Organic Fair Trade Assam Black Tea
Fresh from India to you, Frontier's member-owned co-op presents one of the best in certified organic Assam. Non-GMO, sustainably grown, and never irradiated, it's a healthier alternative to processed tea.
Amount: 16 oz (454 g)
Type: Organic Loose Leaf Assam Tea
Product Highlights:
Tastes great with cream and sugar
Great value for money
Naturally produces and certified organic
Thick with malt flavor and an orange fragrance, this tea makes a hearty brew that sticks to your tongue. Compared to the Republic of Tea's loose leaf, you'll find it on the bitter side, yet it stays bright in milk. Each one-pound package is shipped in a non-resealable Mylar bag.
Frontier Co-op is Fair Trade certified and committed to the welfare of workers and the environment. Unlike many other brands, their products are never treated with ethylene oxide, a potential carcinogen. Affordable-priced, every cup is all-natural and pure.
Best in Bulk: Tea India CTC Assam Loose Black Tea
Tea India's Assam loose leaf is the best deal available in tea. You'll get a two-pound bag for less than half the price of premium brands, yet the taste is surprisingly authentic.
Amount: 2 lbs (907 g)
Type: Loose Leaf Assam Tea
Product Highlights:
Authentic 100% Assam tea
Great for making masala chai
Low price per ounce
This CTC tea is 100-percent Assam but blended from different estates. It looks almost like coffee grounds because of the processing, but don't be fooled. Somewhat less complex than full-leaf tea, it's nonetheless bold and spicy. It makes a flavorful, full-bodied masala chai with plenty of caffeine.
Shipped from India but packaged in the US, it comes in non-resealable bags. Transfer it to an airtight loose tea container upon arrival to preserve freshness.
Best Blend: Smith Teamaker Full-Leaf Blend No. 18 British Brunch
This expertly crafted tea blends a hearty Assam with mellow Ceylon Dimbula and smoky Keenum from Anhui, China. Brimming with fruity notes, its spicy aroma fills a room.
Amount: 15 Sachets
Type: Black Tea Blend in Tea Bags
Product Highlights:
A complex blend of Assam, Ceylon, and China black teas
Superior quality tea sachets for maximum flavor
Handcrafted in small batches to ensure quality
Lively neat or with milk and with or without sweetener, it's a fearless tea for entertaining. There's something appealing to everyone in this sophisticated blend.
Oregon-based Steven Smith Teamaker is laser-focused on quality. Sustainably grown and modestly priced, their tea is shipped quickly from its origin and hand-blended in small batches to guarantee peak flavor.
You'll receive 15 oversized sachets that encourage maximum leaf expansion and make the most of every cup. The packaging is eco-friendly and giftable, and bags are individually sealed to preserve flavor.
Best Decaf: Harney & Sons Decaffeinated Assam Loose Leaf
Assam tea has about half as much caffeine as coffee, but if you're sensitive to it, one cup might be too much. Especially late in the evening.
If you need a good quality decaf, look no further than this full-flavored offering from Connecticut-based Harney & Sons.
Amount: 4 oz / 113 g
Type: Assam Tea Bags
Product Highlights:
Authentic taste of Assam tea without caffeine
Made with natural water-based decaffeination process
A great choice for an evening cup
Far from the dull taste you've come to expect from some decaffeinated brands, this 100-percent Assam tea has a deep malt flavor, a balanced aroma, and the dense body you crave. It's refreshing hot or iced.
The difference is an all-natural, water-based decaffeination process that leaves no chemical flavors or odors behind.
Packed in an airtight tin, you'll receive four ounces of loose leaf for a competitive price. Enjoy the best in flavor and nutrition without the jitters.
How to Prepare and Serve Assam Tea
After you buy some Assam tea there is just one final thing to do — prepare it!
Here is how to make a nice cup of Assam black tea:
Boil fresh water.
Add 1 teaspoon of loose leaf Assam tea (or one tea bag) for each cup of water.
Steep for 2 to 5 minutes depending on how strong you like your tea.
Serve as it is, or add milk and sugar (or honey).
You can use one of our recommended glass teapots with an infuser to brew your loose leaf Assam.
Enjoy your tasty cup of Assam!