Chamomile tea is a relaxing and delicious herbal tea brewed from dried chamomile flowers. It is full of antioxidants and flavonoids that are beneficial for our health.
In this article, I will introduce the best chamomile tea brands and products.
Whether you prefer tea bags, loose leaf tea, or chamomile tea blends you can find something you like here.
I drink herbal teas daily and have tried hundreds of different brands. I have collected my top picks in this guide so that you can save time and avoid some of the lower quality or overpriced products out there.
Products Reviewed in this Article
Chamomile Tea Has Many Benefits
There are many reasons to love this floral tea. In addition to its mild and calming taste, it is very healthy.
Here are some of the most important health benefits of chamomile tea:
Improves Sleep: A traditional remedy for treating insomnia and improving sleep quality, the effectiveness of chamomile tea has been backed up by research as well.
Reduces Anxiety: Chamomile contains natural relaxants that can help with relaxing and reducing anxiety.
Boosts Immunity: It has compounds that may reduce inflammation and boost antibacterial activity.
Remedy for Colds and Pain: This herbal tea may help with relieving the symptoms of common cold, menstrual pain, and migraine headaches.
May Prevent Cancer: Apigenin found in chamomile can help in preventing and treating cancer.
Supports Healthy Bones: Studies indicate that chamomile can help with stimulating osteoblast activity and prevent osteoporosis.
After a busy day, what could be nicer than having a nice cup of warm and delicious chamomile tea?
Watch this short video and find out 7 reasons to drink chamomile tea every day:
7 Great Reasons To Drink Chamomile Tea Every Day
Best Chamomile Tea Brands
Chamomile is a traditional and very popular herbal tea so it's no wonder that many tea companies offer some sort of chamomile tea.
The quality of the product depends on several things including:
Plant Quality: The grade of chamomile plants used for making the tea is the most important aspect affecting the product quality. Clean nutritious soil and organic farming methods are often the keys to best-tasting and most nutritious plants.
Harvesting and Processing: Methods used for harvesting and processing chamomile flowers are an important factor. Proper quality control should be implemented so that there are no contaminants (e.g. animal feces, molds) in the product.
Logistics and Packaging: How long it takes to deliver the tea for the customers after harvesting, and how it is packaged affect the freshness and overall quality.
I prefer organic tea when possible, and most products introduced here are certified 100% organic. However, I have also included a few other options as well.
The brands I included in this guide are capable of consistently delivering high-quality products with an emphasis on sustainability and the use of natural ingredients.
Next, let me introduce my favorite chamomile teas:
Best Chamomile Tea Bags – Pure Organic Chamomile
Buying chamomile tea in bags provides an easy option for brewing a cup of this tasty floral tea. Take a few tea bags and an electric travel kettle with you on a trip and you can always prepare a relaxing cup in a few minutes.
There are dozens of brands that offer good options and I have tried many of them. I chose one over the others based on taste, overall quality, and price.
Traditional Medicinals Organic Chamomile Tea
Traditional Medicinals is a California-based company founded by herbalist Rosemary Gladstar and community activist Drake Sadler.
The company emphasizes an ethical sourcing model which includes promoting organic agriculture and investing in the well-being of farmers. Their products are known for excellent quality and they are continuously tested by plant scientists.
Traditional Medicinals chamomile tea comes in 6 boxes, each containing 16 sealed tea bags. I think these are the highest quality chamomile tea bags available.
The teabags have a fresh floral scent when opened, and they produce a delicious tasting chamomile tea!
Best Loose Leaf Chamomile Tea
Loose leaf chamomile tea is the choice of a true connoisseur. The larger pieces of chamomile flowers retain their integrity and aroma better than the smaller pieces typically used for teabags.
Also, if you are specifically looking to get the health benefits from chamomile, buying a high-quality loose leaf tea is the best option, because it allows you to easily achieve a stronger brew with more active compounds.
Teabox Organic Chamomile Tea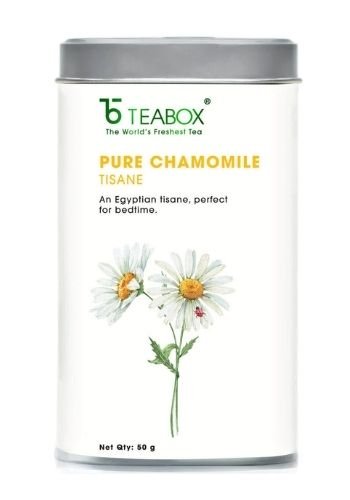 Teabox is a company committed to protecting the environment and bringing you the freshest organic teas without any middlemen. By changing the way they purchase tea, farmers benefit and consumers get a fresher product. Their revolutionary model has transformed how tea goes from field to table.
The Chamomile Tea from Teabox is of superior quality with a pleasant floral taste.
When you open the tin an incredibly delicious herbal aroma is released. And when brewed, this exquisite tea has a nice and mellow taste with clean and fresh floral notes.
Choose from three different-sized tins that will keep the tea fresh for a long time. This is my preferred pure chamomile tea!
Best Chamomile Tea Blends
Mixing chamomile with other herbs provides us with blends that offer even more health benefits and interesting taste combinations. There are a lot of great herbal tea blends that contain chamomile and below I will introduce my personal favorites.
Buddha Teas Calm Buddha Blend
Amount: 18 tea bags
Type: organic chamomile tea blend
Buddha Teas founder John Boyd grew up in the U.K. and was immersed in the culture of tea early on. Later he moved to the US and got the idea of launching a tea company focused on healthy, sustainably sourced teas.
The Calm Buddha Tea is another excellent blend that includes chamomile and comes in teabags. This blend tastes great and is designed for a relaxing effect, and it works.
The ingredients of the blend are very interesting: chamomile, skullcap, lavender, and St. John's wort with spearmint, kava kava, and a bit of cinnamon.
It is an excellent healthy alternative for a nightcap!
Art of Tea Banana Dulce Tea
Price: click here to check price on Art of Tea
Amount: 7 oz or 1 lb (113 g / 454 g)
Type: loose leaf chamomile tea blend
Art of Tea is founded by Master Tea Blender, Steve Schwartz, and offers some of the finest custom-crafted teas in the world. If you are looking for a healthy and unique-tasting blend then here it is!
The Banana Dulce Tea has a sweet aroma reminiscent of banana bread and makes a great dessert or soothing bedtime tea.
The blend consists of several herbal ingredients including rooibos, organic chamomile, organic banana bits, and organic lemongrass. Pricier than your average loose leaf tea, this savory gourmet blend is worth every penny.
The Tea Company Rose Chamomile Lavender Tea
The Tea Company is a small enterprise based in the US and dedicated to providing the freshest loose leaf tea blends that are good for health. They use only organic ingredients and their teas are blended in small batches to ensure the best possible quality.
This incredibly tasty blend consists of chamomile and lavender flowers, rose petals, and rose hips. All organic, of course.
In addition to being delicious, this truly is a healthy herbal blend. It is good for relaxing and inducing sleep and provides many other health benefits as well.
Tea Forte Chamomile Citron Tea
Tea Forte focuses on both the quality and presentation of their teas. They offer handcrafted luxury tea blends in elegant packages. Their packaging has even won several awards, including the award for their loose leaf tea canister in 2010.
The Chamomile Citron tea from Tea Forte is an organic blend of chamomile, rosehips, lemongrass, hibiscus, lemon verbena, and licorice. This loose leaf tea comes in an award-winning recyclable aluminum canister.
The tea is a bit expensive considering there is only enough for 35-50 cups in the container, but it's so delicious that it's worth every penny!
JusTea Chamomile Dream Loose Leaf Herbal Tea
JusTea is based in Vancouver, Canada, and works closely with Kenyan farmers to provide sustainable employment and better wages for the farmers. Their teas are produced in small batches and are organic.
JusTea aims to provide its customers with the freshest and tastiest teas possible by bringing them directly from farmers to consumers. All of their products are free of pesticides and chemicals.
This 100% organic Chamomile Cleanse tea consists of chamomile blossoms, lemongrass, and licorice root. The lemongrass is handpicked by Kenyan women's coop.
This tea tastes fresh and sweet and it comes in a nice-looking container that includes a hand-carved teaspoon.
Smith Teamaker Blend No. 67 Meadow
Smith Teamaker is a company founded by Steven Smith in 2009. All the teas are made by hand in small batches under his own roof in the old blacksmith's shop in Oregon.
Blend No. 67 is made of chamomile flowers blended with hyssop and rose petals with a hint of rooibos. The box has 15 individually wrapped tea bags with a large cut herbal blend of excellent quality.
This is my favorite chamomile blend you can get in tea bags!
Enjoy Your Chamomile Tea!
Chamomile is one of my favorite herbal teas, especially in the evening before going to bed. Chamomile tea is caffeine-free so you can drink it even late in the evening without worries.
Sometimes it's nice to have just pure chamomile tea, other times I like to have a tasty blend of chamomile with other herbs. Both options will definitely make you feel more relaxed and help with falling asleep and having better sleep quality.
Now that I have introduced my favorite chamomile tea brands and products, you can choose the ones that you like best and try them out.
Enjoy your cup of tea and relax, so that you can rest and be ready for tomorrow's activities!
Chamomile Tea FAQ
What does chamomile tea taste like?
Chamomile tea has a mild floral taste with some natural sweetness and notes of apple.
Will chamomile tea help me sleep?
Chamomile tea contains apigenin, an antioxidant that is also a mild tranquilizer. According to research chamomile helps with relaxing and falling asleep and improves sleep quality.
Is chamomile tea good for anxiety?
Studies indicate that chamomile tea aids with relaxation and can be effective for treating anxiety and depression.
Can I drink chamomile tea every day?
Yes, you can drink chamomile tea every day, even several cups. In fact, it will provide you with many health benefits.
Is it safe to drink chamomile tea if I'm pregnant?
In general, drinking chamomile tea during pregnancy is considered safe. However, consumption should be limited to one or two cups a day.
What do you think is the best chamomile tea brand?
Please share your questions and experiences related to different chamomile teas in the comments section below.
Drink your herbal tea and stay healthy and happy!
-Joonas
Share on Pinterest: |