As digestive problems are becoming more common it's important to find ways to alleviate the related symptoms. It is also crucial to be able to recover from these issues and avoid them from becoming a chronic problem.
In my opinion, adjusting your diet and using natural remedies are the best ways to combat these problems.
Read this review of Traditional Medicinals Belly Comfort tea to find out if it can really help with issues such as dyspepsia, IBS (irritable bowel syndrome), heartburn, and constipation.
Traditional Medicinals Belly Comfort Tea Review
I tried the Belly Comfort tea because I have been suffering from digestive problems such as heartburn, acid reflux, and IBS (irritable bowel syndrome). I have also consulted a doctor about these problems and received some medicines (e.g. antacids) that provided temporary relief.
However, after researching the subject I decided that the best long-term solution is to follow a suitable diet and combine it with natural remedies like herbal teas.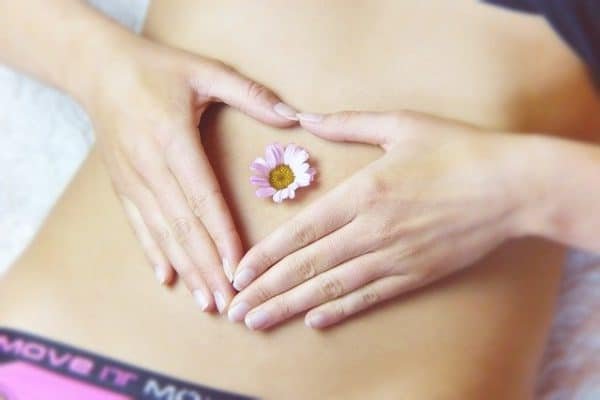 In this review article, I am going to discuss the ingredients of the Belly Comfort tea and go through the research related to their claimed health benefits. I will also give my advice for brewing the tea and assess the effectiveness of it based on the research and my own experience.
Traditional Medicinals Belly Comfort Tea
Ingredients
Traditional Medicinals Belly Comfort tea consists of several organic ingredients that have been traditionally used for treating digestive problems. Their effectiveness has also been studied, and many of the benefits have been backed up by research.
Peppermint
One main ingredient of these tea bags is peppermint leaves. Peppermint is often used as a digestive aid because it is known to relieve indigestion, stomach ache and cramps, heartburn, gas, and bloating. It helps with relaxing our digestive system and is especially useful for treating IBS.
A review of 14 trials concludes that peppermint was useful for decreasing duration, frequency, and severity of abdominal pain for children. In addition, a study from 2016 found that peppermint oil was effective in treating IBS symptoms.
You can find more excellent mint tea products in this article: Best Mint Tea Brands and Products
Fennel
Another important ingredient of this blend is fennel fruit. Fennel is a traditional remedy for upset stomach and diarrhea.
It relaxes the digestive muscles and helps with constipation. Research also indicates that fennel has antibacterial properties that confirm its use to be beneficial for treating stomach problems.
Ginger
The Belly Comfort tea also contains ginger rhizome which is one of the most well-known herbal remedies for digestive issues. The gingerols and shogaols found in ginger provide aid for many digestive issues.
Ginger tea is one of the most effective herbal teas for reducing the symptoms of heartburn, indigestion, and stomach pain. A study from 2011 found that ginger helps with digestion and shortens the stomach emptying time.
I have also put together a guide with my favorite ginger teas.
Other Ingredients
In addition to the three main ingredients, this product includes a herbal blend consisting of organic rosehip, papaya leaf, alfalfa, and cinnamon bark.
Rosehip is a pseudofruit of the rose plant. It is an effective digestive aid that has anti-inflammatory properties and helps with preventing stomach cramps, heartburn, and bloating.
It contains flavonoids that work together with our digestive enzymes so that our system can break down and absorb food more efficiently.
Papaya leaves contain an enzyme called papain that assists with protein digestion. It can also be helpful with alleviating heartburn and breaking down gluten, a protein found in wheat, that many people have difficulties digesting.
Alfalfa leaves have many health benefits and contain a high amount of vitamins and minerals. Cinnamon bark is loaded with healthy antioxidants and tastes delicious.
How to Brew It
The ingredients in the Traditional Medicinals Belly Comfort tea need to be brewed for at least 10 minutes to get the best effect out of it. I recommend using freshly boiled water and covering the cup to prevent the water from cooling down too fast. You can also try using two bags to make the tea even stronger.
Taste and Aroma
Upon opening the tea bag I could smell a nice minty and spicy aroma.
After brewing the tea bag for about 15 minutes it has produced a brown colored cup of tea emitting a nice scent. The taste is a combination of peppermint and slightly sweet herbal flavor including notes of ginger, fennel, and some cinnamon.
Is it Effective?
Traditional Medicinals Belly Comfort tea includes several herbal ingredients that are proven to be effective digestive remedies. So based on the research it should be useful for treating the most common digestive problems.
The best way to see if it would help me was, of course, to try it myself. I started drinking the Belly Comfort tea after every meal, and I feel that it really aids my digestion.
It's not a miracle cure though. If I eat a big greasy meal I will still experience some problems digesting it.
However, it's the most effective herbal tea for digestion that I have tried so far, and combined with a proper diet it can definitely help you with digestive issues.
Use Belly Comfort Tea to Aid Your Digestion
If you are looking for a natural remedy for digestive problems I can really recommend Traditional Medicinals Belly Comfort tea. Combine it with a suitable diet and healthy living habits and I'm sure that you will start getting better.
In addition to being an effective aid for digestion, this tea also tastes great!

Have you already tried the Belly Comfort tea? Please post a comment below and tell me how you liked it.
Share on Pinterest: |