Teapots and kettles come in many shapes, sizes, and styles. Choosing the right one depends on how you are going to use it.
Elegant clay and cast iron teapots are great for brewing a cup of tea the traditional way while a simple electric kettle is convenient for boiling water.
You definitely don't want dozens of different pieces filling your cabinets unused. So choose wisely!
You can follow the links in this article to find more specific buying guides for each type of teapot or kettle.
Is There a Difference Between Teapot and Kettle?
It's very easy to confuse the terms teapot and tea kettle. However, there is a significant difference between the two.
Teapots are specifically meant for brewing tea and then pouring it into cups. Most teapots are not stovetop safe so they shouldn't be used for heating water. They usually have a built-in infuser that keeps the tea leaves contained.
Tea kettles are designed to withstand high temperatures without warping or cracking and their purpose is to boil (or heat) water. Tea kettles can be either electric or stovetop models. Some tea kettles come with an infuser, which removes the need to use a separate teapot to brew your tea.
If you have a kettle without a strainer, you can always get a separate tea infuser basket.
Types of Teapots
Next, let's take a closer look a the 4 main types of teapots available on the market.
1. Ceramic Teapots
Ceramic teapots have been used for thousands of years and come in various designs. The types of materials used range from glazed and porous ceramics to porcelain and stoneware.
Chinese Yixing clay teapots are some of the most popular for brewing oolong and pu'erh tea. They are made with purple clay known as Zisha and are traditionally hand-made.
Pros:
Excellent heat retention
Come in many styles – both modern and traditional
Easy to clean
Cons:
Can chip or shatter easily
2. Cast Iron Teapots
When you are looking for a time-honored and sturdy teapot, cast iron might be the perfect choice.
Japanese cast iron teapots, also called tetsubin, are very durable and offer a traditional and stylish experience for brewing your tea.
Pros:
Excellent heat retention
The tea is heated evenly
Almost indestructible
Traditional style
Cons:
3. Glass Teapots
Being transparent, glass allows you to observe the beauty of opening tea leaves.
Glass teapots with infusers often come with either a stainless steel filter or a glass infuser with laser-cut holes. They are great for brewing all kinds of teas.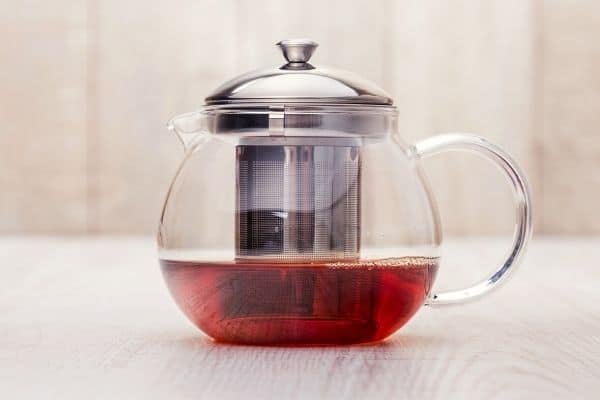 Pros:
You can observe the tea while brewing it
Fits almost any décor
Easy to clean
Cons:
Can break quite easily
The heat retention is not very good
4. Stainless Steel Teapots
Stainless steel teapots are very functional and the material makes for a sleek and modern-looking piece. Almost all stainless steel teapots are actually kettles since the material is suitable for both heating water on a stovetop and brewing the tea.
Pros:
Durable and lightweight
Good heat retention
Resistant to corrosion
Can be used to heat water on a stovetop
Cons:
Can get hot to touch
Some might not prefer the modern look
What is the Best Teapot Material?
When choosing which type of teapot to buy, you should consider where and when are you going to use it. Another important factor is aesthetics versus functionality.
Ceramic and cast iron teapots are often elegant and make brewing your tea more of a form of art. However, they are not the most portable ones because ceramic teapots can crack easily while cast iron pots are heavy to carry around.
Glass teapots are also fragile but when used at home, they offer a see-through brewing experience.
If you just want a durable and practical teapot that you can also use for heating water, then stainless steel is a great option. You can pack your teapot with you when traveling because it's light and you don't have to worry about breaking it accidentally.
Types of Tea Kettles
Tea kettles come in 2 main types — stovetop kettles and electric kettles.
1. Stovetop Kettles
When it comes to materials, the same rules as with teapots apply. In addition to stainless steel, cast iron, and glass kettles, there are also aluminum, titanium, and collapsible silicone kettles available.
If you want something elegant, consider getting a copper tea kettle.
Here are some popular types of stovetop kettles:
Camping Tea Kettles: Made to be as portable as possible, camping kettles allow you to heat water and brew tea whether you are hiking in the backcountry or cruising in an RV.
Tea Kettles for Induction Cooktop: These kettles can be used on other types of stoves as well but are especially suitable for boiling water fast on an induction cooktop.
Tea Kettles for Gas Stove: Most kettles can be used on a gas stove but the best ones heat water efficiently and have a wide base that keeps flames from licking up the sides of the kettle.
Whistling Tea Kettles: Made with stainless steel or glass, whistling kettles always let you know when the water is boiling hot.
2. Electric Kettles
Using a cordless electric kettle to boil water is the fastest and most convenient option. All you need to do is press a button and wait for the water to boil. It's also safe and more energy-efficient compared to using a stovetop kettle.
When you are shopping for a new electric kettle there are a few important things to consider:
Size: A big family needs a large enough kettle to boil water for everyone. Yet, small electric kettles are great for traveling and making a few cups of tea at home.
Materials: High-quality stainless steel and borosilicate glass are durable and safe options. If you are worried about food safety, get a plastic-free electric tea kettle.
Safety Features: Make sure that your new electric kettle has at least basic safety features including boil-dry protection and automatic shut-off function.
Extra Features: Some extra features, like temperature control and keep-warm function, might come in handy. But remember that you usually end up paying more to get these.
Tea Infuser: Buying an electric tea kettle with infuser allows you to brew loose leaf tea directly in the kettle. This eliminates the need for an additional teapot.
If you like precision pour, consider getting a gooseneck electric kettle. They are excellent for controlling the water flow and avoiding splashes and drippings when pouring water to cups or a tea infuser or when making pour-over coffee.
Final Thoughts
Choosing the right type of teapot or kettle is important since you will be using it frequently.
Whether you are looking for an elegant vessel to brew your green tea or a convenient electric kettle to boil water fast, you want to choose an option that best matches the purpose. For many people, it's also important to choose a tea kettle made in the USA.
If you don't want to get a separate teapot for brewing your loose leaf, you can just use a French press for brewing your tea.
I hope this guide helped you out with finding a product that suits your needs.
Enjoy your tea!
-Joonas