Jasmine milk tea is something that I tried for the first time only a few months ago. I had been drinking jasmine green tea many times before but adding some milk and honey really took this beverage to a new dimension!
I started experimenting with different versions, and now I want to share my favorite ones with you. Whether it's hot jasmine milk tea or an iced jasmine bubble tea that you are looking for, you can find the recipe here.
All About Jasmine Tea
The history jasmine tea can be dated hundreds of years back, to the times of Ming Dynasty. Jasmine green tea is made by mixing dried jasmine flowers with green tea or placing fresh flowers alongside green tea leaves to let them absorb the scent.
Jasmine Tea Taste and Aroma
The taste of jasmine green tea is typically described as delicate, floral, and slightly sweet.
However, different brands can taste very different depending on what kind of green tea is used as the base and how the jasmine aroma is infused into the products.
Of course, jasmine black tea, white tea, and pure jasmine flower tea have a very different taste compared to jasmine green tea.
Jasmine Tea Caffeine Content
The caffeine content of jasmine tea depends on the type of tea you use to brew it:
Jasmine Green Tea: 25 mg of caffeine per cup
Jasmine White Tea: 20 mg of caffeine per cup
Jasmine Black Tea: 50 mg of caffeine per cup
Pure Jasmine Flower Tea: Contains no caffeine
NOTE: The amounts above are only estimates and can vary greatly depending on factors such as the specific variety of tea and how you brew it.
Benefits of Drinking Jasmine Tea
Drinking jasmine tea is not only a treat to your taste buds, but it is also good for your mind and body.
Here are some proven benefits of jasmine green tea:
Can help with losing weight
Gives more energy
Good for heart health
Can protect the brain
May boost immunity and protect from cancer
Good for skin and oral health
Jasmine Milk Tea Ingredients
Making a cup of delicious jasmine milk tea is quite simple and the list of ingredients is not long. Yet, the type and quality of the ingredients makes all the difference.
Jasmine Green Tea
The most important ingredient of this recipe is the jasmine green tea. I recommend that you use high-quality loose leaf jasmine green tea or jasmine pearls.
If you prepare it with tea bags, use one bag per each cup of tea you are making.
You can also use jasmine white or black tea for preparing your milk tea. Or if you want to completely avoid caffeine, you can prepare it with pure jasmine flower tea.
Whichever is your choice, you can find the best jasmine tea products in this guide.
Milk: Dairy or Plant-Based
I usually prepare my jasmine milk tea with full-fat cow's milk but there are also great plant-based options. Almond and cashew milk are my personal favorites.
Why not go for soy, coconut, or oat milk. The choice is yours!
Honey
The best option for a sweetener is organic raw honey. Other tea sweeteners like regular honey or brown/white sugar will also do just fine.
The amount depends on how sweet you like your drink. You can start with half a teaspoon per 2 portions of milk tea.
Here is the list of ingredients for making 2 cups of jasmine milk tea:
1 Tablespoon of Loose Leaf Jasmine Green Tea
1/4 Cup of Full Cream Milk or Plant-Based Milk
1/2 Tablespoon of Honey
In addition to the main ingredients you can add some dried or fresh jasmine flowers for taste and visual effect.
You might also want to use some boba pearls and make it a bubble tea, especially if you are making the iced version.
Optional ingredients:
Dried or Fresh Jasmine Flowers
Black Tapioca Pearls
Equipment
This recipe really doesn't require any special equipment. All you need is an electric kettle or a stovetop kettle for heating up some water.
You would also want to use some kind of strainer, teapot, or French press for brewing the jasmine tea. I prefer steeping the tea with my glass kettle that has a built-in infuser.
One great option is to use an authentic Chinese Yixing clay teapot.
How to Make Jasmine Milk Tea
Now you have all the ingredients and equipment ready, so it's time to make the tea. Follow these simple steps and you can't go wrong:
1. Brew the Jasmine Green Tea
Brew the jasmine green tea or white tea with water that is about 170-180 °F (77-82 °C) and steep it for 1 to 3 minutes depending on how strong you like it.
When it's ready, pour the tea into cups. Leave some space for the milk.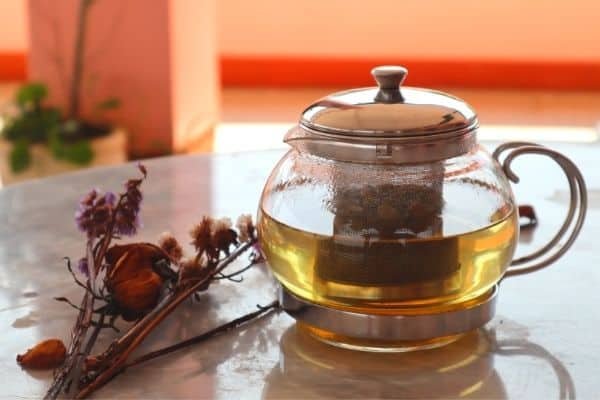 2. Add Honey and Milk
Next, add the honey into the cups and stir. Then you can add the milk.
3. Enjoy!
Now your jasmine milk tea is ready. Enjoy it!
If you want to make the extra smooth and thick, you can leave the water out altogether and just brew the tea in milk.
Iced Jasmine Milk Tea
On a hot summer day, you might wanna go for the iced version of jasmine milk tea.
You can prepare it exactly the same way as above. Just let it cool down and add a generous amount of ice cubes. Also, it is best to use a large glass and a straw instead of a teacup.
Jasmine Bubble Tea
Want to make this into bubble tea?
Then you can add some black tapioca pearls.
Here is how to prepare the boba pearls:
Bring 4 to 5 cups of water to boil in a saucepan or pot and add the tapioca pearls.
Cook the pearls according to the instructions in the package, usually about 5 minutes. They should start floating when ready.
Strain and place the pearls into cold water and let them cool down. Then strain again.
Now you can add a few tablespoons of boba pearls to each glass of cooled-down jasmine milk tea. You can then add ice so that the glass is full.
And if you are a fan of bubble tea, I recommend that you also read this article on the best Kung Fu Tea Drinks.
Below is the summary of my hot jasmine milk tea recipe:
Jasmine Milk Tea Recipe
Try this healthy and delicious jasmine milk tea recipe! You can make hot or iced version, both are a treat to your taste buds.
Ingredients
1

tbsp

Loose Leaf Jasmine Green Tea

1/4

cup

Cow's Milk (or your favorite plant-based milk)

1/2

tbsp

Honey
Optional Ingredients
Dried or Fresh Jasmine Flowers

Black Tapioca Pearls
Instructions
Brew 2 cups of jasmine green tea with water that is about 170-180 °F (77-82 °C) and steep it for 1 to 3 minutes. Pour the tea into cups and leave some space for the milk.

Add the honey and stir. Then add the milk of your choice.
Please post a comment below and let me know how you liked this recipe!
-Joonas
Save on Pinterest: |