Green tea makes headlines for its health benefits, but it's more than a wellness potion. There are thousands of varieties with unique flavors based on their country of origin and processing methods.
Inspiring alone or infinitely blendable with florals, herbs, and spices, green tea has a world of flavor potential.
Join us on a journey as we explore the most beloved types, including eight of the best green teas we're sure you'll enjoy.
Our recommendations for the Best Loose Leaf Green Tea:
Popular Types of Green Teas
Before we go to the product reviews and recommendations, let's take a look at some popular types of green teas. This will give you some ideas on which products you might want to try next.
Sencha Green Tea
The most popular tea in Japan, Sencha represents 80 percent of the market. Flavor profiles vary depending on where it's produced and when it's picked.
The first flush, or sincha, is the most aromatic and savory. Harvested in April and May, the tender new leaves contain a winter's worth of concentrated nutrients.
There are eight types of sencha, each with unique notes. But in general, all varieties are somewhat less bitter than most green teas. Mellow with a spark of umami and smokiness that offsets the grassy tone, it's a good choice for anyone from experienced tea connoisseurs to coffee lovers to warm up on.
Gyokuro Green Tea
Shade makes all the difference in the flavor of gyokuro tea.
Loosely categorized as a type of sencha, it's grown under cover instead of full sun. Shielded by mesh or traditional straw mats for at least twenty days before harvest, it contains more caffeine and L-theanine than other varieties of green tea. If you want to drink green tea pre-workout, then a high caffeine content is an advantage as it boosts your energy levels.
Grown almost exclusively in Japan where it's harvested once annually and flash-steamed for perfect flavor, it's among the most valuable and expensive types of sencha.
The taste differs from Japan's other fine offerings. Like most green teas, it's grassy, but with salty notes and a hint of sweetness. Complex yet delicate with a summer-fresh fragrance and a light green hue, the flavor pairs well with food.
Dragon Well Green Tea
Dragon Well, or Longjing tea, is cultivated in the Zhejiang Province of China aside the Qiantang River. The low humidity and solar radiation of the area create ideal growing conditions.
Packed with Vitamin C, polyphenols, and essential amino acids, it's as nutritious as it is delicious.
Unlike steamed Japanese teas, the leaves are pan-fried to develop their flavors. Mild with a bean-like taste, a light aroma, and an afterglow of chestnut, it's naturally low in caffeine.
If the bitter grassiness of most green teas is a turn-off, you'll appreciate Dragon Wells' mature yet relaxed qualities.
Jasmine Green Tea
When fragrance matters as much as flavor, Jasmine tea delights. A traditional green tea infused with dried jasmine blossoms, the familiar floral scent is unmistakable.
Native to Asia and the Middle East, Jasmine is added to both Chinese and Japanese teas to produce intriguing profiles.
Tea leaves are like sponges, soaking in the essential oils. Multiple infusions with fresh buds make for a stronger brew. Rarely overwhelming, Jasmine enhances the flavors in the teas of your choice.
Matcha
Developed in China and popularized in Japan, matcha is a ceremonial tea gone mainstream.
Not an ordinary green tea, it's shade-grown, steamed, and stone-ground into a fine powder. Characterized as sweet and vegetal, it's sold in two different grades — ceremonial being the higher grade and culinary lower and more affordable.
Matcha is popular for its powerful flavor and caffeine content approaching that of coffee. When mixed with a bamboo whisk, it develops an expresso-like froth.
The brisk flavor is a perfect match for dairy or non-dairy milk. It's an intriguing base for creamy coffeehouse drinks and even ice cream.
If you like green tea and milk, I recommend choosing jasmine green tea or matcha.
Best Loose Leaf Green Tea Brands Reviewed
From thousands of options available online, we have chosen our favorites of each popular type of green tea plus some interesting blends to try.
Here are our top 8 recommendations for loose leaf green teas:
Best Sencha Green Tea: Art of Tea Eisai's Choice Organic Sencha Tea
Art of Tea's mission is to bring you the world's most interesting teas. Eisai's Choice is an example of Sencha at its best.
A certified organic tea with a grassy fragrance and a vibrant hue, it tastes like summer.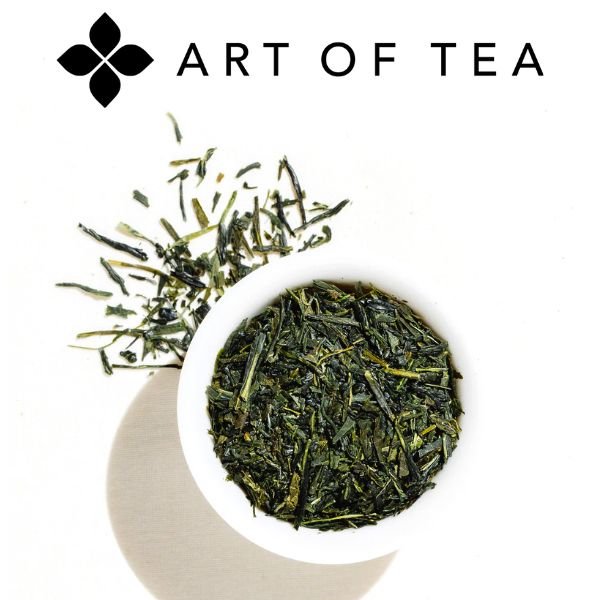 Amount: 4 oz (113 g) or 1 lb (454 g)
Type: Organic Loose Leaf Green Tea
Product Highlights:
High-quality Japanese sencha
Rich, grassy and smokey flavors
Fair Trade and USDA certified organic
Spring leaves are harnessed for their wellness benefits. Deep green and packed with nutrients from their winter slumber, they bring clarity and focus with each tempting sip.
Described as grassy, smoky, and nutty, Eisai's Choice is less surprising than it is satisfying for the Sencha fan. Traditional, it's the flavor you know and love.
But if you haven't tried Sencha, this is the brand to try first. Delivered in a resealable stay-fresh pouch, it's everything a first-class Sencha should be.
Best Gyokuro Green Tea: Art of Tea Uji Gyokuro Tea
This top-notch Uji Gyokuro by Art of Tea boasts the finest leaves carefully selected and imported directly from growers.
Cultivated in Japan and deep-steamed after harvesting to preserve nutrients, it's fresh and flavorful. Bright and bold, you can get two to three steeps per serving. The verdant color is stunning.
Amount: 4 oz (113 g) or 1 lb (454 g)
Type: Loose Leaf Green Tea
Product Highlights:
Superior-grade gyokuro
Fresh vegetal taste with complex notes of hay and nuts
Imported directly from Japanese farms
We recommend handling this tea with care. A 3-minute steep in 140-160 °F water is plenty to make the most of its nuances.
Complex, the taste is more vegetal than grassy with savory notes and a side of sweetness. The corn-like finish pairs well with anything from savory seafood to sweet pastries.
Leaves are thoughtfully packed in foil-lined resealable pouches for freshness. A premium tea, it's worth every dime.
Best Dragonwell Green Tea: TeaVivre Premium Dragon Well Long Jing
TeaVivre's Dragon Well took the gold medal at Australia's Golden Leaf awards in 2019. You owe it to yourself to discover why.
Harvested in April, the taste of this premium Dragon Well green tea is robust but never brash.
Amount: 4 oz (113 g) / 8 oz (227 g) / 16 oz (454 g)
Type: Loose Leaf Green Tea
Product Highlights:
Delightfully sweet taste with no bitterness
2019 Golden Leaf Awards gold medal winner
Relaxing and calming with low caffeine content
It all begins with selective breeding. Carefully developed by the Tea Research Institute of the Chinese Academy of Agricultural Sciences, the leaves are rich in polyphenols with a flat shape conducive to pan-frying.
A top-quality Longjing in an area where there are many, the bean flavor shines. Wrapped in an aroma of chestnut, it's remarkably sweet without the bitter or astringent notes that characterize most green teas. Low in caffeine, it's a soft and soothing sip.
Best Matcha Tea: Matcha Source Ceremony Grade Kama Matcha
Don't let a bargain brand be your first experience with matcha. Kama Matcha ceremonial grade tea is a worthy splurge!
Artfully blended for a balanced flavor, it's everything matcha should be and nothing that it shouldn't, starting with nutrition.
Amount: 1 oz (28 g)
Type: Ceremonial Grade Matcha Green Tea Powder
Product Highlights:
Ceremonial grade matcha made from handpicked, shade-grown leaves
Balanced and slightly sweet taste
Rich in nutrients and antioxidants
Matchasource is devoted to quality ingredients. Hand-harvested leaves from meticulous estates are lightly steamed, air-dried, and ground on vintage stone mills.
Rich in antioxidants, including age-defying catechins, Kama Matcha is the nutritional advantage you've been looking for.
If you are looking for an energy boost, this tea doesn't disappoint. It contains enough caffeine to kickstart your morning but without the jitters — the amino acid content softens the effect. You can expect 3-plus hours of steady energy.
When you are looking for the best green tea for weight loss, this is an excellent choice because of its high catechin and caffeine content.
We characterize the flavor of Kama Matcha as smooth. Made from young, tender leaves, it's sweeter and significantly less astringent than the average matcha powder.
If you were turned off of matcha by an inferior blend, this superior blend will be a pleasant surprise!
Best Jasmine Green Tea: Art of Tea White Tip Jasmine Tea
Art of Tea's White Tip Jasmine is a refreshingly light tea. Its spring-green color and enchanting aroma will brighten your day.
Certified organic leaves are sourced from China and infused with delicate jasmine blossoms.
Amount: 4 oz (113 g) or 1 lb (454 g)
Type: Organic Loose Leaf Green Tea
Product Highlights:
High-quality Japanese sencha
Bright and pleasant floral taste
Fair Trade and USDA certified organic
After harvesting, the tea leaves are gently fired to preserve the natural silvery tips, the crisp floral flavor is mild but not feeble. The floral notes are complementary without being overpowering.
Lower in caffeine than many similar green teas, White Tip Jasmine is a gentle eye-opener. An anytime boost, it's great on its own and also pairs well with rice dishes or sandwiches.
If you're on the fence about green tea but enjoy herbal tisanes, this is the blend that may change your mind. Try it with a little honey.
Best Green Tea Sampler Set: Vahdam Green Tea Loose Leaf Sampler
Vahdam's 50-serving variety pack is a fun way to try green teas. This gift-worthy sampler contains 10 exciting choices from the traditional to the unique.
Handpicked, processed, and vacuum-sealed at the source, teas come directly from India's best estates. We challenge you to find fresher leaves.
Amount: 3.53 oz (100 g)
Type: Loose Leaf Green Tea Sampler Set
Product Highlights:
Includes 10 high-quality green teas
Try different varieties of pure green tea and blends
Great gift for any tea lover
With this set, you'll get five cups of each tea. Varieties include Sweet Himalayan Green, Earl Grey Green, and the delicious Lemon Ginger — a celebrity favorite.
Unlike the average sample, you'll also receive a matcha blend enhanced with turmeric, an anti-inflammatory super-spice.
Teas are all-natural and non-GMO. A socially conscious company, the packaging is carbon- and plastic-neutral.
A rewarding spend, one percent of your purchase supports education for tea growers' children. This is a gift that keeps on giving!
Energizing Blend: Art of Tea Happy Tea
This energizing blend from Art of Tea is also delicious. It's bursting with floral and fruity goodness!
Drink a cup or two in the morning and you're sure to have a cheerful day with positive energy.
Amount: 4 oz (113 g) / 1 lb (454 g) / 2 oz (57 g) Tin
Type: Organic Loose Leaf Tea Blend
Product Highlights:
Nice energizing effect
Light and pleasant taste with flavors of fruit and berry
Fair Trade and USDA certified organic
Happy tea is a mix of jasmine green tea and various herbal ingredients including guayusa, green rooibos, dried raspberries and apple bits, hibiscus, and rosehips.
This refreshing and uplifting tea combines the caffeine from green tea and guayusa for a nice energizing effect. It's also loaded with healthy antioxidants.
For a hot summer day, we recommend that you also try making iced tea with this blend.
Relaxing Blend: Teabox Organic Chamomile Green Tea
If you're ready to relax, let us introduce you to Teabox's USDA-certified organic green with chamomile.
A 100-percent whole-leaf blend of Darjeeling and natural Egyptian botanicals, it's the best sleep money can buy.
Amount: 3.5 oz (100 g) / 10.5 oz (300 g) / 17.6 oz (500 g)
Type: Oragnic Loose Leaf Green Tea Blend
Product Highlights:
Includes 10 high-quality green teas
Try different varieties of pure green tea and blends
Great gift for any tea lover
So why is this best-selling blend so good compared to most other brands?
Most grocery store chamomile teas have an unpleasant bite. A strong flavor, it's often blended with lower-quality teas for a bitter or cloying effect.
But Teabox chamomile is made with single-estate tea straight from Darjeeling. It's destemmed, artfully blended, and packed at the source for optimal flavor.
Blended with pure Egyptian chamomile, the smoothest of chamomile flowers, the distracting taste that chamomile haters dislike is noticeably absent. All you're left with is a warm, full-bodied floral taste with zero bitterness.
If you've tried chamomile tea but weren't impressed, give it a try with a dab of honey the next time you need to de-stress. Modestly priced and smartly packaged in a reusable tin, you have nothing to lose.
Basics of Loose Leaf Green Tea
Green tea is made with unoxidized tea leaves and closely resembles the original plucked leaf.
High-quality springtime leaf buds are full of healthy nutrients and aromatic plant oils sent up from the plant's roots after winter dormancy.
The best green teas offer fresh and pleasant flavors lacking any unpleasant bitterness. But in order to get the most out of your precious leaves, you need to know how to brew them right.
So let's take a look at why loose leaf is superior to teabags and how to make a perfect cup of green tea.
Why Choose Loose Leaf Green Tea?
The main reason to buy your green tea as loose leaf is simply because that's how the highest quality teas are often sold. Tea bags often contain leftovers, smaller pieces and dust, that wasn't suitable to be sold as loose leaf.
This doesn't mean that all tea bags are bad quality, there are some brands, like Art of Tea, that make sure their teabags are the same quality as top-notch loose leaf.
Another good reason for choosing loose leaf tea is that it's better for brewing a perfect cup. You can choose the brewing method and adjust the amount of tea to suit your personal preference. The flavors will be also extracted better when the tea leaves are not contained inside a bag.
And one more reason is that many teabags contain microplastics that are harmful for your health and the environment.
How to Brew Loose Leaf Green Tea
There are two main styles for brewing loose leaf tea, the Western style and the Chinese Gong Fu style:
Western Style:
Equipment:
Teapot with an infuser or strainer
Teacups
Instructions:
Add some loose leaf tea to the teapot (or to the infuser basket of the teapot). You can start with using about 1 teaspoon per cup of water and next time adjust the amount if you feel the tea is too strong or weak.
Add hot water, not boiling water! More about the exact water temperature later.
Let the tea steep for about 2 to 4 minutes.
Strain into cups and enjoy!
You can often brew tea with the same leaves for at least 2 or 3 times. You can start with a shorter steeping time and increase it with each brew.
Chinese Gong Fu Style:
Equipment:
Gaiwan (a traditional Chinese tea brewing vessel)
Serving pitcher
Small teacups
Instructions:
Pour hot water into the gaiwan and teacups to warm them. Then discard the water.
Add the tea to the gaiwan. You can add about two tablespoons for a medium gaiwan (5-6 oz capacity).
Pour hot water slowly into the gaiwan and steep uncovered for 5-10 seconds (for fine green teas there is no need to rinse them first).
Pour the tea into the serving pitcher.
You can steep the same tea leaves many times increasing the steeping time by a few seconds every time.
When you are done with steeping the tea, you can pour the tea into cups and enjoy.
This might sound complicated but it's actually quite easy and fun — you just need a bit of practice to brew the tea just right to suit your taste.
Here is a video that shows you exactly how to do it:
Water Temperature
The suitable water temperature depends on the type of green tea you have.
Don't make the mistake of brewing your green tea in boiling hot water as this will result in an unpleasant and bitter taste.
Here are some general guidelines for recommended brewing temperatures:
Sencha: The best brewing temperature for sencha is around 160 to 180 °F (71 – 82 °C).
Gyokuro: Gyokuro teas are usually steeped in lower temperatures, about 120 to 150 °F (49 – 65 °C).
Dragon Well: Steep your Dragon Well tea in water that is about 175 to 185 °F (79 – 85 °C). This also applies to other Chinese pan-fried green teas.
In addition to the above recommendations, see the tea package for the suggested temperature for the best result.
And you can also try cold-brewing green tea, it's super refreshing on a hot summer day!
I hope this guide helped you with finding the kind of green tea that you will enjoy. Please post a comment below and tell me what's your favorite brand, if it's not included here, so I can try it.
Enjoy your tea, and life!
-Joonas