When I wanted to buy some premium quality tea 20 years ago, I remember always taking a train to the city center and going to a specialty tea store. They had anything I could ask for as well as stuff that I hadn't even heard about.
Going to a brick-and-mortar store is still a great option, but I mostly order my teas online nowadays. And there is one specific place I really like ⁠— the Art of Tea online store.
They have a wide selection of teas and teaware, and all of their products from brisk and full-bodied black teas and refreshing herbal blends to Japanese green teas are of top-notch quality.
Now, let me tell you more about the Art of Tea brand and why I love their products so much.
Company Background and History
Art of Tea offers hand-blended and custom-crafted teas made with high-quality organic tea leaves and botanicals. The company is based in Los Angeles, California, and was founded in 2004 by Steve Schwartz.
Steve began his journey into the world of teas in 1996 with studies of Ayurvedic medicine and traveling around the world in search of rare and unique teas. This has resulted in close relationships with tea farmers and distributors and enabled him to create many award-winning blends later.
After returning back to LA, Seve started creating his own tea blends in his living room and hand-delivering them to local restaurants.
It turned out to be the path he wanted to pursue and led to starting his own company, Art of Tea.
Steve is now a Master Tea Blender sharing his knowledge and passion by lecturing at World Tea Conventions and participating in educational programs related to tea.
Sustainability
All Art of Tea products are organic and fair trade certified. The company also has a high focus on supporting sustainable business practices throughout its operations.
All teabags produced by Art of Tea are free of microplastics and are made with 100% plant and vegetable-based materials. This is important for both the environment and your health.
To make the pyramid sachets compostable but strong enough, Polylactic Acid (PLA) derived from corn and other plants is used.
So how can they seal their tea bags without any glue or staples?
Art of Tea uses an advanced ultrasonic sealing method to keep the tea sachets closed without the need for any toxic materials or metals.
Check out this short video to learn more about the company's core values and mission:
Quality
Art of Tea provides only the best by selecting the finest tea leaves and botanicals that are quality tested in their lab in Los Angeles. The company also follows the highest level of sanitation and employee safety measures possible.
Tea is a seasonal product so it takes great effort to ensure that a certain type of tea ordered in the winter will smell and taste the same as if you would order it in the summertime.
Steve Schwartz's studies on preventive Ayurvedic medicine have resulted in a philosophy that not only emphasizes the taste and sustainability of their products but also aims to provide you with the most health benefits possible.
Watch this "behind the scenes" video and see how their products are hand-crafted for perfection:
In addition to the retail sales on their website, Art of Tea also provides their gourmet tea for hotels, restaurants, and cafés worldwide.
Art of Tea Online Store Review
The best way to get your hands on some Art of Tea products is to order them directly from their online store. In addition to teas and herbal blends, they have a nice selection of quality teaware and gift sets.
This is definitely one of the best online tea shops you can find.
Navigating around the store is easy and straightforward and you can filter products by tea type, caffeine content, flavor, or origin. The product selection is wide with everything from the finest black and green teas, to matcha kits and caffeine-free herbal teas, as well as rare specimens like Iron Goddess of Mercy oolong tea.
Each type of tea is photographed in vibrant color and includes tasting notes and a description of the origin.
Don't know what to order next?
Take their tea quiz that will help you decide which tea to pick based on your preferences and tastes.
Art of Tea also has a LoyalTea rewards club. Join it and you can enjoy even more bonuses on top of their reasonable prices.
In addition to earning points every time you buy, you can get points by sharing on Facebook, and following them on Instagram. And you also get 50 free points on your birthday!
Next, I'm going to share detailed reviews of three popular products from Art of Tea.
Of course, they have many more excellent teas that you can try, but these are my three favorite ones at the moment.
Art of Tea Earl Grey Crème Review
Earl Grey tea is one of the most popular types of black tea blends and it contains oil of bergamot orange for a refreshing citrusy flavor. Art of Tea's Earl Grey Crème brings this to the next level by adding a touch of French vanilla for a unique, silky taste and aroma.
When I first opened the tin I knew this is something special. The scent of this tea is just so different from anything I have tried before.
The Earl Grey Crème makes a perfect morning or afternoon cup with just the right amount of caffeine for a nice energy boost.
In addition to the loose leaf tin or pouch, Earl Grey Crème is also available in tea bags.
Art of Tea Happy Tea Review
Here is an interesting blend bursting with floral and fruity goodness!
Happy tea is a mix of jasmine green tea and several herbal ingredients including guayusa, dried raspberries and apple bits, green rooibos, hibiscus, and rosehips.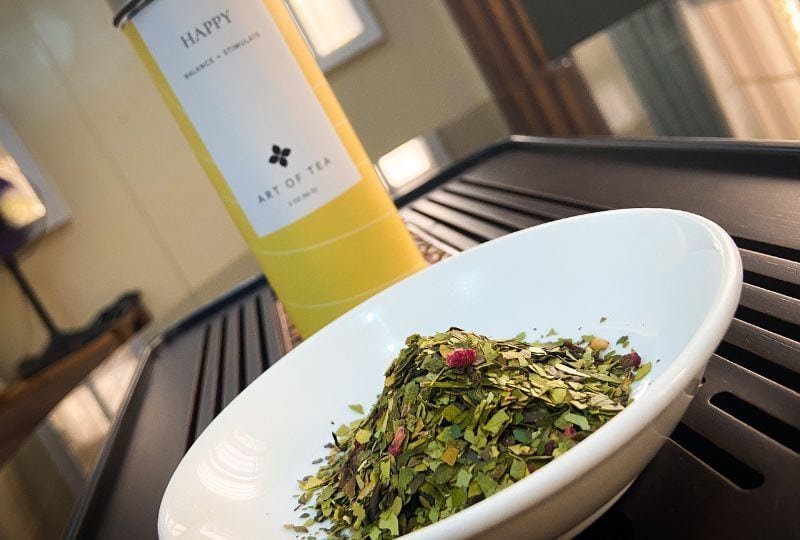 This refreshing and uplifting tea is full of healthy antioxidants and combines the caffeine from green tea and guayusa for a nice energizing effect. In addition to brewing hot tea, you can also make a reviving iced tea with this blend.
Order the loose leaf version or get your Happy Tea in tea bags.
Art of Tea Matcha Review
This ceremonial grade matcha tea is made with three different green tea varietals for a fresh and balanced flavor. I often mix the powder with cold water for a refreshing pick-me-up during a hot afternoon.
Ground and packed in Japan, the matcha powder comes in handy sticks — take one or two in your bag and enjoy at the office or on a trip!
You can also order the same Ceremonial Grade Matcha in a tin.
Art of Tea Subscription Review
In addition to choosing and ordering individual teas or sampler sets, you can also subscribe to a 6-month or 3-month subscription. This is an excellent way to explore new varieties or to give a healthy gift to the tea lover in your life!
After you pay for the subscription 2-4 ounces of seasonally selected loose leaf teas (or 12 teabags) will be shipped to the designated address each month.
You can choose from five different types of subscriptions:
Caffeine-Free: Delicious and healthy herbal and botanical fusions that are naturally free of caffeine.
Classics: All types of teas from the collection of most popular classics by Art of Tea.
Single-Origin: Includes only the finest and rarest single-origin teas from around the world. For the true connoisseurs!
Explore: Offers your taste buds a wide variety of exotic teas and blends.
Pyramid Tea Bags: The most convenient option to brew a cup without any equipment at home, in the office, or while traveling.
Art of Tea Customer Feedback and Reviews
As you can see from my reviews, I really like the carefully crafted teas that this company offers.
But how about other customers? Are they happy with what they are getting?
Well, it looks like I'm not the only one who loves Art of Tea products!
Here are the average customer ratings of the teas that I reviewed above:
Earl Grey Crème: 4.88/5 stars (349 reviews)
Happy Tea: 4.94/5 stars (53 reviews)
Matchasticks: 5/5 stars (13 reviews)
Tea Subscription: 4.96/5 stars (27 reviews)
Art of Tea Coupon and Discount Code
Great news! I have a special coupon code that I can share with you.
Go to Art of Tea online store and get a $10 discount on orders over $50 by using coupon code "YERBAMATE" (new customers only).
Where to Buy Art of Tea Products?
In addition to ordering from their website, you can also find Art of Tea products in many hotels, restaurants, and other interesting locations like The Huntington in Los Angeles.