Hibiscus is a beautiful flowering plant that can be used to make healthy and delicious herbal tea. Whether you are looking for hibiscus in tea bags, loose leaf form, or a blend of hibiscus flowers and other ingredients, the finest products are introduced in this article.
Continue reading to find out what are the best hibiscus tea brands and where to buy them.
Here is a complete list of hibiscus teas reviewed in this guide:
Hibiscus: Beautiful, Delicious, and Healthy
The flowers of hibiscus plants (Hibiscus sabdariffa) come in many colors and are a real treat for the eye.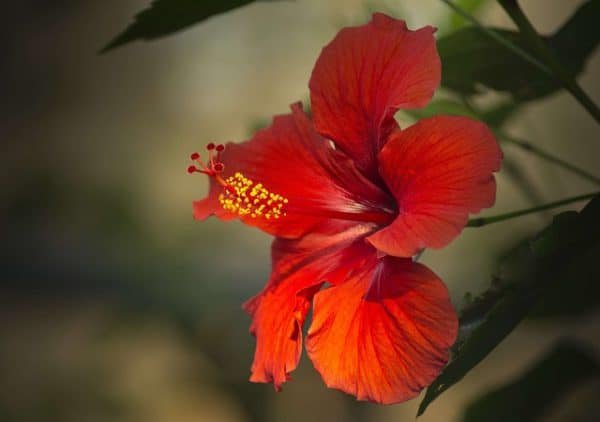 Hibiscus tea is usually brewed from the calyces and/or petals of Hibiscus sabdariffa, also known as roselle. It is a popular drink in many different countries all over the world and is also commonly prepared as iced tea.
Hibiscus Tea Health Benefits
Hibiscus tea is known as a healthy beverage, that has been traditionally used for treating high blood pressure. It also has a high antioxidant content that can help with reducing oxidative stress that causes aging.
To most notable health benefits of hibiscus tea are:
Popular Hibiscus Drinks Around the World
When it comes to making beverages, hibiscus is very versatile. It tastes great on its own but is also a popular choice in different tea blends and traditional beverages.
The tea brewed from hibiscus flowers has a nice deep red color and a tart and floral taste. Thus, it is no wonder that several tasty hibiscus beverages are being prepared in different parts of the globe.
Here are some tasty traditional hibiscus drinks:
Best Hibiscus Tea Brands and Products
I have tried dozens of different hibiscus tea products and picked the best ones for this guide. While I prefer organic herbal teas, it is not an absolute requirement for me. All hibiscus teas introduced here are 100% natural (no additives or preservatives) and most of them are USDA Certified Organic.
Organic Hibiscus Tea Bags
Tea bags provide an easy and convenient way of brewing a nice cup of hibiscus tea wherever you are. You only need hot water and a cup, and you're ready to go.
It is best to choose a product with unbleached tea bags to avoid any chemicals getting into your tea.
There are dozens of brands that have hibiscus tea bags in their selection of products. Below is my personal favorite from the dozens I have tried.
Buddha Teas Organic Hibiscus Tea
Buddha Teas was founded by John Boyd who grew up in the U.K. and later moved to the US. Based on his vast knowledge of tea culture he decided to start a  company focused on healthy and sustainably sourced teas.
Here is a very high-quality organic hibiscus tea that comes in a pack of 18 unbleached teabags. The only ingredient of this product is hibiscus, there are no additives. This hibiscus tea has a natural and smooth flavor!
Organic Loose Leaf Hibiscus Tea
When you buy loose leaf hibiscus tea, you can buy it in bulk and you can also easily brew tea for a larger group of people with a kettle or a french press. You can also make your own herbal tea blend by mixing the dried hibiscus flowers with other herbs.
I have come across a disturbing fact that, when buying loose leaf hibiscus tea, people sometimes find animal feces mixed with their product. This can be very disgusting and unhygienic.
The companies that are making hibiscus tea should have strict quality control to detect if there is anything that doesn't belong within the product.
Next, I will introduce the brand of loose leaf hibiscus, which offers a product that goes through strict quality control, and in my opinion, has the highest and most consistent quality.
U.S. Wellness Naturals Organic Hibiscus Flowers Tea
U.S. Wellness Naturals' hibiscus tea consists of 100% whole hibiscus flower petals sourced directly from Egypt. The flowers are grown in Faiyum Oasis where Egyptians have used and grown hibiscus for centuries.
You can also use these organic hibiscus flowers for cooking or in salads and jams. This product is of very high quality and has a certificate of origin, an Organic Certificate, FDA Registration, and it is also ISO 9001:2008 certified.
Overall, this is the best loose leaf hibiscus tea that you can find!
My Favorite Hibiscus Tea Blends
There are many interesting products where hibiscus has been blended with other ingredients. Here are the tastiest and healthiest blends available.
VAHDAM Hibiscus Rush Herbal Tea
VAHDAM teas are shipped directly from India to ensure freshness. This 7-ounce bag makes about 100 cups of refreshing and healthy hibiscus herbal tea!
In addition to high-quality hibiscus petals, this blend includes black tea as well as guava, pomegranate, and orange peel for some sweet fruity flavors. Cardamom brings in more healthy antioxidants and helps improve digestion.
The price of this herbal blend is above-average but so is the quality. Also, a portion of each sale is directed to education for the workers' children. VAHDAM is a climate- and plastic-neutral brand so you can have a clean conscience when enjoying this delicious blend.
Tea Forte Wildberry Hibiscus Tea
Known to focus on both the quality and presentation of their teas, Tea Forte offers handcrafted luxury tea blends in elegant packages.
Tea Forte Wildberry Hibiscus Tea is an excellent blend that consists of organic ingredients including hibiscus, apple pieces, licorice root, blackberry leaves, orange peel, raspberries, and rosehip. It comes in their award-winning loose leaf tea canister.
This herbal tea has a nice and complex flavor with floral and fruity notes and tastes great hot and cold.
If you are looking for an exquisite and delicious organic loose leaf hibiscus blend, try this one!
The Republic of Tea Natural Hibiscus Superflower Tea
The Republic of Tea is one of my favorite tea brands that offers a great variety of teas, herbs, and bottled ice-teas.
The Natural Hibiscus Superflower Tea comes in a nice airtight tin that contains 36 unbleached and stringless tea bags. The ingredients of this blend are hibiscus flower, sweet blackberry leaves, and stevia leaves.
This is a super healthy blend with a sweet floral taste.
JusTea Little Berry Hibiscus Tea
Based in Vancouver, Canada, JusTea is focused on sustainability and offers organic high-quality teas produced in small batches.
JusTea Little Berry Hibiscus Tea is made of 100% natural organic ingredients. The blend consists of hibiscus, black currant, cranberry, blueberry, elderberry, lemongrass, rooibos, and licorice root.
This tea has a fruity and delicious taste and it comes in an award-wining package that includes a nice handmade wooden spoon.
The Tao of Tea Hibiscus Ginger Tea
The Tao of Tea is a company based in Portland, Oregon, and offers a selection of specialty teas. Their organic and fair trade certified products are always made with fresh ingredients.
This blend is a mix of organic hibiscus flower petals and dried ginger. These two ingredients are some of the healthiest you can find.
The sweet floral taste of hibiscus and spicy ginger flavor creates a nice combination.
Where to Buy Hibiscus Tea
You might find some hibiscus tea at your local supermarket but buying it could be a hit or a miss.
I recommend ordering your hibiscus tea from a reliable online store. This allows you to find information about the product and check user reviews before ordering.
In addition to Amazon, Buddha Teas Online Store and VAHDAM Online Store are my top recommendations. These stores offer high-quality products, fast delivery, and free delivery if you order products worth a certain amount (about 50 to 70 dollars).
Enjoy Your Healthy Hibiscus Drink!
Now you can choose how you want your hibiscus tea.
Maybe you want pure organic hibiscus in tea bags or as a loose leaf tea? You can drink it as it is, or add some ingredients and follow the popular recipes introduced earlier in this article.
Or you can choose a ready-made blend of hibiscus, berries, and herbs to maximize your health benefits.
Check out our recommended glass teapots for brewing your hibiscus tea with style!
Hibiscus Tea FAQ
Is hibiscus tea good for you?
Hibiscus tea is high in antioxidants, Vitamin C, and carotene so drinking it is definitely good for you. It provides many health benefits from preventing high blood pressure and growth of cancer cells to helping with weight loss and inhibiting harmful bacteria.
Can hibiscus tea help with lowering blood pressure?
Yes, in fact, hibiscus tea is one of the most effective natural remedies for treating high blood pressure. Research indicates that it is effective in preventing and treating hypertension.
Will hibiscus tea break my fast?
You can drink pure hibiscus tea while fasting without breaking the fast as long as you don't use any sweeteners.
Is hibiscus tea safe during pregnancy?
It is not recommended to drink hibiscus tea during pregnancy because it can increase the chance of a miscarriage by inducing your uterus to begin contracting.
I hope that this article helped you with finding the kind of hibiscus tea products that you were looking for. Please post a comment below and share your opinion about the best hibiscus tea brands and products.
Here are a few more articles that you might find interesting:
Stay healthy and enjoy your hibiscus tea!
-Joonas
Share on Pinterest: |