When I'm craving a matcha latte, I would usually go to a Starbucks or the nearby tea shop to order one.
I recently stumbled on Trader Joe's Matcha Latte powder and thought — why couldn't I just buy it and make my own?
The idea of this product is to provide matcha latte lovers a quick and easy method to whip up their favorite drink in minutes.
But does it live up to the hype?
Yes, if you like your matcha drink sweet and creamy, this will satisfy you!
Read this review to learn all about the taste, ingredients, nutrition, and preparation of Trader Joe's Matcha Green Tea Latte.
I tested out making both hot and iced matcha lattes to see what they bring to the table.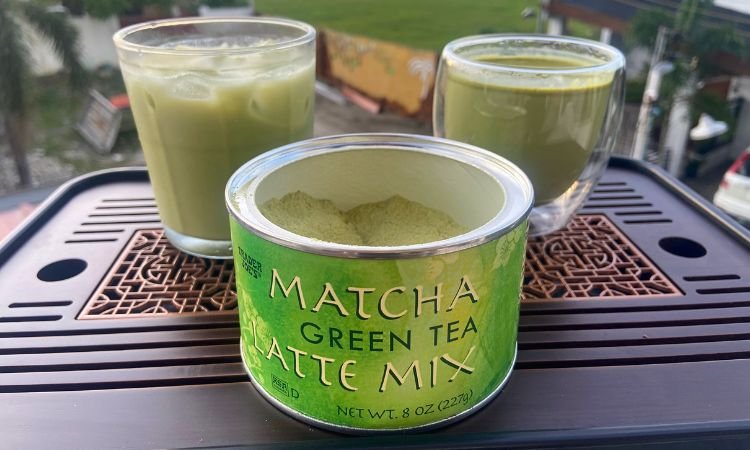 Trader Joe's Matcha Latte Overview
Trader Joe's Matcha Green Tea Latte Mix comes in an 8-ounce container that's enough for making 5 matcha latte drinks. This ready-made mix offers a creamy and sweet latte experience similar to the ones available at your favorite coffee shops.
Note that this is not 100% matcha powder. In fact, most of this powder mix consists of sugar, maltodextrin, and milk powder.
Trader Joe's also offers other matcha products including:
Matcha Green Tea Powder (100% pure matcha)
Matcha Green Tea (in an 8.2 oz can)
Matcha Green Tea Ice Cream
Ingredients & Nutrition Facts
Trader Joe's Matcha Latte powder is designed to mix easily into hot water and to provide a creamy texture and a pleasantly sweet taste.
Pure matcha powder has a strong grassy and vegetal taste with some bitterness. This is why the matcha powder is mixed with so many additional ingredients.
Here is the full list of ingredients: cane sugar, coconut oil, maltodextrin, matcha green tea, whole milk powder, non-fat milk powder, malted milk powder, natural flavors, sodium caseinate, tricalcium phosphate, guar gum, mono and diglycerides, silicon dioxide, salt.
Note that it does contain added sugar, which may not be suitable for those watching their sugar intake.
The nutrition facts for 1 serving (5tbsp/45grams) are:
Fat 9g
Carbs 32g (17g sugars)
Protein 2g
Sodium 70mg
Calcium 15%DV
Iron 2%DV
Potassium 2%DV
How to Prepare It
Preparing Trader Joe's Matcha Latte is simple and quick, all you need is a cup, a spoon, and some hot water.
Here's how to make a hot matcha latte:
Measure: Add 5 tablespoons of the matcha latte mix into a cup.
Add Water: Pour 10 ounces (or 3dl) of hot water into the cup. The water should not be boiling hot.
Mix: Stir until the powder is properly dissolved and you have a smooth, creamy texture.
Enjoy!
I decided to make a smaller portion so that it could fit into my double-walled glass.
So I used 3 tablespoons of the matcha mix and 6 ounces of hot water:
Next, it was time to make an iced matcha latte.
The instructions in the package tell you to mix 5 tablespoons of the matcha latte mix with 5 ounces of hot water and then pour it over ice.
But I wanted to see if I could make it with cold water instead.
Here's how I made my iced matcha latte:
I added 3 tablespoons of the matcha mix and 4 ounces of water to a shaker bottle.
I gave it a proper shake and poured it into a glass over ice.
It seems like the powder mixes easily with cold water as you can see below:
This is great news because it means you don't actually need hot water to make this drink.
Now the drinks are ready, so let's taste and review them!
Tasting & Review of Trader Joe's Matcha Latte Mix
Trader Joe's Matcha Latte powder provides an easy way to make sweet and creamy hot and iced matcha latte drinks at home.
It will certainly be more affordable than ordering a Starbucks Matcha Latte or Dunkin' Donuts Matcha Latte and the result is very similar.
First off, let's talk about the flavor. The matcha powder in this mix brings a lovely balance of earthiness and subtly bitter notes, while the added sweetness counteracts the bitterness.
I'm used to drinking pure matcha without milk or any sweeteners, so I found the Trader Joe's Matcha Latte a bit too sweet. Also, I was looking for more of that umami found in high-quality Japanese matcha.
I let a few of my friends have both hot and iced drinks made with Trader Joe's Matcha Latte powder. My friends are more into sweet drinks and they loved these matcha lattes!
Also, looking at the Amazon reviews of Trader Joe's Matcha Latte, most people seem to really like it. It has an average of 4.5 out of 5 from over 700 reviews.
Pros
Easy to prepare
Has a pleasant sweet, creamy, and slightly earthy taste
Cons
If you are looking for a strong matcha flavor, this is not it
Might be too sweet for some people
Does Trader Joe's Matcha Powder Have Health Benefits?
While the matcha green tea in Trader Joe's Matcha Latte is very healthy, this mix also contains plenty of sugar and other unhealthy additives. So I wouldn't call this a healthy drink, although it's much better than just drinking a can of soda.
Benefits of matcha green tea include:
Rich in antioxidants that are good for overall wellness
Helps with burning fat
Gives energy
Contains catechins with cancer-fighting properties
Has a high amount of L-theanine, which promotes relaxation and improves mental focus
One serving of Trader Joe's Matcha Green Tea Latte contains 17 grams of sugar and 220 calories.
This is a hefty amount — so you certainly don't want to have this drink every day if you're trying to slim down!
If you want something really healthy with no sugar, just buy pure matcha powder or Kirkland Matcha Green Tea that comes in handy tea bags.
Packaging & Value for Money
When you first come across Trader Joe's Matcha Green Tea Latte Mix, you might notice its eye-catching packaging. It surely makes you want to give it a try, right?
Now, let's talk about the value for your hard-earned money.
Trader Joe's Matcha Latte comes in an 8-ounce can that costs around 10 dollars. It makes 5 servings when prepared according to the instructions on the package.
This means that one serving of Trader Joe's Matcha Latte costs about 2 dollars.
Although the price might seem on the higher side compared to some other matcha products available in the market, it can still be considered a decent value.
It's definitely cheaper than going to your favorite coffee/tea shop and ordering a matcha latte. And the quality is equivalent.
So if you're looking for a convenient instant matcha latte mix with sweet and creamy flavor, then give it a whirl – you might just find your new favorite drink!
Trader Joe's Matcha Latte FAQ
How does Trader Joe's Matcha Green Tea Latte taste?
Trader Joe's Matcha Green Tea Latte Mix is a blend of matcha powder, milk powder, sugar, and several other ingredients. As a result, it has a creamy, sweet flavor with a hint of matcha taste.
Is Trader Joe's Matcha Latte Powder vegan?
No, Trader Joe's Matcha Latte contains milk powder so it's not vegan.
How much caffeine is in Trader Joe's Matcha Latte Mix?
The caffeine content of Trader Joe's Matcha Latte is not explicitly mentioned on the packaging or product description.
Pure matcha green tea powder typically contains around 70 mg of caffeine per teaspoon. Since we also don't know exactly how much matcha powder is in each serving, it's very hard to estimate the caffeine content.
If you make a 10-ounce matcha latte according to the instructions and use 5 tablespoons of the powder, its caffeine content is probably close to a similar drink in Starbucks. A tall (12-ounce) Starbucks Matcha Latte has 55 mg of caffeine.
Is Trader Joe's Matcha Latte healthy?
Trader Joe's Matcha Latte can not be considered a healthy drink because of its high sugar content and added preservatives.
While the core ingredient, matcha green tea, is considered healthy and packed with antioxidants, the addition of sugar and preservatives to this latte mix reduces its overall healthiness.
That said, as long as you consume the product in moderation and adjust the serving size to your liking, it can be enjoyed as part of a balanced diet.