There are some herbal teas that really stand out from the rest — and butterfly pea flower tea is definitely one of them!
Commonly used in Asia for centuries, blue tea has recently become very popular all over the world. This herbal tisane is specifically known for its mesmerizing blue color and makes an impressive drink to serve your guests.
But what does the butterfly pea tea taste like? And how to make it at home?
Let's take a trip to the magical dimension of blue tea and find out!
What Makes Butterfly Pea Flower Tea so Special?
Butterfly pea flower tea is made with the flowers of Clitoria ternatea, a perennial herbaceous plant native to tropical Asia. The Latin name "Clitoria" refers to the clitoris, as the flowers are thought to resemble the female genitalia.
What really makes these flowers special is their vibrant blue color, which can be extracted for many uses.
The deep blue color is a result of the flowers' high concentration of anthocyanin compounds called ternatins.
In addition to making tea, the flowers have traditionally been utilized as a natural food coloring and textile dye. You can also use it in loaded tea recipes for adding some nice color layers.
In traditional Indian medicine, Ayurveda, it is believed that the blue tea has many benefits including memory improvement, antistress, antidepressant, and sedative effects.
And indeed, recent analysis indicates that the flowers are rich in antioxidants and can provide many health benefits as they may help with losing weight, promoting skin and hair health, and improving cognitive function. The ternatins in the flowers are also shown to have anti-inflammatory and anti-cancer properties.
What Does Butterfly Pea Flower Tea Taste Like?
The main reason for using blue ternate flowers in salads, desserts, and drinks is the visual aspect.
But what does this bright-colored tea taste like?
Butterfly pea flower tea doesn't have much taste or scent at all. If something, it has a slightly vegetal taste that resembles mild green tea.
So if you just want to serve tea that looks nice and is healthy, you can make pure butterfly pea tea. But if you are looking to tickle the taste buds, then you should add some other ingredients into the mix (more about this later).
Where to Buy Butterfly Pea Flower Tea
Before making the tea, you need some fresh or dried butterfly pea flowers.
I simply collected some fresh flowers from our garden to make the tea. However, you can also order the dried ones online.
My recommendation is the Teabox Butterfly Blue Pea Tea. This product is USDA-certified organic and of very high quality.
And remember that you can also use the flowers in salads and other dishes!
How to Make Blue Butterfly Pea Flower Tea
Butterfly pea flower tea is a naturally caffeine-free herbal tisane that has a very mild taste.
Let's see how to make some stunning blue tea and what to add to make it more delicious.
Here is how to make it:
Add fresh or dried butterfly pea flowers to a teapot. You can use 3 to 5 flowers per each cup of water.
Boil some fresh water and pour it into the teapot.
Steep for about 3 to 5 minutes.
Pour into a glass or mug and enjoy!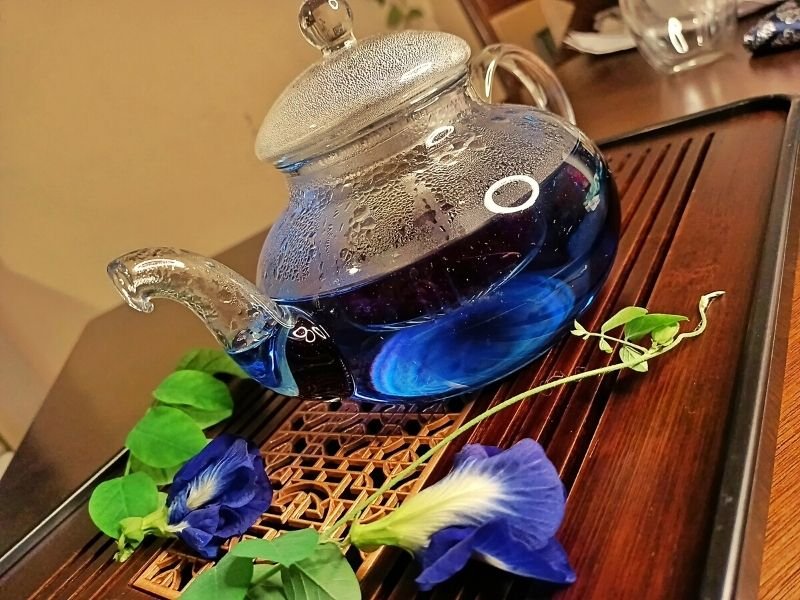 Additional tips:
Use a glass teapot and glass cups to brew and serve the tea for the best visual effect.
Blue ternate tea has a very mild taste. Use other herbs like lemongrass, ginger, and mint to give more taste to your tea.
Add some healthy raw wildflower honey to your tea for a mild and pleasant fruity flavor.
More Versions – Let's Play with Colors!
Adding lemon juice to your butterfly pea tea lowers the pH-level and makes it change into a stunning purple color!
You can simply squeeze some fresh lemon juice into your tea to achieve this effect.
Butterfly Pea Flower Tea Lemonade
One of my favorite drinks to serve for guests during a hot summer day is ice-cold butterfly pea tea lemonade.
First, make some lemonade in a pitcher and put it in the refrigerator.
Then you can make some butterfly pea tea as instructed earlier. Let the tea cool down a bit.
Next, add some lemonade and ice cubes into a glass and then slowly pour the warm tea on top. You will have a delicious lemonade with beautiful layers of yellow and purple!
Enjoy the Colors and Taste of Blue Butterfly Pea Tea!
So now you know you know where to get some blue ternate flowers and how to make tea with them.
If you can find fresh flowers, they can also be used as a beautiful addition to salads, desserts, and other dishes. The dried ones work also, but their color is not as rich as the fresh ones. However, when making tea, both fresh and dried flowers create equally deep and vivid blue color.
And it's not only the color that the flowers add to your drinks and foods — they are also loaded with healthy antioxidants.
You can easily brew this tea without an infuser or a teabag. Just add the flowers to a glass with hot water and scoop them out with a spoon when the tea is ready.
Here is one more interesting thing you can do:
Make some blue tea and let it cool down. Put in an ice tray and place in the freezer to make ice cubes. Use the ice cubes to bring life to different drinks and watch them slowly release blue color as they melt.
I think that the most fun part is trying out different ingredients to create hot or iced drinks with fascinating layers of colors and interesting tastes.
So feel free to experiment and enjoy!