Tea leaves and water are a match made in Heaven, but you need a good infuser to make them tango. Inexpensive and easy to use, they're a must-have in every tea lover's kitchen.
But from practical to whimsical, the quality and designs are so diverse that you could shop options for days and still make the wrong choice. Spoiler — functional beats fancy.
Let's take a closer look at our recommended loose leaf tea infusers so you can find the one to make your brew swing.
Our recommendations for the Best Loose Leaf Tea Infusers:
How to Choose the Best Tea Infuser
An infuser's main mission is to act as and filter that holds the tea. Immersed in water, it should maximize flavor and prevent your loose leaf from escaping into the cup.
It's a simple device with only a few features, so each one counts.
Type
The first thing is to consider what type of tea infuser best suits your needs.
Here are the most common types:
Ball Infusers – Avoid These
A ball infuser is a globe-shaped mesh basket. Attached to a chain with a hook, submerge it in your cup and hang it on the brim. Let it steep, and in theory, it should keep loose leaf neatly confined.
Made of stainless steel, ball infusers are tough enough, but the chain and hinges are weak points. Exposed to acidic tea, they may weaken over time and break. Challenging to remove from your cup without drips, they're equally difficult to clean.
I have a few ball infusers at home but I never use them. And here is why:
The worst thing with ball infusers is that they are small and it's a hassle to load them without making a mess.
The holes are also larger and tend to let tea dust escape.
Affordability is the strong suit of ball infusers, but their capacity is limited. So all in all they're less convenient and functional than they appear.
Basket Infusers – Convenient and Affordable
Made in a wide range of diameters and depths, infusion baskets are a better fit for most cups. Wings around the edges suspend them from the rim.
They hold generous amounts of tea and allow more room for water to flow, resulting in a more flavorful brew. Most are big enough so that in addition to brewing tea in a cup, you can use the basket on a teapot as well.
One great thing about tea infuser baskets is that they are simple and easy to use. Put the basket on the mug, add the tea leaves, and that's it!
You can also use a lid when brewing the tea but it's not necessary. I often use the lid just for containing any drippings when removing the infuser from cup.
Basket infusers have fewer nooks and crannies — the fine mesh is a breeze to rinse and dry. Drips are easier to control when you pull them out of the cup for less mess. Most are only slightly more expensive than ball infusers but far more capable.
Tea Tumblers – Great for Travel
Tea tumblers are bottles and mugs with tight lids and removable infusers. Custom sized for the vessel, the infuser is always a perfect fit. The best ones are well-insulated keeping your drink hot or cold for the whole day.
Grab one and fill it with tea and hot (or cold) water so you can take your tea along on a picnic or travel. They're also perfect for an afternoon cup at the office.
Kettles with Infusers – Make Tea for Many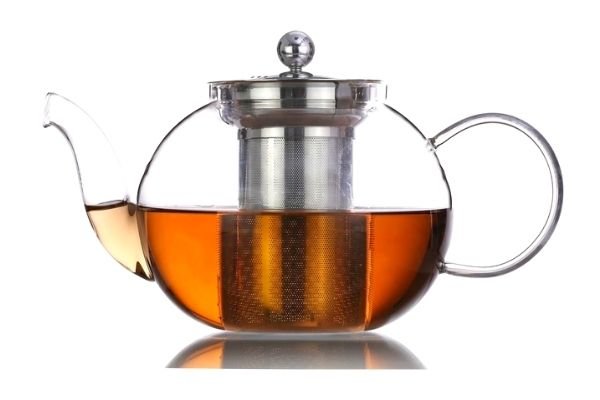 Kettles and teapots are ideal for making bigger amounts of tea. If you want to observe your loose leaf tea while it's brewing, get a glass teapot with infuser.
The infuser usually nestles beneath the lid and stays put while you pour. Like tumbler infusers, they're specifically sized for the vessel and may not fit the others in your kitchen.
Full-length infusers that reach the bottom allow you to make a full pot or just a few cups.
Then there are also electric kettles that come with an infuser allowing you to brew a liter of tea with just a push of a button.
Materials
Most infusers are made of steel for durability, but the quality varies. Cheap versions can rust in weeks.
The best loose leaf tea infusers are made with food-grade, 304 stainless for years of reliable performance.
They are rust-resistant and usually dishwasher-safe.
Plastic parts should be BPA-free and limited to stay-cool wings, handles, and lids. In our experience, even inert silicone imparts off-flavors. And if you enjoy red fruit teas, it stains.
Size
When you are getting an infuser basket, the size is the most important feature. It should sit safely on the rim and accommodate enough loose leaf to make a full-bodied cup.
Lids
Tea drinkers are geniuses. The latest infusers come with lids that keep loose leaf secure and can be used as a tray to avoid messy drips removing the leaves.
Wings
Whether it's for a cup, tumbler, or kettle, look for an infuser with heat-resistant wings or handles that stay cool and are easy to grasp.
For infuser baskets, I prefer wings on each side. An unbalanced handle is a safety and spill hazard.
6 Best Loose Leaf Tea Infusers Reviewed
Best Tea Infuser Basket: OXO Brew Tea Infuser Basket
OXO's done it again with their premium infuser basket. Their latest innovation in a long line of premium kitchen products, it's the one you've been waiting for.
Product Highlights:
Great design with large basket
Made with high-quality stainless steel
Convenient lid that stays cool to touch
Dishwasher safe
Made of top-quality stainless steel, the fine etched mesh keeps even the finest particles of loose leaf confined for the ultimate clarity. Generously sized, it fits plenty of tea with room for expansion, coaxing maximum flavor from every serving.
The two extra-large wings are wide enough to span any cup. Easy to grab, they're all-metal but don't conduct heat and stay cool to the touch when the infuser is lifted. The lid is rimmed with silicone for safety, but it never comes in contact with your tea and doubles a drip tray.
Our only complaint is that extra-fine tea leaves can clog the tiny holes — it's rare, but it happens. Dishwasher-safe, however, it's a cinch to clean.
For the surprisingly modest price, the OXO's superior build, ample size and clever design make it our top pick. It's a pleasure to use. You won't be disappointed.
The Runner-Up: Yoassi Extra Fine Tea Infuser Basket with Mesh Strainer
Similar in quality and function, Yoassi's extra-fine tea infuser is a silicone-free alternative to the OXO. Made of the same 18/8 food-grade stainless steel throughout, it's about 20-percent smaller but equally functional.
Product Highlights:
Made entirely with 18/8 food-grade stainless steel
Easy to clean in a dishwasher
Affordable
The double wings span nearly five inches and sit comfortably atop most mugs. Metal edges are polished for comfort and are easy to handle. The inverted lid offers a good seal and doubles as a handy drip tray. Straightforward to clean, it's dishwasher safe.
Shorter than the OXO by an inch, the Yoassi is a good fit for traditional teacups but may be undersized for mugs. Petite, it's a little more challenging to load.
Still, if you're looking for a safe, durable, eco-friendly infuser with no plastic or silicone parts, this one is a good bet. It's satisfaction guaranteed.
A Nice Set for Two: House Again 2-Pack of Extra-Fine Mesh Ball Infusers
What's better than one tea infuser? Two!
Couples on a budget won't go wrong with House Again's affordable 2-pack of ball infusers. Yes, earlier I recommended avoiding ball infusers but these are more like a hybrid between basket and ball designs.
Product Highlights:
Better design compared to traditional ball infusers
Great value for money
Can be used with cups, mugs, pitchers, pots, and tumblers
Made of 18/8 stainless — the better steel also used in eating utensils — I like these because they're basket-shaped. You won't struggle to load tea in one-half of a conventional ball-shaped model.
Extra-fine, the mesh is suitable for making tea and cooking. The chain is nearly five inches long for optimal submersion in deep cups and pots. Attached by a ring on the screw-top lid, it's less likely to break than models connected by cheap rivets.
Larger than a conventional ball infuser but smaller than the OXO or Yoassi, it's still amply sized. You'll also receive two matching metal drips trays to keep your table clean.
If you like the tradition, flexibility, and all-metal construction of ball infusers but prefer the size and shape of a basket, it's the best of both worlds.
Fancy Tea Infuser Mug: Tea Forte Kati Cherry Blossoms Ceramic Cup and Tea Infuser
Tea Forte's 12-ounce mug is as charming as it is practical. Decorated in cherry blossoms, it's an elegant way to enjoy a soothing brew.
Product Highlights:
Elegant & functional design
The double-walled design keeps your drink hot
Great gift item
Double-walled, the ceramic is well insulated and helps keep your tea warm. Unlike plastic cups, it's breakable but won't absorb off-tastes or leach unhealthy chemicals into your drinks.
The food-grade stainless steel basket infuser is a perfect fit and has a handle for easy removal. It's plenty large enough for a single serving of tea. Both the infuser and mug are dishwasher-safe for quick cleanup.
Perfectly sized for home or office, Tea Forte products are known for their impeccable construction and style. Bargain-priced, buy one for yourself and the tea lover in your life.
Great for Travel: LeafLife Premium Bamboo Tumbler Thermos with Infuser+Strainer
Take your tea on the road with LeafLife's stunning bamboo thermos. Vacuum-insulated and compatible with most cup holders, it comes in 12-, 17- and 22-ounce sizes that keep beverages hot for 12 hours or cold for 24.
Product Highlights:
Stylish nature-inspired design
Convenient and durable
Keeps your drink hot or cold for the whole day
Available in 3 different sizes
The inner flask is made of 18/8 stainless steel and includes a two-piece infuser basket with a strainer lid suitable for tea or fruit infusions. It's a breeze to disassemble and clean, but the manufacturer recommends handwashing.
Wrapped in eco-friendly bamboo, LeafLife thermoses are attractive and durable. Each finish is unique, so no two are alike. The high-end look is distinctive, making this tea tumbler a great gift for the executive or traveler.
A Complete Set: Kitchen Kite Stovetop Glass Tea Kettle with Removable Strainer and 4 Cups
Brew for a crew with this sophisticated glass kettle and cup set by Kitchen Kite. Stovetop and microwave-safe, it includes a 40-ounce borosilicate teapot and four matching insulated mugs that keep your tea warm.
Product Highlights:
Stovetop, microwave, and dishwasher-safe
Pours nicely without dripping
Made with durable high-quality materials
Includes 4 teacups and a tea sample
The kettle is equipped with a large stainless steel basket infuser that reaches to the bottom of the pot. Fill it with loose leaf or tea bags and enjoy one cup or many. All parts are dishwasher safe.
Suitable for all but induction cooktops, this stylish set is made of healthy materials that match any décor. Transparent, this glass stovetop kettle lets the color of tea shine.
You'll also receive three sample bags of loose-leaf tea, compliments of Kitchen Kite. Practical yet striking, this set makes a memorable gift for any occasion.
Loose Leaf Tea Infuser Baskets and Strainers – Final Thoughts
All tea enthusiast can agree that loose leaf beats tea bags seven days a week. But for brewing it you need a reusable tea infuser or a teapot with built-in strainer.
This guide introduces some of the best tea infuser baskets on the market and also includes a few other options to choose from.
In addition to an infuser, consider getting proper tea storage containers to keep your precious loose leaf fresh for longer.
Enjoy your refreshing tea, and life!
-Joonas