Black tea is an ancient Eastern staple loved for its brisk taste and uplifting effect.
By the end of the 19th century, afternoon tea had become a common ritual in England. During World War II its fan base expanded westward to North America.
Now black tea is a mainstay in most cultures as people all over the world have grown to appreciate its unique flavors and many health benefits.
But did you know that how black tea tastes depends on where it's grown and how it's harvested and processed?
Whether you drink it hot or iced, infused with liquor, or dressed up as a latte, let's consider the delicious possibilities with our recommended black tea brands.
Our recommendations for the Best Black Teas:
Black Tea Facts
If you're new to black tea, here are a few intriguing facts about the world's most beloved beverage.
Let's start with one of the most important things in our lives, health.
Wondering if drinking black tea is good for your health?
Watch this short video and find out:
How and Where is Black Tea Produced?
Black tea is made from the same plant as green, white, and oolong tea — Camellia sinensis. It can be produced anywhere the plant grows from China and India to Turkey, Kenya, and the United States.
The length of the oxidation process is what differentiates each type of tea — only black tea is fully oxidized.
Black tea is produced in five steps. After harvesting, it's withered. Fresh leaves are air-dried in troughs for 8-16 hours depending on the day's temperature and humidity.
Next, they're rolled or mechanically crushed to release flavorful oils and enzymes. The leaves are then left to oxidize for up to 10 hours before being dried to lock in their final flavor.
Finally, teas are sorted by grade, destined to become loose leaf or bagged tea based on their quality. Whole leaf rolled teas are considered superior to the smaller pieces and dust that usually goes into tea bags.
How Does Black Tea Taste?
Black is tea is considered the strongest of teas (along with Pu-erh tea) with rich flavors ranging from malty to spicy.
But there are also mellower versions that still capture the robust essence typical for black teas. Aromatic teas produced in different regions have flavor nuances ranging from sweet to fruity. There's no craving they can't satisfy.
Where Are the Best Black Teas Produced?
Tea, like beauty, is subjective. But connoisseurs agree that the best black teas are grown in India, Sri Lanka, and China. There are also some great varieties grown in Kenya.
Popular Types of Black Teas
Black tea isn't one-size-fits-all. Like fine wines, there are varieties to suit every palate.
Earl Grey tea is a blended black tea flavored with Bergamot oil. Usually crafted with teas from Ceylon, Assam, and Darjeeling, it's a malty brew with a punch of citrus flavor.
English breakfast tea is similar to Earl Grey but without the Bergamot oil. Full-bodied, it has a robust flavor that stands up to milk and sugar.
Assam tea is grown exclusively in India's Assam Province. A lowland tea with high caffeine content, it's rich and spicy with a malty or floral finish that depends on the season in which it's harvested.
Darjeeling is a light-bodied, high-altitude tea. Another fine offering from India, it has a light flavor reminiscent of a Muscatel grape.
Keemun tea from China is known for its smooth and relatively light taste with fruity undertones. Among the most famous Chinese teas, it's also one of the priciest.
Ceylon teas are grown on estates throughout Sri Lanka, the world's fourth-largest tea producer. Royalty among teas, good Ceylon is multidimensional and is known worldwide for its hearty flavor. Whether it has fruity or floral notes depends on the altitude at which it's raised.
Kenyan tea is a balanced brew with a sweet, woody palate. Grown in soil with high mineral content, it's said to have the "flavor of the land."
Best Black Tea Brands Reviewed
We chose various different types of black teas to be reviewed in this guide.
Whether you like a strong cup of Assam tea, delicate first flush Darjeeling, or simply want tea bags for an easy and delicious cup, you can find the top selections below.
Best Loose-Leaf Black Tea: VAHDAM First Flush Darjeeling Tea
VAHDAM's premium Darjeeling tea is an aromatic whole-leaf tea. Handpicked between March and May, it's a sought-after first flush blend from several top estates.
Amount: 3.53 oz (100 g)
Type: Loose Leaf Darjeeling Black Tea
Product Highlights:
Light, flowery, and refreshing
High-quality first flush Darjeeling tea
Produced ethically by supporting the local community
VAHDAM is a carbon and plastic neutral brand
This tea is complex yet mellow with a fruity flavor and a floral fragrance with a grassy finish that evokes the feel of spring. Enjoy it hot or iced with a drizzle of honey. Full-flavored despite limited caffeine, it's an energizing brew.
Leaves come packed in a vacuum-sealed Mylar bag with a complementary aluminum-lined zipper bag to keep your tea fresh once it's been opened. The price is commensurate with its quality.
A socially and ecologically responsible company, Vahdam products are certified climate-neutral, and a percentage of their profits are invested in education for the tea workers' children.
Best Premium Black Tea: Art of Tea Golden Monkey Tea
Looking for something unique and mind-blowing? Try this highly prized Chinese tea that is made with only the finest buds and first leaves of Keemun tea bushes.
Art of Tea Golden Monkey is a premium-quality single estate tea with a smooth and balanced flavor lacking any unpleasant bitterness.
Amount: 4 oz (113 g) or 1 lb (454 g)
Type: Organic Loose Leaf Black Tea
Product Highlights:
Excellent quality and unique flavor
Rich and smooth taste with a hint of chocolate
Single-origin Keemun tea
Fair Trade and USDA certified organic
Art of Tea produces some of the finest organic teas on the market. The teas go through a strict quality control process and are blended and packed by hand in their Los Angeles facility.
I first tasted their Golden Monkey tea while visiting a tea shop in LA and liked it so much I ordered it online the next day. If you are looking for a lighter black tea that is still full-bodied and rich in flavor, then here is winner!
Best Organic Black Tea: Kusmi Tea Russian Morning No.24
Kusmi Tea's Russian Morning blend is expertly crafted in France from Ceylon, Assam, and Grand Yunnan teas.
Full-bodied with a hint of cocoa and moderate caffeine, it's an invigorating cold-weather breakfast brew and even better with a splash of milk and sugar.
Amount: 3.53 oz (100 g)
Type: Oragnic Loose Leaf Black Tea Blend
Product Highlights:
Great for a morning energy boost
Pairs well with milk and sugar
Comes in an elegant tin can
USDA certified organic
Packed in a stylish, refillable tin that keeps leaves fresh and adds color to your countertop, it's bargain-priced considering the content. We actually expected to pay more.
Like VAHDAM, Kusmi Tea is working to make its operations as sustainable as possible, having just gone fully organic in 2020.
If you like coffee, you'll most likely enjoy the flavor and aroma of this 100-percent USDA-certified organic tea!
Strongest Black Tea: Vahdam Daily Assam Black Tea
Picked at the height of summer, Vahdam's 100-percent pure Assam tea is renowned for its stunning amber color. Second flush, it's among the strongest and most desirable loose leaf black teas in the world.
Amount: 16 oz (454 g)
Type: Loose Leaf Assam Black Tea
Product Highlights:
Brisk and earthy taste
High-quality second flush Assam tea
Produced ethically by supporting the local community
VAHDAM is a carbon and plastic neutral brand
Single-origin and packed at the source for freshness, it has a distinct malty flavor with astringent notes for balance. The woody aroma belies a slight floral edge.
Enjoy it hot or iced, but Vahdam suggests foregoing milk to appreciate its many nuances. It's not for the faint of heart.
Shipped from India direct in premium packaging, each cup will be as savory as the last. VAHDAM continues to invest in social and environmental sustainability initiatives, so you can feel good about your purchase.
Best Black Tea Bags: Taylors of Harrogate Afternoon Darjeeling
Taylors of Harrogate has been a British institution since 1886, and it shows in this meticulously crafted tea. Pure second flush Darjeeling, it's sourced from India's finest estates, yet it's still surprisingly affordable.
Amount: 20 Tea Bags
Type: Darjeeling Tea Bags
Product Highlights:
Complex and smooth flavor
Pairs well with desserts
Sustainably produced
Sophisticated, it's a rich, spicy blend with a fruity aroma and a Moscato edge that complements afternoon sweets. If you're bored with the same-old teas, this is the unique taste you've been waiting for.
It has just enough caffeine to power you through a busy afternoon. Try it with a twist of lemon.
Each box contains 20 individually wrapped bags in a gift-worthy box. A member of the Ethical Tea Partnership and a member of the Rainforest Alliance, Taylors of Harrogate is committed to sustainable tea production.
Best Black Tea from Kenya: JusTea Mt. Kenya Black Loose Leaf
If you want to try African tea, then Mt. Kenya Black is our top pick.
Malty with hints of chocolate and dried fruit, it's robust but balanced with a slightly sweet fragrance. It's delicious hot or iced and pairs well with milk alternatives.
Amount: 3.2 oz (90 g)
Type: Loose Leaf Kenya Black Tea
Product Highlights:
Strong and complex flavor
Organically grown and hand-picked
Come switch a hand-made wooden spoon
JusTea provides employment and after-school programs in the Kenyan community
Fresh from Kenya, JusTea's Mt. Kenya Black is 100-percent organic and non-GMO. Single-source, it's handpicked in small batches on family-owned farms.
Steep it a little longer than usual to make the most of its complex flavors. It has enough caffeine to kickstart your day but not too much to give you jitters.
The tea comes packed in a reusable tin with a hand-carved wooden spoon — no two are alike. Refills come in compostable pouches — it's giftable, zero-waste packaging. JusTea was founded as a social enterprise to employ Kenyan families. Mt. Kenya black is just one of the many varieties they offer.
Best Flavored Black Tea: Art of Tea Garden of Eden Tea
Sometimes the bold and malty flavor of pure black tea might be too much and you feel like having something a bit fruity and sweet instead.
Well, here it is, an exotic elixir straight from the Garden of Eden!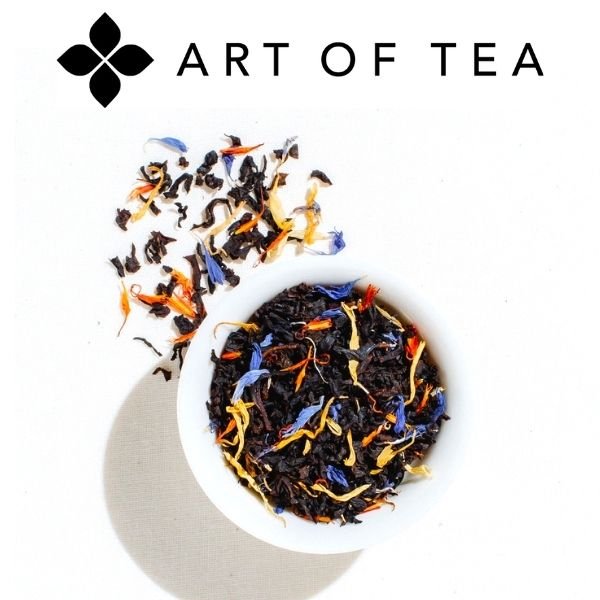 Amount: 4 oz (113 g) or 1 lb (454 g)
Type: Organic Flavored Loose Leaf Black Tea
Product Highlights:
Delicious fruity and floral flavors
Tastes great hot and iced
Pairs well with pastries and desserts
This delicious treat combines high-quality black tea with floral flavors of malva flower, cornflower, and safflower as well as tropical sweetness of ripe mango and passionfruit.
I recommend ordering one-pound because this tea is so tasty and refreshing you will get hooked right away!
Drink it hot or make a healthy iced tea that is sweet even with no added sugar.
Delicious Flavored Black Tea Bags: Harney & Sons Earl Grey Supreme
If you've tried Earl Grey, but it wasn't your proverbial cup of tea, consider this lighter blend from US-based Harney & Sons. Made with the best black loose leaf and genuine Bergamot oil, it's softened with oolong and white teas for a gentle flavor.
Amount: 20 Sachets
Type: Earl Grey Tea Bags (a blend of Black, Oolong, and White Tea)
Product Highlights:
Mild and gentle taste
Unique lemony flavor
Comes in an elegant metal tin
Boasting a bright lemony fragrance and a naturally sweet finish, it still has the traditional citrus kick of Earl Grey but without the astringency. Paired with milk and a little sweetener, it's a perfect start to a lazy morning.
Each refillable tin contains 20 sachets for a modest per-pound price. Harney & Sons has donated more than three million dollars to environmental causes since 1983. It's a good spend.
Best Black Tea Sampler Set: VAHDAM Black Tea Sampler
VAHDAM's sampler pack showcases 10 of their most impressive black teas. It's the ideal way to let your palate spread its wings without spending too much.
Amount: 3.53 oz (100 g)
Type: Loose Leaf Black Tea Sampler Set
Product Highlights:
Includes 10 high-quality black teas
Try different varieties of pure black tea and blends
Great gift for any tea lover
The set contains 10-gram bags of various black teas from strong and malty Assams and fruity Darjeelings to classic English breakfast tea and black tea blended with rose and nuts.
Certified climate neutral, VAHDAM is a fourth-generation company dedicated to sustainability and equity initiatives that improve the lives of its partners. Teas are handpicked and packed in India.
This sampler pack makes an appreciated, any-occasion gift!
If you want more options, check out our guide with the best tea gift sets and baskets.
How to Brew and Serve Black Tea
Brewing a perfect cup of black tea is easy:
Put some of your favorite black tea in a teapot. You can use about 2 teaspoons of loose leaf tea (or one tea bag) per one cup of water.
Boil some water and pour it into the teapot.
Steep for 2 minutes.
Strain into cups and enjoy!
You can serve the tea plain or with milk and sugar (or lemon and honey).
Additional tips:
Use fresh spring water for the best result.
You can brew high-quality whole leaf black tea for a second time. Steep for about 4 minutes for the second infusion.
Don't use boiling hot water for delicate Darjeeling teas. Instead brew with water that is about 180°F to 205°F (or 82°C – 96°C).
PS. Check out our guide with the best English breakfast tea brands for more great options to choose from.
Black Tea FAQ
Where does black tea get its color?
Black tea gets its color from the oxidation process. This is done by spreading the withered and rolled tea leaves on tables in a humid environment for several hours.
Is drinking black tea good for you?
Black tea contains plenty of antioxidants and has many proven health benefits. Drinking it frequently can boost heart health and lower bad cholesterol. It also supports healthy gut bacteria and may help with getting rid of harmful microorganisms.
In addition, black tea is great for boosting energy levels and focus.
However, since black teas have relatively high caffeine content, you should avoid consuming excessive amounts.
When does black tea expire?
When stored properly, black tea stays good for about two years. This means keeping it in airtight containers protected from humidity and sunlight.