Turmeric root is a popular spice in Indian cuisine and it is also an essential part of ayurvedic medicine. One great way to enjoy the taste and health benefits of turmeric is to drink it as a tea. Turmeric tea is available in tea bags, loose tea, or instant tea.
Read this guide and find the best turmeric tea brands and products on the market!
Turmeric is a bright-colored herbal ingredient known for its subtle and unique flavor and the anti-inflammatory and antioxidant properties of its active compound curcumin. It has powerful medicinal properties and is often used as a remedy for joint pain, improving brain function, and boosting the immune system.
Here is the list of turmeric teas reviewed in this article:
Best Pure Turmeric Powder
A great way to make your turmeric tea is by using pure turmeric powder. This allows you to make the desired amount of pure turmeric tea and to add additional ingredients if you wish to do so.
I often add fresh or dried ginger root and ground black pepper to my turmeric tea. This blend does not only taste great, but black pepper also enhances the bioavailability of curcumin, the active anti-inflammatory compound of turmeric. You can also try adding other ingredients like cinnamon and clove.
If you want to prepare a traditional Ayurvedic remedy, check out my recipe for Golden Milk Turmeric Tea.
When you are choosing which turmeric powder to buy, I recommend getting an organic high-quality product. This will make sure that your tea will taste fresh and delicious, and that you will get the maximum health benefits from it.
How to Make Turmeric Tea
Here are instructions for making 2 cups of tea with turmeric powder:
Pour 2 cups of water into a kettle and bring to boil.
Add 1 teaspoon of turmeric powder. Add additional ingredients (eg. ginger, black pepper) according to your preference.
Cover and let simmer for 10 minutes.
Pour into cups through a strainer. Enjoy!
Instead of using just water, you can also try making it with 1 cup of milk (dairy or plant-based) and one 1 cup of water.
Store your healthy turmeric tea in one of our recommended travel mugs and take it along with you.
FGO Organic Turmeric Root Powder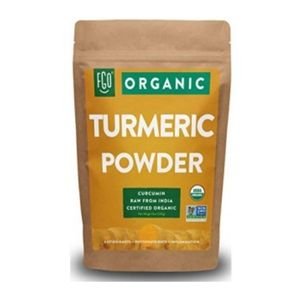 Amount: 8 oz (226 g)
Type: Pure organic turmeric powder
This USDA-certified 100% pure turmeric powder from FGO is packaged and lab-tested in California to ensure its superior quality. It comes in an 8-ounce resealable bag that offers great value for money.
You can also use this turmeric powder for cooking curries and other delicious dishes!
Top 3 Turmeric Tea Blends – Tea Bags and Loose Tea
The easiest way to prepare a cup of tasty and healthy turmeric tea is to use tea bags or a ready-made loose tea blend. There is a huge variety of different turmeric tea blends available.
Here are my 3 favorite turmeric tea blends!
Buddha Teas Organic Turmeric Ginger Tea Bags
Amount: 18 tea bags
Type: Organic herbal blend in tea bags
Buddha Teas is a company that offers a wide range of high-quality organic and wild-crafted herbal teas. They emphasize environmental values and sustainability, and their products do not contain any additives, such as flavorings or preservatives.
Buddha Teas Turmeric Ginger Tea is a classic blend that also includes black pepper. It has a warm and soothing taste with a hint of spiciness. This is a great natural remedy for digestive problems, arthritis, the common cold, and many other health issues!
It is one of my favorite herbal tea blends and I have also written a more comprehensive review about it: Buddha Teas Turmeric Ginger Tea Review
Numi Organic Tea Three Roots Tea Bags
Amount: 36 (12 x 3) tea bags
Type: Organic herbal blend in tea bags
Numi's Three Roots is an organic and Fair Trade certified blend that includes turmeric, ginger, and licorice root with the addition of rose.
This carefully crafted blend combines the warm, earthy, and spicy flavors of the roots with the floral notes of rose. The taste is very well balanced and I recommend trying it, even if you don't especially like the taste of turmeric.
DelightTeas Ayurvedic Herbal Turmeric Loose Tea
Amount: 6 oz (170 g)
Type: Organic herbal loose tea blend with turmeric
DelightTeas ayurvedic herbal tea blend combines the ayurvedic turmeric and ginger with fresh lemongrass and naturally sweet licorice root. The tea comes in a resealable 6-ounce bag and all of the ingredients are organic.
The ingredients in the bag are not very finely ground. This helps with preserving the flavors and makes it easier to strain them, but it also means that preparing a proper infusion takes more time.
The instructions on the package advise to steep the tea for 5 minutes but I recommend letting it brew for at least 10 to 15 minutes to get more flavors out of the ingredients.
Go ahead and give this fresh and aromatic ayurvedic herbal tea a try. It is one of the tastiest tea blends I have tried!
Best Instant Turmeric Tea
I don't often use instant tea products because usually they seem to be made from cheap ingredients and contain sugar and artificial ingredients. Luckily there are also exceptions.
Let me introduce a great instant turmeric tea blend from Vahdam!
Vahdam Golden Milk Powder
Amount: 100 g (40 servings)
Type: Organic instant tea blend with turmeric
Vahdam Golden Milk Powder is a delicious product that maximizes the health benefits of turmeric. In addition to turmeric, it also contains black pepper to increase the effectiveness of curcumin, and stevia as a natural sweetener.
There are also other versions of this product available at Vahdam that contain additional healthy herbs like ginger or ashwagandha.
This blend aims for optimal bioavailability of the beneficial ingredients and provides you with more health benefits than the usual golden milk blends.
Because it is an instant tea, the preparation is as easy and convenient as it gets. Just mix it with hot or cold milk (dairy or plant-based)!
Turmeric Tea Benefits
The main active compound of turmeric is curcumin that has powerful anti-inflammatory and anti-oxidant properties.
Here are the most important health benefits of turmeric tea:
Digestion: It can enhance digestive function by increasing the production of bile. Turmeric also has antioxidant effects that may protect against liver damage. Furthermore, it can help with reducing symptoms of IBS (Irritable Bowel Syndrome).
Immunity: Curcumin has anti-inflammatory properties and can aid in protecting your body against infections. In addition, turmeric is a good source of antioxidants.
Arthritis: Turmeric has anti-inflammatory and anti-oxidative properties that may help with treating arthritis symptoms and inhibit inflammation in the body.
Cancer: Curcumin has promising anticancer qualities and can help prevent and slow down spreading of cancer.
Alzheimer's: Turmeric tea can help with protecting your brain from oxidative stress and slow down age-related changes that can lead to Alzheimer's disease.
Turmeric Tea FAQ
Why turmeric tea is good for health?
The main active compound of turmeric is called curcumin. It has powerful anti-inflammatory and anti-oxidant effects and provides many health benefits.
Turmeric tea can help with treating arthritis symptoms, boosting immunity, and improving brain health. It is also good for digestion and is often used to treat Irritable Bowel Syndrome.
What is the best turmeric tea?
f you want to buy pure turmeric, then the best brand is FGO Organic Turmeric Root Powder.
There are also many good turmeric tea blends. For tea bags, my favorite is Buddha Teas Organic Turmeric Ginger Tea. If you prefer loose tea, I can recommend DelightTeas Ayurvedic blend.
Finally, if you are looking for instant turmeric tea, then you can try Vahdam Golden Milk Powder.
Can turmeric tea stain your teeth?
If you have healthy enamel on your teeth, you don't have to worry about turmeric staining them. In fact, after the turmeric is rinsed or brushed away from the surface of your teeth, they can even become brighter and whiter.
Can turmeric tea help with weight loss?
Turmeric tea can be beneficial for losing weight as it supports healthy digestion and its anti-inflammatory properties can help with reducing the amount of new fat cells. It also helps regulate blood sugar levels and prevent insulin resistance.
Where can I buy turmeric tea?
The best option for buying pure turmeric powder is to order it from Amazon. You can find many brands and compare the prices and user reviews. There are also many interesting herbal tea blends with turmeric available.
If you want high-quality turmeric ginger tea, I recommend that you order Organic Turmeric Ginger Tea Bags from Buddha Teas Online Store.
Find Your New Favorite Turmeric Tea!
Turmeric tea is a great example of the amazing healing powers that herbal teas can provide us.
I like the taste of turmeric and frequently use it in cooking.
When consumed as a herbal tea, I prefer to mix it with other ingredients like ginger and licorice root, or to buy a ready-made blend.
In this article, I have introduced my favorite turmeric tea products. Whether you are looking for a natural remedy for a certain condition or just a tasty tea, I hope you find something that you like!
If you have any comments or questions about turmeric tea, please post them below.
Pin this for later: |