Pukka Peppermint & Licorice tea is one of my favorite teas and I always keep some in stock.
These organic teabags produce a herbal infusion that tastes delicious and has many health benefits.
Continue reading this review to learn more about this excellent herbal blend combining two tasty and powerful ingredients.
Pukka Peppermint & Licorice Organic Tea Bags
Amount: 120 (20 x 6) tea bags
Type: organic herbal blend in tea bags
Pukka Herbs – The Company
Pukka Herbs is a UK based company founded in 2001 by Tim Westwell, a creative entrepreneur with plenty of business experience, and Sebastian Pole, a young herbalist interested in starting a business that would offer healthy and high-quality herbal products.
The word Pukka comes from Hindi, and means 'real, authentic or genuine', and describes the company's products very well.
The goal of Pukka Herbs is to provide its customers with sustainably and ethically produced herbal teas and other herbal products including supplements, syrups, and juices.
Their products draw inspiration from traditional Indian medicine, Ayurveda, and the related herbs that have been used as remedies for thousands of years.
The demand for Ayurvedic medicinal herbs has increased and now many species are becoming endangered. Many of the herbs grow wild and take a long time to regenerate and mature.
Sustainable and Organic
What I really like about Pukka Herbs is that they are not just using these herbs to make a profit, but they also do their part in protecting them. Pukka is taking part in herb conservation projects in the Himalayas and Rajasthan aiming to regenerate herbs that have a high risk of becoming extinct.
All Pukka products are made with organic herbs that are grown in over 20 different countries around the world.
After being harvested and dried, the herbs are analyzed in a laboratory to make sure that they meet quality requirements. The herbs are then blended according to Ayurvedic recipes developed by Sebastian Pole to create combinations that provide abundant health benefits.
Ingredients
This delicious herbal tea blend consists of organically grown peppermint (60%) and licorice root (40%). In addition to being tasty, this combination is also very good for health and can be used as a natural remedy for several ailments.
Peppermint
Peppermint is a cross of spearmint and watermint, and it is a commonly used herb in traditional medicine. In Ayurvedic medicine, it is described as a cooling herb that improves digestion and is good for respiratory health.
Peppermint is a caffeine-free herb that is rich in menthol, a powerful organic compound, that has soothing, cooling, and analgesic properties.
The science-backed health benefits of peppermint include:
Helps with indigestion and IBS (irritable bowel syndrome): Peppermint calms stomach muscles and stimulates the flow of bile. It also helps with gas, bloating, and diarrhea. According to research, it also has antispasmodic properties and is an effective remedy for IBS symptoms.
Remedy for colds and flu: Menthol is an effective decongestant and opens up the airways and relieves congestion. In addition, it has antibacterial and anti-inflammatory effect that helps your body with getting rid of the pathogens.
Reduces stress and alleviates pain: Aromatherapy treatments often include the use of peppermint because it can help with relaxing and relieving stress. It can also be used as a remedy for headaches and migraines due to its pain-relieving properties.
Freshens breath: Peppermint is an excellent natural breath freshener that also reduces cavities. It has a fresh scent that helps with neutralizing odors and its antibacterial properties aid with getting rid of halitosis by creating an unfavorable environment for bacteria.
If you want to learn more about the benefits of peppermint tea, I recommend that you check out my article here: Peppermint Tea Health Benefits.
Licorice Root
In Ayurveda, licorice root is known as a remedy for sore throat, fever, muscle cramps, gastritis, and many other conditions.
It has a unique sweet flavor and is often called 'sweet root'. Some of its health benefits have been confirmed by research while others need more studying.
Here are the most important benefits of licorice root:
Helps with stomach problems: The anti-inflammatory and immune system boosting capabilities of glycyrrhizic acid, which is found in licorice root, can help with restoring the balance of stomach lining. A study published in The Brazilian Journal of Infectious Diseases found that licorice can be effective in eradicating H. pylori, a bacteria known as the primary cause for peptic ulcers. Its antimicrobial properties are also helpful in treating certain bacterial and fungal stomach infections.
Soothes a sore throat: Licorice root tea or syrup is often used to treat sore throat. A study from 2016 supports its effectiveness in treating throat pain.
Protects skin and teeth: Licorice gel is an effective treatment against several skin problems such as atopic dermatitis and eczema. There is also research suggesting that the antibacterial properties of licorice can help with killing bacteria that cause tooth decay.
NOTE: If you are pregnant or have high blood pressure, consult your doctor before using any products that contain licorice.
How to Brew It
When brewing herbal teas, it is important to use water that is hot enough and let the tea steep for a while so that all the flavors and beneficial compounds can dissolve into the water. Fresh natural spring water is the best option but you can also use distilled water.
To get the most out of your Pukka Peppermint & Licorice tea, I suggest that you use freshly boiled water and infuse the tea for 10 to 15 minutes.
I like to use a cover on top of my mug to prevent the tea from cooling down too much during the steeping. When removing the teabag, I use two spoons the squeeze everything out of the bag. The result is a dark brown herbal infusion that evaporates steam with inviting and fresh aroma.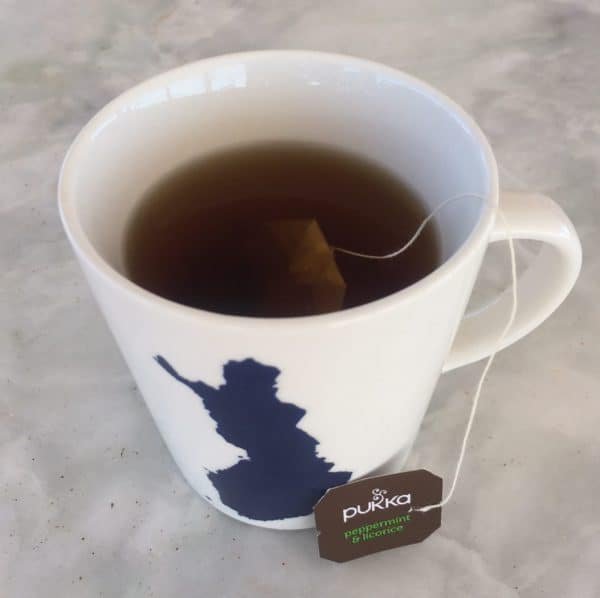 How Does it Taste
Upon opening one of the individually wrapped tea bags I can smell a relatively mild and pleasant aroma of dried mint and licorice. But what really makes this tea special is, that in addition to being healthy, I really enjoy its taste.
The taste of this herbal infusion is strong, smooth, and sweet, with a nice balance of licorice and peppermint.
The taste of licorice is strong but not too overpowering. This tea is so heavenly delicious that it's hard to express it in words!
However, if you have never tried licorice tea, or are not especially fond of the licorice taste, it might take some time to get used to it.
Pukka Peppermint & Licorice Tea Review
Pukka Peppermint & Licorice tea is an excellent and healthy product that is also delicious. Its sweet and fresh taste makes it an excellent dessert. It also goes well with pastries and other sweets.
Furthermore, it aids digestion, which is why I usually drink it after a meal.
One thing I like about this product is the packaging. It has a design with a nice combination of colors and patterns. The individual packaging of the tea bags helps with keeping the taste fresh.
You can order a 6-pack of Pukka tea from Amazon for an affordable price.
NOTE: When you order this tea from Amazon, it automatically suggests an option where you subscribe to get it every month. If you don't want a monthly subscription, make sure that you choose "one-time purchase".
Have you already tried Pukka Peppermint & Licorice tea? Please post a comment below and tell me how you liked it. If you haven't tasted it yet, I recommend that you give it a try!
Share on Pinterest: |