Does Starbucks have a refreshing tea that tastes peachy?
Yes, there is a Starbucks herbal tea called Peach Tranquility that fits the bill!
This tea was so popular a few years ago that locations routinely had shortages of it. But for some reason, it was flying off my radar and I never tried it.
It was time to correct this mistake! Today I went and ordered a Starbucks Peach Tranquility Tea so that I could tell you all about it.
It also popped into my mind that it would be great if you could have it iced, so I asked the barista if she could make an iced version.
Starbucks Peach Tranquility Tea Review
If you're a Starbucks tea fan, you already know that the company uses Teavana tea bags for its brewed teas.
The only two herbal teas on the Starbucks menu currently are Peach Tranquility and Mint Majesty. If caffeine isn't a concern, Starbucks also offers a total of eight black and green brewed teas.
Oh, and then there is of course the famous Honey Citrus Mint Tea, also known as the Medicine Ball. And Peach Tranquility is in fact one ingredient used for making it.
So how to order a Starbucks Peach Tranquility Tea?
It's very simple! Just choose this drink from the menu and choose the size.
When you order your Peach Tranquility Tea at Starbucks, you will see the Teavana Peach Tranquility tea bags in your drink once the barista is done steeping. The grande tea that I ordered came with two triangle-shaped, densely packed tea bags.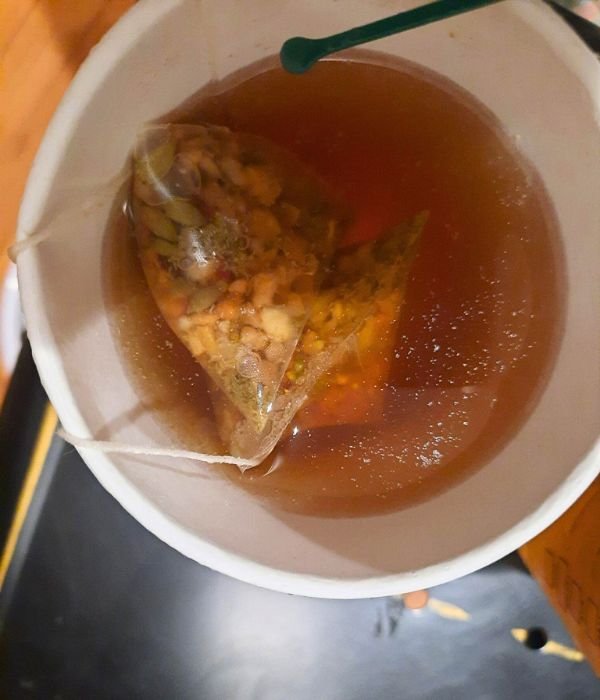 If you decide to order a venti, you should know that the venti uses two tea bags with more water. A tall will only have one tea bag.
I personally felt that the grande had a perfect concentration of flavor for the size.
Starbucks Peach Tranquility Tea Taste
Let's start with first impressions before getting into detail about the flavor.
The first thing I noticed about this tea was that it didn't have the strong aroma that some herbal teas have. There were no floral or grassy notes popping out at me.
This made me worried that the flavor might be dull. I did like that the color of the brewed tea had a nice peachy, ginger-like tone to it.
With the fragrance of the tea being quite weak, I kept my expectations pretty low when going in for the first sip.
But I was surprised by how flavorful and sweet this tea tasted!
There was something about the way the peach mixed with the pineapple in the tea that created a very candy-like undertone in the flavor. I definitely was not expecting that.
I instantly thought of the flavor of gummy peach rings after finishing my first sip. While this tea obviously isn't as sweet as those gummies, its flavor is very similar to the essence of them.
As I continued sipping, I never really tasted the chamomile, lemon, or licorice coming through strongly.
I think they get nicely folded into the dominant peach flavor to create a sweet, syrupy taste that supports the peach notes instead of competing with them. It seems like these ingredients also add to the mellowness of this drink that helps it from tasting too tart and acidic.
Peach Tranquility Tea Caffeine and Nutrition
Starbucks Peach Tranquility Tea is a caffeine-free herbal drink. It's a great option when you want a calming hot drink that won't dehydrate you.
Here's the Peach Tranquility Tea list of ingredients:
Apple
Rosehips
Candied Pineapple
Chamomile Flowers
Peach
Licorice Root
Lemon Verbena
Chamomile Pollen
Natural Flavor
This brewed herbal tea is free of sugar, calories, fat, and caffeine.
Its fruity ingredients are naturally full of vitamin C and antioxidants. When you lift your tea bag out of the drink, you can see a medley of fruity chunks.
The lemon verbena in the tea has traditionally been used to alleviate colds, break fevers, and help with digestion. The "tranquility" part comes from chamomile.
So if you're looking for a healthy Starbucks drink to relieve a sore throat or alleviate other flu symptoms, then this is a great option.
Customization Options
I ordered my Starbucks Peach Tranquility Tea "black" because I wanted to get an accurate sense of how the flavors worked together without bringing in any distractions.
Overall, I think this tea is sweet enough on its own to skip the sugar.
However, I could see this turning into a peppier drink with a stronger candy flavor if you did add sugar. I also think that honey and agave could have the same effect.
Starbucks Iced Peach Tranquility Tea Review
When I went to Starbucks it was a sunny afternoon so I thought it would be great to have an iced version of the Peach Tranquility Tea. But I didn't see it anywhere on the menu.
So can you order the Peach Tranquility tea at Starbucks iced?
I was determined to try.
Before describing how to order iced peach tea at Starbucks, I want to put up a few disclaimers. Iced Peach Tranquility tea is not a Starbucks menu item. It's not even a Starbucks "secret menu" item.
Ordering this version of an iced peach tea is complicated because the barista will need to steep the tea for you.
While other iced teas made by Starbucks are brewed and cooled in large batches, this tea will be made for you on demand. That means you need to have some patience.
How to Order Iced Peach Tranquility Tea at Starbucks
First, you shouldn't order an iced Peach Tranquility Tea from Starbucks in the drive-thru line.
Instead, go into the store to order it in person if you're going to try this drink because steeping takes about five minutes. You should also avoid ordering this drink if you're in a hurry for the same reason.
When you're ordering an iced Peach Tranquility Tea, you're essentially just ordering a standard hot Peach Tranquility Tea. However, you should let the barista know that you'd like to order this as a specialty drink.
Some baristas will know exactly how to turn a hot drink into an iced one for you. Others may give you a confused look.
While the premade iced teas are wildly popular, it's very likely that you are going to be the first person to ever ask your barista to "ice" a Peach Tranquility.
So here's how to do it:
I recommend ordering a grande-sized Peach Tranquility Tea because you'll get two tea bags. This seems like the perfect amount for getting a rich, robust color when steeping.
Next, ask for a venti plastic cup for cold beverages with ice to be put aside. It's important to ask for a cup that's a size larger than the actual tea you ordered because this will give you room for extra ice to help cool down your warm drink.
Once your Peach Tranquility is fully steeped, ask the beverage to be transferred from the standard hot cup to the cold cup. You can also ask the barista to either keep the tea bags in the cup or discard them. The default with the hot version is to keep them in the cup.
Customization Options
I feel like the iced Peach Tranquility Tea is something that you can have fun with if you like to customize with sweeteners and syrups.
I kept mine plain to be able to assess how the flavors in the tea bag settled once they were chilled. I actually felt that the natural sweetness dulled just a little bit once the drink was cooled down.
Personally, I would add some sugar, honey, or agave the next time around. I also think that Starbucks honey ginger simple syrup would taste really good in this drink.
However, people ordering this peach tea are probably ordering it because they want an alternative to the sweet, syrupy iced teas that you can already get on the menu.
How to Make Peach Tranquility Tea at Home
A lot of people were disappointed when Starbucks stopped selling Peach Tranquility tea bags for home brewing a few years ago.
This has even led to a misconceptions that both Starbucks and Teavana have discontinued Peach Tranquility Tea.
Rest assured that your local Starbucks is still serving brewed Peach Tranquility Tea.
And the good news is that you can easily order Teavana Peach Tranquility Tea on Amazon.
Then all you need to do is brew a teabag in boiling water for about 5 minutes and there you have it!
Final Thoughts on Starbucks Peach Tranquility Tea
Starbucks Peach Tranquility tea definitely is something to consider when popping in for a gently sweet, caffeine-free Starbucks drink.
So would I order a Peach Tranquility again?
While this is my favorite Starbucks Peach Drink I don't think this is going to become my go-to drink. However, Peach Tranquility is a Starbucks tea that I'm going to keep in my back pocket for cold and flu season.
Also, the iced version with a bit of honey or honey ginger syrup is a great refreshment for a hot day.
Overall, it's a delicious drink with just the right whisper of flavor and sweetness!