Yerba mate tea is a tasty and natural herbal drink that gives you more energy and provides many health benefits.
In this article, I am going to introduce and review products from 5 popular yerba mate tea brands.
Whether it's your first time to taste mate tea, or you want to try a new brand, this article will help you with choosing the best yerba mate product for your liking.
UPDATE: After receiving many questions about the best flavored option, I have now added my favorite flavored yerba mate brand in this guide.
Here is the list of Yerba Mate Brands reviewed in this article:
BONUS – Best Flavored Yerba Mate:
5 Best Yerba Mate Tea Brands Reviewed
Ten years ago it was quite difficult to find yerba mate. Nowadays you can find it in many health food and tea stores. Even some groceries and supermarkets might have it.
Amazon is one of the best places to buy mate online because they have a large selection of loose leaf mate teas for a reasonable price.
Next, let's take a closer look at 5 different yerba mate products that include some of my all-time favorites. Continue reading to find the best yerba mate brand for your preference.
Rosamonte – You Can't Go Wrong With This One!
Rosamonte is a family business, and they have been planting, harvesting, and drying yerba mate in Argentina since 1936. This brand is popular, especially in Argentina and Paraguay.
If you are a beginner with yerba mate, this smooth, traditional blend is a good starting point.
Taste
The taste of Rosamonte yerba mate is not too strong and it features a grassy, earthy, and hay-like flavor. The taste is well suited for beginners as well as more experienced materos.
Summary: Rosamonte Special Selection Yerba Mate Tea
Rosamonte yerba mate was the first traditional blend that I tried, and I must say that it is a very nice one. Even today it is still one of my favorite mates due to its smooth and relatively mild taste, which still has complex aromas.
I recommend this mate to everyone, especially beginners!
Taragui – an Excellent All-Around Mate
The word Taragui is Guaraní language and it means Corrientes, the home province of this mate. Taragui is a traditional brand that has been harvested and produced since 1924.
It is the leading yerba mate brand in Argentina (as much as 60% of the population drink it) and a great choice for its delicious traditional flavor profile.
The quality of this product is excellent. Taragui has even been awarded an Argentine natural food choice award.
Taste
This yerba mate has a medium to strong taste with grassy, earthy, and tangy aromas. It is a good all-around product for mate lovers. It is also a good starting point for new materos. However, some might find the taste too strong.
Summary: Taragui Yerba Mate
I always have some Taragui yerba mate in stock. It is a good traditional mate which gives you a lot of energy.
A very popular and affordable choice which I can recommend!
Mate Factor Organic Yerba Mate – Mild and Fresh
Mate Factor is a US-based company founded in 1998. The company specializes in yerba mate and produces it in Brazil. Mate Factor also has two cafes, one in Manitou Springs, CO, and the other in Savannah, GA.
This company has a high emphasis on sustainability and its headquarters operate with solar-power. Mate Factor is also operating according to fair trade principles.
Taste
Mate Factor yerba mate has a mild taste with low acidity and less bitterness compared to most of the more traditional brands. Its aroma is smooth and earthy with tones of grass.
Summary: Mate Factor Organic Yerba Mate
Mate Factor yerba mate is a bit more expensive compared to other products in this review. However, it is organic and has very high quality standards. It features a mild taste that is suitable for beginners.
Cruz de Malta – Bold and Traditional Mate
Cruz de Malta is a brand owned and produced by Molinos Rio Del Plata S.A. It is popular in Argentina due to its bold taste.
This is the gold standard mate for authentic yerba mate lovers. It has a well-balanced cut and a nice green color.
Taste
This is a strong and bold mate. It has a very nice earthy and smoky aroma. Its taste can be a little overwhelming for new mate drinkers.
Summary: Cruz de Malta Yerba Mate
I personally like Cruz de Malta yerba mate very much. It is robust and strong and I recommend it for all materos who love the traditional bold taste!
Also, the price of the product is very nice, considering it's a high-quality product.
Canarias – For the Enthusiasts
Canarias brand is a very popular mate in Uruguay. The leaves are grown in Southern Brazil and the blend includes a lot of small leaves with plenty of powder.
Canarias yerba mate is completely natural and free of any chemicals. It is aged for 4 – 6 months.
Taste
This gaucho mate has an interesting and strong taste. It's bursting with creamy, smoky, malty, and bitter aromas. It holds its flavor for a long time which allows you to refill the gourd several times.
Summary: Canarias Yerba Mate
I love this unique yerba mate. It gives me energy but at the same time, it brings a nice and calm feeling.
Canarias yerba mate offers great value for money and I recommend it for all experienced materos!
Best Flavoured Yerba Mate Brand
I think that yerba mate tea tastes great as it is, but sometimes it's nice to experiment with mixing other herbal ingredients with it. I often use fresh mint leaves, ginger root, or lemongrass to make my own blend of herbal tea.
There are also several ready-made flavoured yerba mate products available. Here is my favorite one:
Pajarito Mint & Lemon Yerba Mate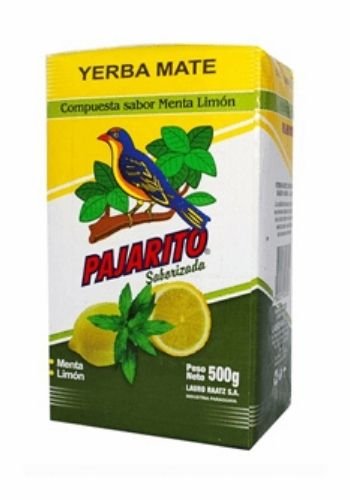 Lauro Raatz S.A. is a Paraguayan family company founded in the 1950s and known for their high-quality yerba mate products under the Pajarito brand.
Pajarito Mint & Lemon Yerba Mate is a refreshing blend of yerba mate, natural peppermint oil, lemon verbena, and burro's tail.
I can recommend this blend for everyone who wants to try yerba mate blended with other herbs. In addition to brewing hot mate tea, this product is excellent for making iced yerba mate.
You can read my full review of Pajarito Mint & Lemon Yerba Mate here.
Find the Best Yerba Mate Brand for Your Taste
Don't be afraid to try different brands and types of yerba mate!
All of the products reviewed in this guide have their own unique qualities, which makes trying them out an interesting journey.
You can find many other yerba mate product reviews on this site, so go ahead and check them out as well!
You can also try different types of yerba mate gourds and bombillas, and various brewing methods to make your experience even more interesting.
If you want to make things really easy and convenient, instead of buying loose leaf yerba mate you can try yerba mate tea bags.
I hope you found my yerba mate tea reviews useful and interesting.
Post a comment below and tell me which one is your favorite yerba mate tea brand and why!
Pin this for later: |